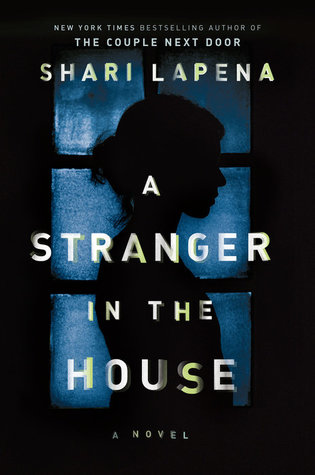 A STRANGER IN THE HOUSE
Author: Shari Lapena
Genre: Adult, Mystery, Thriller
Pub Date: August 15, 2017
Publisher: Pemela Dorman Books
Source: ARC from ALAAC 2017
Goodreads | Barnes and Noble | Amazon
In this neighborhood, danger lies close to home. A domestic thriller packed full of secrets, and a twisty story that never stops—from the bestselling author of The Couple Next Door

He looks at her, concerned. "How do you feel?" She wants to say, Terrified. Instead, she says, with a faint smile, "Glad to be home."

Karen and Tom Krupp are happy—they've got a lovely home in upstate New York, they're practically newlyweds, and they have no kids to interrupt their comfortable life together. But one day, Tom returns home to find Karen has vanished—her car's gone and it seems she left in a rush. She even left her purse—complete with phone and ID—behind.

There's a knock on the door—the police are there to take Tom to the hospital where his wife has been admitted. She had a car accident, and lost control as she sped through the worst part of town.

The accident has left Karen with a concussion and a few scrapes. Still, she's mostly okay—except that she can't remember what she was doing or where she was when she crashed. The cops think her memory loss is highly convenient, and they suspect she was up to no good. 

Karen returns home with Tom, determined to heal and move on with her life. Then she realizes something's been moved. Something's not quite right. Someone's been in her house. And the police won't stop asking questions.

Because in this house, everyone's a stranger. Everyone has something they'd rather keep hidden. Something they might even kill to keep quiet.
TITLE: boring | nothing special | pretty good | caught my eye | perfection | music to my ears
COVER: not my favorite | goes well with rest of the series | boring | generic | pretty | series cover change | beautiful | HEART EYES
POV: 1st | 2nd | 3rd limited | 3rd omniscient | multiple POVs | too many POVs
CONCEPT: original as heck | run of the mill in genre | average | has potential | great idea, bad execution
MOOD: dark | hilarious | light hearted | romantic | depressing | suspenseful | fluffy | mysterious
PACING: snail's pace | couldn't keep up | mix of fast and slow | slow in the wrong places | fast in the wrong places | what even is pacing?
CHARACTERS: i'm in love | couldn't connect | too many | well developed (all) | infuriating | annoying | precious babies | underdeveloped (all)| a mix of good and bad | diverse | okay | new favorite characters
ROMANCE: none | steamy | fluffy | OTP status | cute | not center stage | barely there | cheesy | instalove | slow burn | i ship it | love triangle
DIVERSITY: none | lgbtq+ | racial | religion | disabled | mental illness | body | #ownvoices
Another thriller, but this time, it's an adult book! Since this is adult, this is going to be more a ~mini~ review, so a bit shorter than my usual ones. But! I still have plenty to talk about.
I read Shari Lapena's first book, The Couple Next Door, and I thought it was pretty good, a solid 3 star. My problems were more with the story itself than the writing, so I had high hopes for this book. I crossed my fingers and jumped into the story.
Not perfect, but a lot better than the author's first book!
So, the story is centered around a young (psst this is the hint) couple whose world is rocked when Karen gets in a car crash in a bad part of town and has no idea how or why she got there. I was intrigued immediately, despite it being a little cliche in the thriller genre, but I thought the story itself was really engaging and constantly kept me on my toes.
There were a lot of twists in this book that made things exciting. There were some things I guessed and some I didn't; it was a pretty even mix.
This author does something really odd--they use third person present. If you think about it, that's a pretty unusual way of telling a story. It worked perfectly in a thriller setting. It made things feel extra creepy and unsettling, which I love. Typically, I never pay much attention to tense, but the author made me notice it in a great way.
Again, like the author's first book, the characters are all three dimensional and (super) flawed, which makes for interesting storytelling. The POV jumps around to a few different characters–Tom and Karen, their neighbor, a cop investigating them–and all of them were equally interesting. I was never bored with any of the characters.
I'm still a little conflicted with my rating because I'm not entirely sure how many stars this book deserves. Up until the last 7 pages, this was solidly a 4 star book, maybe even 4.5 But then about 4 of those pages completely undid all of the amazing work the author did throughout the book, which pissed me off. I was ready to dock a star or two just for that part.
BUT THEN THE LAST TWO PAGES. Man, I knew there was gonna be an amazing twist at the end because the author did that in the first book, and I was right. No spoilers, but wow. I'm still a little stunned by it days later. This made me tentatively keep my rating of 4 stars because it was a great ending. It left me feeling unsettled with a side of chills.
Overall, A Stranger in the House was an improvement on the author's first book and a really good thriller. It was twisty and tangled, like all great mysteries, and the characters made the book have a lasting impact–an unsettling impact. If you're looking for a fast paced thriller with intricate characters, pick this book up.
---
I decided to open the rafflecopter early so you guys can get your entries for daily comments in as you go! Remember, don't forget to collect all the secret words and only enter the *entire* secret message at the end! The full details are here, but as a reminder, this is open internationally!
Have you read A STRANGER IN THE HOUSE yet, or are you planning to? What did you think of it? Let me know in the comments below!