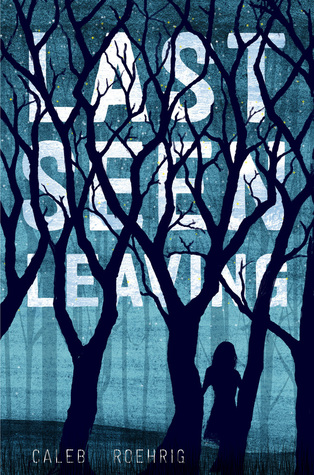 LAST SEEN LEAVING
Author: Caleb Roehrig
Genre: YA, Thriller, Mystery
Pub Date: October 4, 2016
Publisher: Feiwel & Friends
Source: ARC from ALAAC 2016
Goodreads | Barnes and Noble | Amazon
Flynn's girlfriend has disappeared. How can he uncover her secrets without revealing his own?

Flynn's girlfriend, January, is missing. The cops are asking questions he can't answer, and her friends are telling stories that don't add up. All eyes are on Flynn—as January's boyfriend, he must know something.

But Flynn has a secret of his own. And as he struggles to uncover the truth about January's disappearance, he must also face the truth about himself.
TITLE: boring | nothing special | pretty good | caught my eye | perfection | music to my ears
COVER: not my favorite | goes well with rest of the series | boring | generic | pretty | series cover change | beautiful | HEART EYES
POV: 1st | 2nd | 3rd limited | 3rd omniscient | multiple POVs (included flashbacks) | too many POVs
CONCEPT: original as heck | run of the mill in genre | average | has potential | great idea, bad execution
MOOD: dark | hilarious | light hearted | romantic | depressing | suspenseful | fluffy | mysterious
PACING: snail's pace | couldn't keep up | mix of fast and slow | slow in the wrong places | fast in the wrong places | what even is pacing?
CHARACTERS: i'm in love | couldn't connect | too many | well developed (all) | infuriating | annoying | precious babies | underdeveloped (all)| a mix of good and bad | diverse | okay | new favorite characters
ROMANCE: none | steamy | fluffy | OTP status | cute | not center stage | barely there | cheesy | instalove | slow burn | i ship it | love triangle
DIVERSITY: none | lgbtq+ (MC is gay)| racial | religion | disabled | mental illness | body | #ownvoices
I think I'm becoming a bit predictable–two YA thriller reviews in a row! Although this book is being reviewed during my ARC August scavenger hunt, this book was already released last year! However, I have an ARC copy of it I didn't get around to last year, so I decided to read it this August. This way, I can at least attempt to mix new ARCs with old ones, lol.
So, are you hoping for a YA thriller with gay protagonists, shifty female characters, a Gone Girl esque feel, and tons of twists? That's what this book aims to be, but I think it fell a little short.
I think my biggest problem was with the mystery itself. The book started off pretty strong—I was invested in the book early on, and the first couple chapters made me keep turning the pages. However, the books pacing felt all over the place. The beginning started off strong, but then it felt like I was slogging through the plot. It felt this way until the last 25% or so, and then it felt like things wrapped up super fast. Suffice to say, I felt like I was being jerked around by the pacing.
Throughout the story, there are flashbacks with Flynn and January that wonderfully (*coughs suspiciously*) give you a glimpse into what their relationship was like. I liked the flashbacks because it made me feel connected to January and added to the story, but I'm still not sure if I ever really liked her as a character.
On the topic of Flynn, he was very meh to me. I don't really have any strong feelings for him. He annoyed me a lot of the time because he felt so wishy-washy. Then again, I should acknowledge that he is a gay teen who struggles coming to term with his sexual identity, so take my opinion with a grain of salt, as it's not my place to judge that aspect of his personality. I understood why he acted the way he did, but I still couldn't help but feel annoyed. By the end of the book, I more or less liked him, but I can't say I felt connected to him in any way.
Despite my feelings for Flynn and January, they were pretty well developed. There were a bunch of side characters though—like January's family and Flynn's friends and whatnot—that felt really underdeveloped. I didn't get a good grasp on their personalities and looking back, writing this review after a few weeks, I can't remember much about any of them.
I was really curious to see how the mystery would be explained. I had a handful of guesses, but when the big reveal came around, it felt very meh and almost too out there for me. It just felt like it came out of nowhere and there wasn't a ton of foreshadowing to back it up. I guessed things wrapped up nicely, but my petty annoyance at the lack of foreshadowing sort of soured my feelings.
TLDR; this book felt really meh to me. I think it would appeal to some other people—especially boys who are struggling with their sexual identity—but I can't say it was for me.
Overall, Last Seen Leaving was a mystery with great buildup but a weak ending. The main characters were well developed, but the MC was annoying and the pacing was all over the place. I'd recommend this to people looking for thrillers with more diversity, but if you like more action, I say skip it.
---
I decided to open the rafflecopter early so you guys can get your entries for daily comments in as you go! Remember, don't forget to collect all the secret words and only enter the *entire* secret message at the end! The full details are here, but as a reminder, this is open internationally!
Remember that there will be a break for the weekend, but come Monday, the review for An Enchantment of Ravens will be up! (And you definitely won't want to miss it!)
Have you read LAST SEEN LEAVING yet, or are you planning to? What did you think of it? Let me know in the comments below!