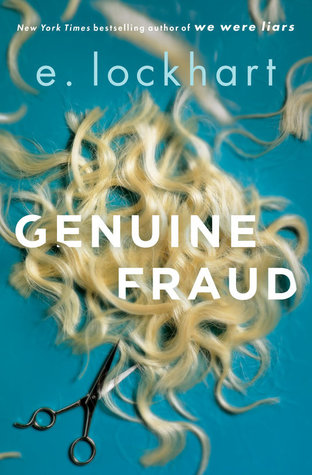 GENUINE FRAUD
Author: E. Lockhart
Genre: YA, Thriller, Mystery
Pub Date: September 5, 2017
Publisher: Delacorte Press
Source: ARC from ALAAC 2017
Goodreads | Barnes and Noble | Amazon
The story of a young woman whose diabolical smarts are her ticket into a charmed life. But how many times can someone reinvent themselves? You be the judge.

Imogen is a runaway heiress, an orphan, a cook, and a cheat.
Jule is a fighter, a social chameleon, and an athlete. 
An intense friendship. A disappearance. A murder, or maybe two. 
A bad romance, or maybe three.
Blunt objects, disguises, blood, and chocolate. The American dream, superheroes, spies, and villains. 
A girl who refuses to give people what they want from her.
A girl who refuses to be the person she once was.
TITLE: boring | nothing special | pretty good | caught my eye | perfection | music to my ears
COVER: not my favorite | goes well with rest of the series | boring | generic | pretty | series cover change | beautiful | HEART EYES
POV: 1st | 2nd | 3rd limited | 3rd omniscient | multiple POVs | too many POVs
CONCEPT: original as heck | run of the mill in genre | average | has potential | great idea, bad execution
MOOD: dark | hilarious | light hearted | romantic | depressing | suspenseful | fluffy | mysterious
PACING: snail's pace | couldn't keep up | mix of fast and slow | slow in the wrong places | fast in the wrong places | what even is pacing?
CHARACTERS: i'm in love | couldn't connect | too many | well developed (all) | infuriating | annoying | precious babies | underdeveloped (all)| a mix of good and bad | diverse | okay | new favorite characters
ROMANCE: none | steamy | fluffy | OTP status | cute | not center stage | barely there | cheesy | instalove | slow burn | i ship it | love triangle
DIVERSITY: none | lgbtq+ | racial | religion | disabled | mental illness | body | #ownvoices
Surprise, surprise—I'm reviewing another thriller! I read We Were Liars so long ago I barely remember the book, so I was really excited to see another mystery/thriller from the author. Surprisingly, I haven't heard a thing about it, so I went into the story pretty much blind since the blurb doesn't offer up much about the story.
Lockhart's writing style definitely shines through in this book, so if you liked her other books or you want to try her stories for the first time, hopefully this book can shed some light on what's in store for you.
I think the confusion in the blurb made the beginning of the book very confusing for me. It starts off with a teenage girl in Mexico hiding from someone, and then someone (police? bro idk) finding her and waiting for her. This means nothing to me, Alex, you say, that's just confusing. That's what I'm trying to say!!! If this sounds confusing, it's because the beginning is 100% confusing. Maybe that's the point, I don't know, but it made me a little put off.
After ~50 pages or so, I finally think I got my grip on the story. I don't want to say much, because I do believe that going in somewhat blind is good, but I will say this: the book goes backwards in time, much like Megan Miranda's (amazing) book All the Missing Girls. The opening scene is the last scene chronologically, and every chapter after that goes back a couple weeks (ex: chapter 1 is late April, chapter 2 is early april, etc.) I think that was a great selling point—except I didn't pay attention to the dates until the 3rd chapter when I was very confused and then thought ooooooohhhhhhh so maybe those dates are important. From then on I was significantly less confused haha.
This is shaped as a mystery, sort of psychological thriller type of book, so you know I was eager to get to the actual mystery. At first, it isn't exactly clear what the mystery is, other than who is this girl, and why is she hiding in Mexico? I won't say much because of spoilers, but it becomes clear that the main character is unreliable pretty early on, and the mystery is the reader trying to uncover her lies and figure out WTF is actually going on.
I will say this—this book was a lot darker (and bloodier) than I thought it was going to be, so props for that.
The mystery itself wasn't exactly a "mystery" though, in my opinion. There wasn't a body with a killer to (psssst this is the secret word) find—it was more like you were watching a train wreck unfold, only backwards. You keep flipping the pages to find out how something happened, rather than what happened or why it happened.
Our main character, Julie, felt much older than her age of 17/18 (I can't remember her exact age—I'm pretty sure it changes throughout the book). I mean, what 18 is running away in Mexico and hiding from the police? Maybe that's just me, but I felt a like some things were unbelievable.
Part of this book reminded me of Little Monsters by Kara Thomas in the sense that it explores relationships between young girls and how these relationships can shift and change over time. I thought this was one of the better things about the book—I'm constantly fascinated by teenage girl relationships and the author kept me really invested in the relationship. Personally, I didn't see what was so great about Imogen, Julie's friend who basically changes her life, but hey *shrugs*
I'm not sure how to explain my feelings about the ending. It slowed down by the end of the book, but that's because of the reverse chronological order. I was really stunned by how the author managed to create such a twisty, dark story, and the last chapter made me feel really unsettled, which, in a thriller, is a really great thing. So I would say I was satisfied with the ending.
Overall, Genuine Fraud was a solid three star thriller. Not terrible, not great, but pretty enjoyable. While the backwards mystery made things interesting and the shady characters kept me on my toes, I was confused for a good portion of the book and that hindered my enjoyment. I think if you're used to the author's writing style you'll be fine, but if you dislike vague details and aren't willing to spend a couple chapters to figure everything out, I suggest you skip it.
---
I decided to open the rafflecopter early so you guys can get your entries for daily comments in as you go! Remember, don't forget to collect all the secret words and only enter the *entire* secret message at the end! The full details are here, but as a reminder, this is open internationally!
Have you read Genuine Graud yet, or are you planning to? What did you think of it? Let me know in the comments below!