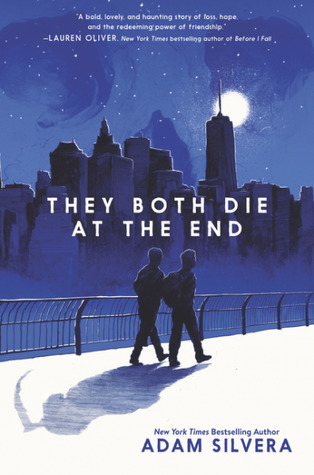 THEY BOTH DIE AT THE END
Author: Adam Silvera
Genre: YA, Contemporary w/Sci-Fi elements, Romance
Pub Date: September 5, 2017
Publisher: HarperTeen
Source: ARC from ALAAC 2017
Goodreads | Barnes and Noble | Amazon
On September 5, a little after midnight, Death-Cast calls Mateo Torrez and Rufus Emeterio to give them some bad news: They're going to die today. Mateo and Rufus are total strangers, but, for different reasons, they're both looking to make a new friend on their End Day. The good news: There's an app for that. It's called the Last Friend, and through it, Rufus and Mateo are about to meet up for one last great adventure and to live a lifetime in a single day.
TITLE: boring | nothing special | pretty good | caught my eye | perfection | music to my ears
COVER: not my favorite | goes well with rest of the series | boring | generic | pretty | series cover change | beautiful | HEART EYES
POV: 1st (main POVs) | 2nd | 3rd limited | 3rd omniscient | multiple POVs | too many POVs
CONCEPT: original as heck | run of the mill in genre | average | has potential | great idea, bad execution
MOOD: dark | hilarious | light hearted | romantic | depressing | suspenseful | fluffy | mysterious
PACING: snail's pace | couldn't keep up | mix of fast and slow | slow in the wrong places | fast in the wrong places | what even is pacing?
CHARACTERS: i'm in love | couldn't connect | too many | well developed (all) | infuriating | annoying | precious babies | underdeveloped (all)| a mix of good and bad | diverse | okay | new favorite characters
ROMANCE: none | steamy | fluffy | OTP status | cute | not center stage | barely there | cheesy | instalove | slow burn | i ship it | love triangle
DIVERSITY: none | lgbtq+ (m/m ship, one lead is bi, i can't remember if the other one uses a label) | racial (both leads are latinx) | religion | disabled | mental illness | body | #ownvoices
I'm going to let you guys in on my not-so-secret secret: I've never read an Adam Silvera book. Before They Both Die at the End, I hadn't read a single book by him. Long ago I tried to read More Happy than Not and I couldn't get into it (GASP, I know), but TBDATE has a really awesome premise and EVERYONE on book twitter—and everywhere else, really—is talking about it, so I knew I had to read it.
Since I've never read a Silvera book, I want to give my honest opinion and offer other people who will be reading this author's work for the first time a realistic idea of what to expect in They Both Die at the End. Whether you're an old fan or a new one, hopefully this review will prepare you for the book.
Let's start with the premise, because with a book like TBDATE, premise is a huge deal. The whole idea borders on the fact that there is a service (called Death-Cast) that knows when you will die and calls you on that day. This is the first time I've seen a book like this, for the most part—plus it has latinx main characters and a m/m romance (AND A BI MALE LEAD LETS GOOOOOOO. In case you haven't noticed, I'm addicted (hint hint) to books with bi characters). This book doesn't try to make itself be a sci-fi; instead, the otherworldly, bordering on fantasy elements are presented as is and are taken at face value. I appreciate that Silvera didn't try to throw details out and attempt to define the process of Death-Cast, but I also thought there were a few plot holes in this theory. What if someone doesn't have a phone (poverty?) and they can't receive the call—what then? What if their phone is dead when the call comes? There were so many what-ifs that it almost distracted me from the story at hand.
This book is not a fact paced, high action book about people trying to escape death. This is a story of two boys who try to confront death and in the process of doing so, grow to have a strong connection between them. Mateo and Rufus were absolutely amazing main character—they are really what carried the book, in my opinion.
Mateo is the lovable nerd type character who you'd definitely call a cinnamon roll, whereas Rufus is the rough around the edges boy with a heart of gold. I love how their personalities meshed together. It took me awhile to get used to them, but one I did, I grew to love them. Another great thing—Silvera is great at making me care about characters in a short span of pages. There are some POVs thrown in throughout the book of "throwaway" characters, and even though they don't have a lot of page time, I cared for them. The side characters, like Mateo and Rufus's support systems, were stellar and super well developed. On the character side of things, I have nothing but good things to say.
Plot, on the other hand, is a different story.
At first, Mateo's POV was really slow. He didn't have a lot of action because he was sitting at home alone, and there's really only so much an author can do to make that sound interesting. On the other hand, Rufus's story captured my attention instantly and I definitely favored his POV more. Overall though, it took me about 50 pages to actually get into the story, and even then it seemed slow.
I'm all for character focused stories—this is one of those books, and it does this very well—but it was just a tad bit too slow moving for my tastes. Again, I think this comes back to the whole premise, because the book is set in a span of 24 hours. There's only so many exciting things a person can do in one day. There were a handful of moments that moved really fast—which I enjoyed greatly—but there were ten times more scenes where things were slow, almost to the point where it felt like I was slogging through the book.
It redeemed itself at the end (even though I didn't love this book, I teared up) and those last few pages were the best part of the book.
I won't say much about the romance because it wasn't really a typical romance until very late in the game. I was super worried about instalove, because, again, the story only takes place on one day, but it didn't feel like that at all. I think this is because this was framed as a deep emotional connection rather than just a romantic feelings type of relationship. Making Mateo and Rufus friends first and lovers second was a great choice, I think.
Hype didn't really get to me with this book, because the book community ALWAYS hypes big name authors up, so I wasn't super disappointed. I wish I loved it more, yes, but at least I can offer a few people a realistic expectation of what to expect in TBDATE.
Overall, They Both Die at the End was a heartfelt, emotional read about the power of love and the looming threat of death we'll all have to face at the end. It was an even mix for me; I loved the characters and the relationships between them, but the pacing was too slow for me. Depending on your tastes, I think you could either really love this book or not like it at all. If it sounds even remotely interesting to you, I suggest you try it when it is released.
---
I decided to open the rafflecopter early so you guys can get your entries for daily comments in as you go! Remember, don't forget to collect all the secret words and only enter the *entire* secret message at the end! The full details are here, but as a reminder, this is open internationally!
Have you read They Both DIE AT THE END yet, or are you planning to? What did you think of it? Let me know in the comments below!