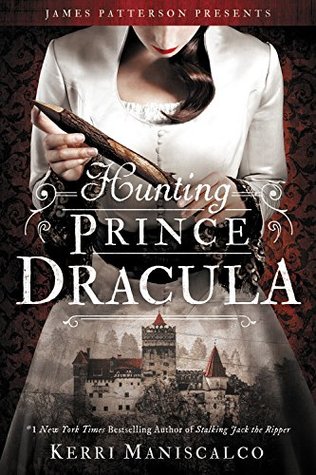 HUNTING PRINCE DRACULA
Author: Kerri Maniscalco
Series: Stalking Jack the Ripper #2
Genre: YA, Sci-Fi, Romance
Pub Date: September 19, 2017
Publisher: Jimmy Patterson
Source: ARC from ALAAC 2017
Goodreads | Barnes and Noble | Amazon
In this hotly anticipated sequel to the haunting #1 bestseller Stalking Jack the Ripper, bizarre murders are discovered in the castle of Prince Vlad the Impaler, otherwise known as Dracula. Could it be a copycat killer…or has the depraved prince been brought back to life?

Following the grief and horror of her discovery of Jack the Ripper's true identity, Audrey Rose Wadsworth has no choice but to flee London and its memories. Together with the arrogant yet charming Thomas Cresswell, she journeys to the dark heart of Romania, home to one of Europe's best schools of forensic medicine…and to another notorious killer, Vlad the Impaler, whose thirst for blood became legend.

But her life's dream is soon tainted by blood-soaked discoveries in the halls of the school's forbidding castle, and Audrey Rose is compelled to investigate the strangely familiar murders. What she finds brings all her terrifying fears to life once again.
TITLE: boring | nothing special | pretty good | caught my eye | perfection | music to my ears
COVER: not my favorite | goes well with rest of the series | boring | generic | pretty | series cover change | beautiful | HEART EYES
POV: 1st | 2nd | 3rd limited | 3rd omniscient | multiple POVs | too many POVs
CONCEPT: original as heck | run of the mill in genre | average | has potential | great idea, bad execution
MOOD: dark | hilarious (at times) | light hearted | romantic | depressing | suspenseful | fluffy | mysterious
PACING: snail's pace | couldn't keep up | mix of fast and slow | slow in the wrong places | fast in the wrong places | what even is pacing?
CHARACTERS: i'm in love | couldn't connect | too many | well developed (all) | infuriating | annoying | precious babies | underdeveloped (all)| a mix of good and bad | diverse | okay | new favorite characters
ROMANCE: none | steamy | fluffy | OTP status | cute | not center stage | barely there | cheesy | instalove | slow burn | i ship it | love triangle
DIVERSITY: none | lgbtq+ (f/f side characters relationship) | racial (MC is Indian and British) | religion | disabled | mental illness | body | #ownvoices
I cannot begin to describe how excited I was for this book. Last year, I read Stalking Jack the Ripper early and I completely fell in love with Audrey Rose, the murders, and the intriguing mystery partially based off one of the most fascinating cases featuring Jack the Ripper.
The first book was very good (I gave it 5 stars), but Hunting Prince Dracula is its older, emo cousin that is ten times better. (There will be no spoilers for SJTR in my review!)
SJTR (I'm using acronyms to save myself the pain of typing those long titles) was a mystery, yes, but I guessed a lot of the twists and it almost had a sort of comedic feel to it because of Audrey Rose and Thomas's witty banter. However, HPD changes all of that. This book was ten times darker, much more atmospheric, and a heck of a lot creepier. It was even better plot wise—those twists? I DID NOT SEE THEM COMING AT ALLLLLLL.
This is a direct series, so you will need to read the first book before you read this one. Audrey Rose and Thomas are both a little different than they were in the first book, because the end of SJTR clearly affected them both in huge and meaningful ways. However,  my babies still have moments of great sass and witty comebacks, so not all is lost in this dark and grim tale.
Honestly, I am (hint hint) in love the case of the Whitechapel murders, but I think HPD had a much more intriguing plot. There were a lot of layers to the case, and that meant there were more red herrings, more drama, and just generally more intrigue surrounding the mystery. I'm good at guessing twists, but I was surprised multiple times during the course of the book. Plus, DRACULA!!! Talk about an interesting case!
I'm happy to report that Audrey Rose is still our badass 19th century feminist we all know and love. She's one of the only women in a forensics class made up of mostly men, but don't let that fool you—she does not take their shit (and of course I cheered when she made them all look like fools). Sadly, though, Audrey Rose is changed because of the events at the end of SJTR, so it was hard to watch her stumble through events that she wouldn't have even blinked at in the first book 😦
BUT, I have good news! THE ROMANCE BETWEEN AUDREY ROSE WADSWORTH AND THOMAS CRESWELL IS STILL ONE OF THE BEST YA ROMANCES EVER. Listen, their conversations border on hilarious while still being meaningful and heartfelt, and I was often torn between laughing and swooning. It is the late 1800s, so there wasn't as much ~physical~ romance as I hoped, but I promise you will be absolutely thrilled by the end of the novel.
I think it's a given—considering the added intrigue, multiple new characters and twisty plot events—that the ending blew me away and left me very eager for the third (and final?? *cries*) installment of Audrey Rose's story.
Overall, Hunting Prince Dracula was a dark and twisty mystery that takes this series to the next level. The characters were multi-faceted and lovable, the romance was TO DIE FOR, and the mystery itself was twisty and nearly impossible to guess until the end. I can definitely see myself rereading this book again soon. If you like mysteries with lots of blood and a dash of wit and romance, you need to pick up this series ASAP.
Have you read Hunting Prince Dracula yet, or are you planning to? What did you think of it? Let me know in the comments below!