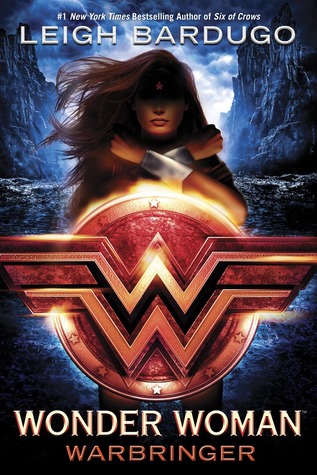 WONDER WOMAN: WARBRINGER
Author: Leigh Bardugo
Genre: YA, Fantasy
Pub Date: August 27, 2017
Publisher: Random House
Source: ARC from ALA
Goodreads | Barnes and Noble | Amazon
She will become one of the world's greatest heroes: WONDER WOMAN. But first she is Diana, Princess of the Amazons. And her fight is just beginning. . . .

Diana longs to prove herself to her legendary warrior sisters. But when the opportunity finally comes, she throws away her chance at glory and breaks Amazon law—risking exile—to save a mere mortal. Even worse, Alia Keralis is no ordinary girl and with this single brave act, Diana may have doomed the world.

Alia just wanted to escape her overprotective brother with a semester at sea. She doesn't know she is being hunted. When a bomb detonates aboard her ship, Alia is rescued by a mysterious girl of extraordinary strength and forced to confront a horrible truth: Alia is a Warbringer—a direct descendant of the infamous Helen of Troy, fated to bring about an age of bloodshed and misery.

Together, Diana and Alia will face an army of enemies—mortal and divine—determined to either destroy or possess the Warbringer. If they have any hope of saving both their worlds, they will have to stand side by side against the tide of war. 
TITLE: boring | nothing special | pretty good | caught my eye | perfection | music to my ears
COVER: not my favorite | goes well with rest of the series | boring | generic | pretty | series cover change | beautiful | HEART EYES
POV: 1st | 2nd | 3rd limited | 3rd omniscient | multiple POVs | too many POVs
CONCEPT: original as heck | run of the mill in genre | average | has potential | great idea, bad execution
MOOD: dark (at times) | hilarious | light hearted | romantic | depressing | suspenseful | fluffy (at times) | mysterious
PACING: snail's pace | couldn't keep up | mix of fast and slow | slow in the wrong places | fast in the wrong places | what even is pacing?
CHARACTERS: i'm in love | couldn't connect | too many | well developed (all) | infuriating | annoying | precious babies | underdeveloped (all)| a mix of good and bad | diverse | okay | new favorite characters
ROMANCE: none | steamy | fluffy | OTP status | cute | not center stage | barely there | cheesy | instalove | slow burn | i ship it | love triangle
DIVERSITY: none | lgbtq+ (lesbian side character) | racial (biracial African-Greek characters, Indian side character, black side character) | religion | disabled | mental illness | body (side character) | #ownvoices
This is my first ARC review for #ARCAugust. Like almost everyone else on the face of the earth, this year I was bitten by the Wonder Woman bug. After the movie, I absolutely fell in love with the warrior woman and everything about her. I haven't read the comics, but I want to soon because I'm so enraptured by her story.
Then I remembered the DC Legends books coming out, and that LEIGH BARDUGO was writing a story about Wonder Woman!! I grabbed an ARC of it at ALA (not an easy feat, considering all of the other bookworms bit by the Diana bug) and as soon as ARC August started, I blew threw it.
Honestly, people, it's a story about Diana, Princess of the Amazons, written by Leigh Bardugo. Did you expect it to be anything other than amazing?
This is sort of a prequel story to the actual Wonder Woman stories many people know. It's about a teenage Diana–also, if you're curious, this timeline does NOT match up with the one presented in the movie. The book is set in modern day, and Diana is around 17 years old, so be aware of that. It hurt my head to try and figure out the logistics of it at first, but after awhile I stopped trying to place the story in time and just enjoyed the story at hand.
If you're hoping to read this book and find the wonderfully adorable and badass Diana you know and love, then you will not be disappointed. Bardugo did an amazing job representing our favorite warrior, with the book full of hilarious revelations from Diana, including, "Is Google one of your Gods?" She's one of my favorite characters ever, so it was refreshing to see her ironic humor in a book.
However, there are other characters, and all of them are POC! It's not #ownvoices, but I didn't pick up on anything problematic about the rep. Of course, I defer to POC in this situation. Besides that, I thought all of the other characters were pretty well developed. Alia shares the spotlight with Diana in this book and she was also amazing and badass, but honestly, I don't know if anyone can ever top Diana. However, Alia came pretty close, and so did the other side characters–some of them were pretty morally gray, and I'm always here for that.
This is your average quest book, but I still found the story engaging. The beginning of the book was very similar to the opening of the movie–a plane crashing into the water in the movie, a boat exploding in the water in the book–and I thought that was neat (coincidence? I'm not sure). From the first page, I was rooting for Diana, and once other characters were introduced, I was rooting for them too. There were times I wished there was some more urgency–if Diana and Alia didn't complete their task, world war would break out–but I was never really bored. How could I be? Even the downtime moments were filled with excellent character development.
If you're looking for romance, there is barely any, and it comes in toward the end of the book. Diana has never needed a man to be badass, and the same holds true in this story adaptation. I was sort of glad for the lack of romance because I sort of hated Diana's "love interest", if I can even call him that. If anything, I sort of wished Diana and Alia became an item, but I adored them as friends.
The plot twist toward the end completely threw me, so it was a good twist. I'm not sure if it was 100% believable–I thought it bordered more on "diabolical" than "genius with bad intentions"–but that's just me. That's really my only complaint about the whole book.
If you're looking for a glimpse at life on Themyscira, then you'll find it here! It's only really in the beginning and the very end, but there is a lot of Greek mythology woven throughout the story, and I learned a couple new facts not even Percy Jackson could teach me (it has always been my prime source for Greek myths lol). My girl Hippolyta was also there, so it was great to see (er, read) a familiar face.
Overall, Wonder Woman: Warbringer was an excellent edition to the Wonder Woman universe. Diana is so recognizable in this story that showcases her familiar talents and humor, while also introducing new characters and conflicts unique to this particular story. Whether you're here for Wonder Woman or Leigh Bardugo's writing, I'm confident you'll fall in love with this book.
Have you read WONDER WOMAN: WARBRINGER yet, or are you planning to? What did you think of it? Let me know in the comments below!