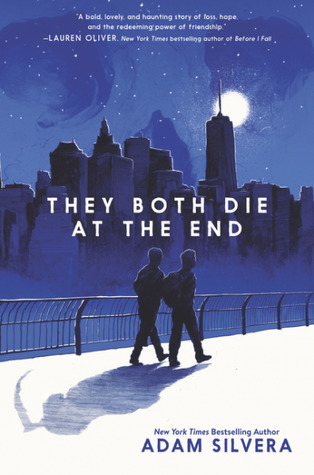 THEY BOTH DIE AT THE END
Author: Adam Silvera
Genre: YA, Contemporary w/Sci-Fi elements, Romance
Pub Date: September 5, 2017
Publisher: HarperTeen
Source: ARC from ALAAC 2017
Goodreads | Barnes and Noble | Amazon
On September 5, a little after midnight, Death-Cast calls Mateo Torrez and Rufus Emeterio to give them some bad news: They're going to die today. Mateo and Rufus are total strangers, but, for different reasons, they're both looking to make a new friend on their End Day. The good news: There's an app for that. It's called the Last Friend, and through it, Rufus and Mateo are about to meet up for one last great adventure and to live a lifetime in a single day.
TITLE: boring | nothing special | pretty good | caught my eye | perfection | music to my ears
COVER: not my favorite | goes well with rest of the series | boring | generic | pretty | series cover change | beautiful | HEART EYES
POV: 1st (main POVs) | 2nd | 3rd limited | 3rd omniscient | multiple POVs | too many POVs
CONCEPT: original as heck | run of the mill in genre | average | has potential | great idea, bad execution
MOOD: dark | hilarious | light hearted | romantic | depressing | suspenseful | fluffy | mysterious
PACING: snail's pace | couldn't keep up | mix of fast and slow | slow in the wrong places | fast in the wrong places | what even is pacing?
CHARACTERS: i'm in love | couldn't connect | too many | well developed (all) | infuriating | annoying | precious babies | underdeveloped (all)| a mix of good and bad | diverse | okay | new favorite characters
ROMANCE: none | steamy | fluffy | OTP status | cute | not center stage | barely there | cheesy | instalove | slow burn | i ship it | love triangle
DIVERSITY: none | lgbtq+ (m/m ship, one lead is bi, i can't remember if the other one uses a label) | racial (both leads are latinx) | religion | disabled | mental illness | body | #ownvoices
I'm going to let you guys in on my not-so-secret secret: I've never read an Adam Silvera book. Before They Both Die at the End, I hadn't read a single book by him. Long ago I tried to read More Happy than Not and I couldn't get into it (GASP, I know), but TBDATE has a really awesome premise and EVERYONE on book twitter—and everywhere else, really—is talking about it, so I knew I had to read it.
Since I've never read a Silvera book, I want to give my honest opinion and offer other people who will be reading this author's work for the first time a realistic idea of what to expect in They Both Die at the End. Whether you're an old fan or a new one, hopefully this review will prepare you for the book.