We all know those big blockbuster YA titles, the ones from NYT bestselling authors or authors with a mega popular series. These ARCs are often pushed hard, with big marketing budgets and a ton of promotion on social media. While those books can be super good, there are a ton of books that don't get the same amount of promotion but sound just as good as the huge titles.
I kept an eye out for these books while I was at ALA, and I compiled a list of 11 books I think you should keep an eye out for in the upcoming months! Let's get to those hidden gems, shall we?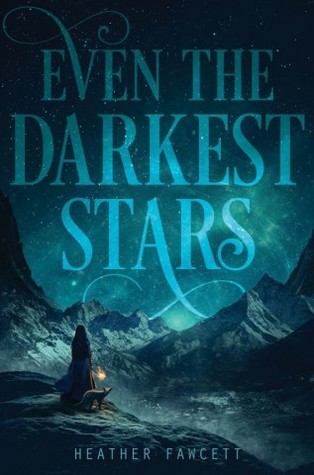 EVEN THE DARKEST STARS
Author: Heather Fawcett
Publisher: Balzer + Bray
Pub Date: September 5, 2017
Kamzin has always dreamed of becoming one of the Emperor's royal explorers, the elite climbers tasked with mapping the wintry, mountainous Empire and spying on its enemies. She knows she could be the best in the world, if only someone would give her a chance.
But everything changes when the mysterious and eccentric River Shara, the greatest explorer ever known, arrives in her village and demands to hire Kamzin—not her older sister Lusha, as everyone had expected—for his next expedition. This is Kamzin's chance to prove herself—even though River's mission to retrieve a rare talisman for the emperor means climbing Raksha, the tallest and deadliest mountain in the Aryas. Then Lusha sets off on her own mission to Raksha with a rival explorer who is determined to best River, and Kamzin must decide what's most important to her: protecting her sister from the countless perils of the climb or beating her to the summit.
The challenges of climbing Raksha are unlike anything Kamzin expected—or prepared for—with avalanches, ice chasms, ghosts, and even worse at every turn. And as dark secrets are revealed, Kamzin must unravel the truth of their mission and of her companions—while surviving the deadliest climb she has ever faced.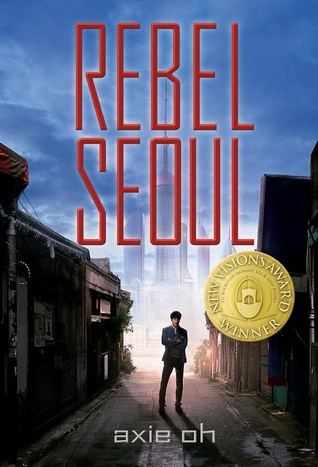 REBEL SEOUL
Author: Axie Oh
Publisher: Tu Books
Pub Date: September 15, 2017
*Note* Korean rep!
After a great war, the East Pacific is in ruins. In brutal Neo Seoul, where status comes from success in combat, ex-gang member Lee Jaewon is a talented pilot rising in the ranks of the academy. Abandoned as a kid in the slums of Old Seoul by his rebel father, Jaewon desires only to escape his past and prove himself a loyal soldier of the Neo State.
When Jaewon is recruited into the most lucrative weapons development division in Neo Seoul, he is eager to claim his best shot at military glory. But the mission becomes more complicated when he meets Tera, a test subject in the government's supersoldier project. Tera was trained for one purpose: to pilot one of the lethal God Machines, massive robots for a never-ending war.
With secret orders to report on Tera, Jaewon becomes Tera's partner, earning her reluctant respect. But as respect turns to love, Jaewon begins to question his loyalty to an oppressive regime that creates weapons out of humans. As the project prepares to go public amidst rumors of a rebellion, Jaewon must decide where he stands—as a soldier of the Neo State, or a rebel of the people.
Pacific Rim meets Korean action dramas in this mind-blowing, New Visions Award-winning science fiction debut.
 SPEAK EASY, SPEAK LOVE
Author: McKelle George
Publisher: Greenwillow
Pub Date: September 19, 2017
Six teenagers' lives intertwine during one thrilling summer full of romantic misunderstandings and dangerous deals in this sparkling retelling of Shakespeare's Much Ado About Nothing.
After she gets kicked out of boarding school, seventeen-year-old Beatrice goes to her uncle's estate on Long Island. But Hey Nonny Nonny is more than just a rundown old mansion. Beatrice's cousin, Hero, runs a struggling speakeasy out of the basement—one that might not survive the summer. Along with Prince, a poor young man determined to prove his worth; his brother John, a dark and dangerous agent of the local mob; Benedick, a handsome trust-fund kid trying to become a writer; and Maggie, a beautiful and talented singer; Beatrice and Hero throw all their efforts into planning a massive party to save the speakeasy. Despite all their worries, the summer is beautiful, love is in the air, and Beatrice and Benedick are caught up in a romantic battle of wits that their friends might be quietly orchestrating in the background.
Hilariously clever and utterly charming, McKelle George's debut novel is full of intrigue and 1920s charm. For fans of Jenny Han, Stephanie Perkins, and Anna Godbersen.
THAT INEVITABLE VICTORIAN THING
Author: E.K. Johnston
Publisher: Dutton Books
Pub Date: October 3, 2017
*Note* An intersex main character + a bi main character!
Set in a near-future world where the British Empire never fell and the United States never rose, That Inevitable Victorian Thing is a novel of love, duty, and the small moments that can change people and the world.
Victoria-Margaret is the crown princess of the empire, a direct descendent of Victoria I, the queen who changed the course of history two centuries earlier. The imperial practice of genetically arranged matchmaking will soon guide Margaret into a politically advantageous marriage like her mother before her, but before she does her duty, she'll have one summer incognito in a far corner of empire. In Toronto, she meets Helena Marcus, daughter of one of the empire's greatest placement geneticists, and August Callaghan, the heir apparent to a powerful shipping firm currently besieged by American pirates. In a summer of high-society debutante balls, politically charged tea parties, and romantic country dances, Margaret, Helena, and August discover they share an unusual bond and maybe a one in a million chance to have what they want and to change the world in the process —just like the first Queen Victoria.
ALL THE WIND IN THE WORLD
Author: Samantha Mabry
Publisher: Algonquin Young Readers
Pub Date: October 10, 2017
Sarah Jacqueline Crow and James Holt work in the vast maguey fields that span the bone-dry Southwest, a thirsty, infinite land that is both seductive and fearsome. In this rough, transient landscape, Sarah Jac and James have fallen in love. They're tough and brave, and they have big dreams. Soon they will save up enough money to go east. But until then, they keep their heads down, their muscles tensed, and above all, their love secret.
When a horrible accident forces Sarah Jac and James to start over on a new, possibly cursed ranch called the Real Marvelous, the delicate balance they've found begins to give way. And James and Sarah Jac will have to pay a frighteningly high price for their love.

THE BREATHLESS
Author: Tara Goedjen
Publisher: Delacorte Press
Pub Date: October 10, 2017
No one knows what really happened on the beach where Roxanne Cole's body was found, but her boyfriend, Cage, took off that night and hasn't been seen since. Until now. One year—almost to the day—from Ro's death, when he knocks on the door of Blue Gate Manor and asks where she is.
Cage has no memory of the past twelve months. According to him, Ro was alive only the day before. Ro's sister Mae wouldn't believe him, except that something's not right. Nothing's been right in the house since Ro died.
And then Mae finds the little green book. The one hidden in Ro's room. It's filled with secrets—dangerous secrets—about her family, and about Ro. And if what it says is true, then maybe, just maybe, Ro isn't lost forever.
And maybe there are secrets better left to the dead.
A LINE IN THE DARK
Author: Malinda Lo
Publisher: Dutton Books
Pub Date: October 17, 2017
*Note* there's a f/f couple!
The line between best friend and something more is a line always crossed in the dark.
Jess Wong is Angie Redmond's best friend. And that's the most important thing, even if Angie can't see how Jess truly feels. Being the girl no one quite notices is OK with Jess anyway. While nobody notices her, she's free to watch everyone else. But when Angie begins to fall for Margot Adams, a girl from the nearby boarding school, Jess can see it coming a mile away. Suddenly her powers of observation are more curse than gift.
As Angie drags Jess further into Margot's circle, Jess discovers more than her friend's growing crush. Secrets and cruelty lie just beneath the carefree surface of this world of wealth and privilege, and when they come out, Jess knows Angie won't be able to handle the consequences.
When the inevitable darkness finally descends, Angie will need her best friend.
"It doesn't even matter that she probably doesn't understand how much she means to me. It's purer this way. She can take whatever she wants from me, whenever she wants it, because I'm her best friend."
A Line in the Dark is a story of love, loyalty, and murder.
THE WICKER KING
Author: K. Ancrum
Publisher: Imprint
Pub Date: October 31, 2017
*Note* There is a m/m relationship!
The Wicker King is a psychological young adult thriller that follows two friends struggling as one spirals into madness.
When August learns that his best friend, Jack, shows signs of degenerative hallucinatory disorder, he is determined to help Jack cope. Jack's vivid and long-term visions take the form of an elaborate fantasy world layered over our own—a world ruled by the Wicker King. As Jack leads them on a quest to fulfill a dark prophecy in this alternate world, even August begins to question what is real or not. 
August and Jack struggle to keep afloat as they teeter between fantasy and their own emotions. In the end, each must choose his own truth.
ROSEMARKED
Author: Livia Blackburne
Publisher: Disney-Hyperion
Pub Date: November 7, 2017
A healer who cannot be healed . . .
When Zivah falls prey to the deadly rose plague, she knows it's only a matter of time before she fully succumbs. Now she's destined to live her last days in isolation, cut off from her people and unable to practice her art—until a threat to her village creates a need that only she can fill.
A soldier shattered by war . . .
Broken by torture at the hands of the Amparan Empire, Dineas thirsts for revenge against his captors. Now escaped and reunited with his tribe, he'll do anything to free them from Amparan rule—even if it means undertaking a plan that risks not only his life but his very self.
Thrust together on a high-stakes mission to spy on the capital, the two couldn't be more different: Zivah, deeply committed to her vow of healing, and Dineas, yearning for vengeance. But as they grow closer, they must find common ground to protect those they love. And amidst the constant fear of discovery, the two grapple with a mutual attraction that could break both of their carefully guarded hearts.
This smart, sweeping fantasy with a political edge and a slow-burning romance will capture fans of The Lumatere Chronicles and An Ember in the Ashes.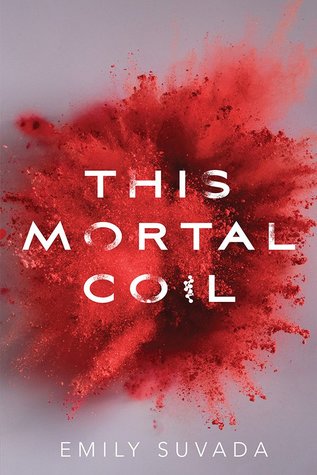 THIS MORTAL COIL
Author: Emily Suvada
Publisher: Simon Pulse
Pub Date: November 7, 2017
In this gripping debut novel, seventeen-year-old Cat must use her gene-hacking skills to decode her late father's message concealing a vaccine to a horrifying plague.
Catarina Agatta is a hacker. She can cripple mainframes and crash through firewalls, but that's not what makes her special. In Cat's world, people are implanted with technology to recode their DNA, allowing them to change their bodies in any way they want. And Cat happens to be a gene-hacking genius.
That's no surprise, since Cat's father is Dr. Lachlan Agatta, a legendary geneticist who may be the last hope for defeating a plague that has brought humanity to the brink of extinction. But during the outbreak, Lachlan was kidnapped by a shadowy organization called Cartaxus, leaving Cat to survive the last two years on her own.
When a Cartaxus soldier, Cole, arrives with news that her father has been killed, Cat's instincts tell her it's just another Cartaxus lie. But Cole also brings a message: before Lachlan died, he managed to create a vaccine, and Cole needs Cat's help to release it and save the human race.
Now Cat must decide who she can trust: The soldier with secrets of his own? The father who made her promise to hide from Cartaxus at all costs? In a world where nature itself can be rewritten, how much can she even trust herself?
NO SAINTS IN KANSAS
Author: Amy Brashear
Publisher: Soho Teen
Pub Date: November 14, 2017
A gripping reimagining of Truman Capote's In Cold Blood and the brutal murders that inspired it
November is usually quiet in Holcomb, Kansas, but in 1959, the town is shattered by the quadruple murder of the Clutter family. Suspicion falls on Nancy Clutter's boyfriend, Bobby Rupp, the last one to see them alive.
New Yorker Carly Fleming, new to the small Midwestern town, is an outsider. She tutored Nancy, and (in private, at least) they were close. Carly and Bobby were the only ones who saw that Nancy was always performing, and that she was cracking under the pressure of being Holcomb's golden girl. The secret connected Carly and Bobby. Now that Bobby is an outsider, too, they're bound closer than ever.
Determined to clear Bobby's name, Carly dives into the murder investigation and ends up in trouble with the local authorities. But that's nothing compared to the wrath she faces from Holcomb once the real perpetrators are caught. When her father is appointed to defend the killers of the Clutter family, the entire town labels the Flemings as traitors. Now Carly must fight for what she knows is right.
---
There were tons of amazing books at ALA, but these are the ones that I think deserve more promotion! I hope that I helped you learn about some new books to add to your TBR!
Which book do you think sounds the best? are you going to check any of these out? Let me know in the comments below!