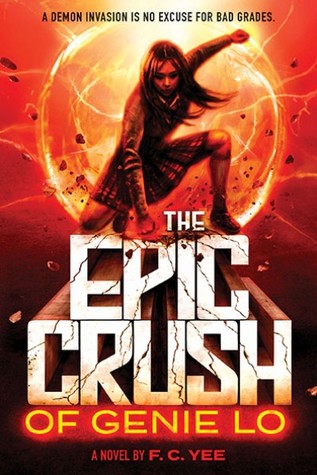 THE EPIC CRUSH OF GENIE LO
Author: F.C. Yee
Series: Genie Lo #1
Genre: YA, Fantasy, Romance
Pub Date: August 8, 2017
Publisher: Amulet Books
Source: ARC from ALAAC 2017
Goodreads | Barnes and Noble | Amazon
The struggle to get into a top-tier college consumes sixteen-year-old Genie Lo's every waking thought. But when her sleepy Bay Area town comes under siege from hell-spawn straight out of Chinese folklore, her priorities are suddenly and forcefully rearranged.

Her only guide to the demonic chaos breaking out around her is Quentin Sun, a beguiling, maddening new transfer student from overseas. Quentin assures Genie she is strong enough to fight these monsters, for she unknowingly harbors an inner power that can level the very gates of Heaven.

Genie will have to dig deep within herself to summon the otherworldly strength that Quentin keeps talking about. But as she does, she finds the secret of her true nature is entwined with his, in a way she could never have imagined…
TITLE: boring | nothing special | pretty good | caught my eye | perfection | music to my ears
COVER: not my favorite | goes well with rest of the series | boring | generic | pretty | series cover change | beautiful | HEART EYES
POV: 1st | 2nd | 3rd limited | 3rd omniscient | multiple POVs | too many POVs
CONCEPT: original as heck | run of the mill in genre | average | has potential | great idea, bad execution
MOOD: dark (at times) | hilarious | light hearted | romantic | depressing | suspenseful | fluffy | mysterious
PACING: snail's pace | couldn't keep up | mix of fast and slow | slow in the wrong places | fast in the wrong places | what even is pacing?
CHARACTERS: i'm in love | couldn't connect | too many | well developed (all) | infuriating | annoying | precious babies | underdeveloped (all)| a mix of good and bad | diverse | okay | new favorite characters
ROMANCE: none | steamy | fluffy | OTP status | cute | not center stage | barely there | cheesy | instalove | slow burn | i ship it | love triangle
DIVERSITY: none | lgbtq+ | racial (chinese) | religion | disabled | mental illness | body | #ownvoices
All my friends have been raving about this book for weeks, so I just *had* to see what all the buzz was about. This book is making some waves in the book community, and rightly so–it sounds AMAZING. As soon as I got through all my books I needed to read for July, I jumped into this one, expecting the best.
Was it amazing? Yes, YES IT WAS! If you loved Percy Jackson, then you'll love this book, too.
The best thing about this book, by far, was the voice. Oh my god, THE VOICE. Genie Lo, our lovely and badass heroine, had a snarky and hilarious voice that constantly made me crack up while I was reading. Imagine the voice of Percy Jackson, but with some dick jokes thrown in there for good measure, and that's what this book was like. Genie's voice perfectly captured a modern teenager; I found myself relating to her so much, especially her comments about homework and college. Genie Lo is the heroine teenage girls deserve (especially Chinese girls–this book wasn't written with me in mind, but I'm still so grateful for it).
As for the story itself, I've never seen anything like it. A demon slaying teenage girl who also worries about grades and maintaining a good relationship with her best friend? Um, SIGN ME THE HELL UP!!! I've never read anything with Chinese folklore, and I have to say, I was absolutely enraptured by the stories of the Monkey King and his companions. It's definitely unlike anything out there in YA right now.
Another great thing? The way the author completely turned tropes on their heads. Genie Lo isn't some petite, quiet girl; she's a badass, tall volleyball player who also manages to have amazing grades. Quentin, her sidekick/nemesis for part of the book, was a super short but hilarious guy. Their chemistry was hilarious and their banter was so amusing to read.
Pacing wise, it seemed to maintain a pretty stable pace until it was time to kick some demon ass. All of the fight scenes were thrilling and kept me on the edge of my seat, and I was just as enraptured during the connecting scenes. Basically, I was never bored.
The only reason I'm not giving it 5 stars is because I wanted more from the plot. I wanted more demon slaying, more of Genie kicking ass. However, what is in the story is still amazing and entertaining.
There is romance, but it's not the focal point of the story. I guess you could say there's a friends-to-lovers trope in this book. Genie and Quentin started off on the wrong foot (their first time speaking was the funniest thing I've ever read) but they slowly become friends–friends who constantly bicker, that is. It was more of a slow burn situation, but I think the pay off was totally worth it.
Thank god there is a sequel planned because I need MORE! The ending was completely unexpected (to Genie, too, lol) and I can't wait to see where the story goes next.
Overall, The Epic Crush of Genie Lo is a stunning addition to YA fantasy. The main character was hilarious and relatable, the story itself was full of badass demon slaying, and the slow burn romance was *SO* cute. You won't regret picking up this book, I promise. I urge you to buy/borrow from the library if you can because the world deserves to know more about the epic Genie Lo!
Have you read THE EPIC CRUSH OF GENIE LO yet, or are you planning to? What did you think of it? Let me know in the comments below!