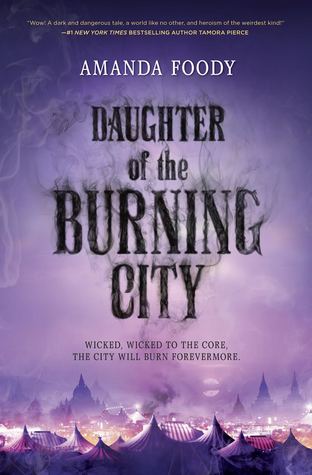 DAUGHTER OF THE BURNING CITY
Author: Amanda Foody
Genre: YA, Fantasy, Mystery, Romance
Pub Date: July 25, 2017
Publisher: Harlequin Teen
Source: ARC from ALA
Goodreads | Barnes and Noble | Amazon
A darkly irresistible new fantasy set in the infamous Gomorrah Festival, a traveling carnival of debauchery that caters to the strangest of dreams and desires.

Sixteen-year-old Sorina has spent most of her life within the smoldering borders of the Gomorrah Festival. Yet even among the many unusual members of the traveling circus-city, Sorina stands apart as the only illusion-worker born in hundreds of years. This rare talent allows her to create illusions that others can see, feel and touch, with personalities all their own. Her creations are her family, and together they make up the cast of the Festival's Freak Show.

But no matter how lifelike they may seem, her illusions are still just that—illusions, and not truly real. Or so she always believed…until one of them is murdered.

Desperate to protect her family, Sorina must track down the culprit and determine how they killed a person who doesn't actually exist. Her search for answers leads her to the self-proclaimed gossip-worker Luca, and their investigation sends them through a haze of political turmoil and forbidden romance, and into the most sinister corners of the Festival. But as the killer continues murdering Sorina's illusions one by one, she must unravel the horrifying truth before all of her loved ones disappear.
TITLE: boring | nothing special | pretty good | caught my eye | perfection | music to my ears
COVER: not my favorite | goes well with rest of the series | boring | generic | pretty | series cover change | beautiful | HEART EYES
POV: 1st | 2nd | 3rd limited | 3rd omniscient | multiple POVs | too many POVs
CONCEPT: original as heck | run of the mill in genre | average | has potential | great idea, bad execution
MOOD: dark | hilarious | light hearted | romantic | depressing | suspenseful | fluffy | mysterious
PACING: snail's pace | couldn't keep up | mix of fast and slow | slow in the wrong places | fast in the wrong places | what even is pacing?
CHARACTERS: i'm in love | couldn't connect | too many | well developed (all) | infuriating | annoying | precious babies | underdeveloped (all)| a mix of good and bad | diverse | okay | new favorite characters
ROMANCE: none | steamy | fluffy | OTP status | cute | not center stage | barely there | cheesy | instalove | slow burn | i ship it | love triangle
DIVERSITY: none | lgbtq+ (demisexual) | racial | religion | disabled | mental illness | body | #ownvoices
I've been looking forward to this book since the deal was announced in PW. This book sounds a lot like Caraval, but don't be fooled–they're not quite that different. Yes, they both involve carnivals, but Daughter of the Burning City was like if Caraval met American Horror Story–it has a dark, mysterious feeling that makes for a great atmosphere.
This book, in my opinion, was better than Caraval, but it still had some problems.
Let's start with what I liked: the setting. The author did a great job of establishing a dark and creepy tone like I mentioned previously. I could picture Gomorrah (the name of the festival) easily, the ever-burning smoke and the purple and pink tents. Setting is a very important element, especially in a book like this, and I think it was one of the best things about DOTBC.
The main characters–Sorina and Luca–were well developed. I liked Sorina, but I didn't love her. She had clear goals and a great character arc, but I just couldn't connect with her. I thought it was really unique how she didn't have eyes but she could somehow see (I'm still a little fuzzy on how that works. Like how does she cry??). I liked Luca more–he's demi!!! I don't think I've seen another demi character in YA before, and I really loved seeing it represented in this book. Luca was just as interesting as Sorina–he can't be killed–but I seemed to empathize with him more.
I read an ARC, so not everything was finalized, but I loved the idea of including character sketches throughout the story. Sorina's illusions were all unique, and I think the illustrations with Sorina's notes and the killer's notes were a great thing to include. It helped me keep track of the different illusions. I'll definitely be checking them out in the final copy.
As for the murder mystery itself, it started off very strong. Within 25 pages, the author managed to make me care about a character enough to mourn him when he died. The details surrounding the mystery were intriguing and gruesome, fitting in perfectly with the tone set by the carnival itself.
The romance was cute, and Luca being demi made it stand out among other YA romances like it. Luca and Sorina had great chemistry and the scenes they had together were so much fun to read, particularly because of Luca's wit. I also appreciated how Sorina was willing to move at Luca's pace; relationships are all about communication and mutual respect, and these two were perfect at this. It was so, so pleasant to read about that.
I want to be clear: I liked this book, but I still had some major problems with it.
Perhaps my biggest one was the pacing. I didn't notice it at first, but around 40% through the book I thought, Wait, when is this going to pick up? The pacing always seemed to stay level, and important events seemed rushed. It felt like the book was building up for something great at the end, but it fell flat. Or rather, it just stayed the same–and that may as well be flat in my mind.
While some of the characters were well developed, others weren't. Particularly Sorina's illusions; they were a mixed bag. Some, like Gill and Nicoletta, were well done, but the others felt flat and underdeveloped. This was true for most of the side characters as well, including Villiam (Sorina's father). Their lack of characterization left me feeling confused and unconnected to them, which wasn't good, considering I was supposed to feel sad when (if) they were killed.
The mystery started off well, but its conclusion was less than perfect. For one, I didn't like the "killer". They weren't well developed, and their dramatic reveal felt like it came out of absolutely nowhere. It just didn't make sense. I can't forgive a bad mystery, so I had to knock off some stars.
Overall, Daughter of the Burning City was enjoyable, but it had some fatal flaws. While the plot was intriguing, it didn't have enough tension, and some characters suffered from lack of development. However, the romance was cute and the mystery added some intrigue. I definitely think this is worth a read, just so you can make an opinion of it for yourself.
Have you read Daughter of the Burning City yet, or are you planning to? What did you think of it? Let me know in the comments below!