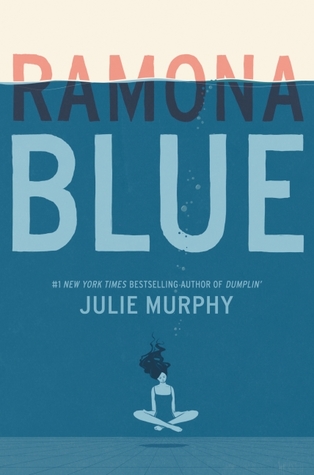 RAMONA BLUE
Author: Julie Murphy
Genre: YA, Contemporary, Romance
Pub Date: May 9, 2017
Publisher: Balzer + Bray
Source: Library
Goodreads | Barnes and Noble | Amazon
Ramona was only five years old when Hurricane Katrina changed her life forever.

Since then, it's been Ramona and her family against the world. Standing over six feet tall with unmistakable blue hair, Ramona is sure of three things: she likes girls, she's fiercely devoted to her family, and she knows she's destined for something bigger than the trailer she calls home in Eulogy, Mississippi. But juggling multiple jobs, her flaky mom, and her well-meaning but ineffectual dad forces her to be the adult of the family. Now, with her sister, Hattie, pregnant, responsibility weighs more heavily than ever.

The return of her childhood friend Freddie brings a welcome distraction. Ramona's friendship with the former competitive swimmer picks up exactly where it left off, and soon he's talked her into joining him for laps at the pool. But as Ramona falls in love with swimming, her feelings for Freddie begin to shift too, which is the last thing she expected. With her growing affection for Freddie making her question her sexual identity, Ramona begins to wonder if perhaps she likes girls and guys or if this new attraction is just a fluke. Either way, Ramona will discover that, for her, life and love are more fluid than they seem.
TITLE: boring | nothing special | pretty good | caught my eye | perfection | music to my ears
COVER: not my favorite | goes well with rest of the series | boring | generic | pretty | series cover change | beautiful | HEART EYES
POV: 1st | 2nd | 3rd limited | 3rd omniscient | multiple POVs | too many POVs
CONCEPT: original as heck | run of the mill in genre | average | has potential | great idea, bad execution
MOOD: dark | hilarious (at times) | light hearted | romantic | depressing | suspenseful | fluffy | mysterious
PACING: snail's pace | couldn't keep up | mix of fast and slow | slow in the wrong places (only the beginning) | fast in the wrong places | what even is pacing?
CHARACTERS: i'm in love | couldn't connect | too many | well developed (all) | infuriating | annoying | precious babies | underdeveloped (all)| a mix of good and bad | diverse | okay | new favorite characters
ROMANCE: none | steamy | fluffy | OTP status | cute | center stage | barely there | cheesy | instalove | slow burn | i ship it | love triangle
DIVERSITY: none | lgbtq+ | racial | religion | disabled | mental illness | body (SUPER tall)
Ramona Blue is a book I wanted to read for awhile. I heard a lot of discourse relating to the main character's sexuality, and when I saw it sitting on the shelf of my library, I thought "Why not?" and grabbed it. I thought I would simply add my two cents and read this book without much fanfare.
This is one of the best books I've ever read.
It isn't a perfect piece of fiction. The beginning was a slow start, and I had some other super minor picky things, but that doesn't make this book any less perfect. Julie Murphy somehow managed to create such lifelike characters that became part of my heart. I didn't expect to love Ramona Blue, or Freddie, or anyone else as much as I do now. These characters have a life of their own, and I can completely imagine a girl like Ramona walking around somewhere on this earth.
There are a lot of issues tackled in this book–sexuality, racism, poverty, family–but I think it was Ramona's sexuality that sealed the deal on my love for this book. If you look at the other reviews, you'll probably see a lot of people complaining about terrible lesbian representation, and the idea that a ~special~ guy can "turn a lesbian straight". I agree, those are terrible tropes, but Ramona Blue isn't about those things. It's about discovering that sexuality is fluid, and discovering who you are, and learning that sometimes your labels grow and change with you. It isn't about "turning a lesbian straight". Believing that is incredibly biphobic, because bisexuality exists, and just because it takes longer for a character to realize this doesn't mean their identity is any less valid*.
My favorite part of this book was the characters. There are only a handful of authors I've read before that can write a character as lively and real as Julie Murphy managed to do with these characters. All of them–main characters, side characters–were incredibly developed and relatable. I think everyone can find a character to relate to. Personally, Ramona was my favorite (are you surprised?) but I love all of them so, so much.
*screams* THE ROMANCE!!!! It took awhile to get started, but I thought that was a good choice, considering Ramona had never questioned her sexuality before. I loved how Ramona and Freddie were friends before they were anything else–but that doesn't mean their romantic scenes weren't steamy *fans self*. The portrayal of a teenage relationship was also done really well and accurately (yes, girls think about sex too, assuming they aren't ace). Consent is also brought up in text, very clearly, and I can't tell you how much I appreciated that.
This is definitely a realistic ending. As much as I wanted Ramona and Freddie to run into the sunset at the end of the book, I knew that wouldn't happen. I won't say anything for fear of spoiling, but I will say that I'm happy with the ending. It's a perfect representation of two teenagers in a relationship who are going seperate directions after high school graduation. I'm a big fan of happy endings, but I loved this ending, too.
This book was so personal to me. Maybe I loved it because I saw so much of myself relection in the pages, or maybe I loved it simply because it was an amazing piece of literature. Regardless of how you feel about your sexuality–if you feel like you could relate to Ramona in any way–I think you should read this book. This isn't just a book for people questioning their sexuality. It's a book for anyone who wants to learn more about fluid sexuality, for people looking for lovable characters, for people just looking for a good book to read.
Overall, Ramona Blue is one of the best books I've ever read. The way Julie Murphy tackles heavy topics while simultaneously portraying teenagers in a realistic light creates a near perfect book. With lovable characters, an interesting plot, and a romance worth cheering for, everyone will find something to love about it. You definitely don't want to miss out on this book–it has the potential to change your life, just like it changed mine.
*While Ramona Blue doesn't use the label bisexual within the book, she contemplates this label and is growing more comfortable with it by the end of the book.
Have you read Ramona blue yet, or are you planning to? What did you think of it? Let me know in the comments below!