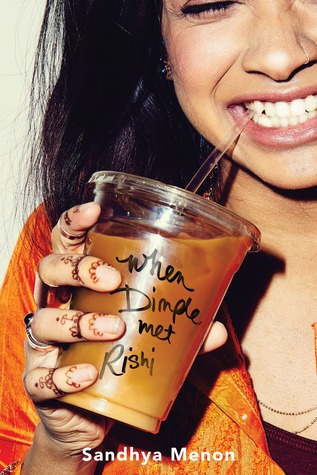 WHEN DIMPLE MET RISHI
Author: Sandhya Menon
Genre: YA, Contemporary, Romance
Pub Date: May 30, 2017
Publisher: Simon Pulse
Source: ARC from #booksfortrade
Goodreads | Barnes and Noble | Amazon
The rom-com that everyone's talking about! Eleanor & Park meets Bollywood in this hilarious and heartfelt novel about two Indian-American teens whose parents conspire to arrange their marriage.

Dimple Shah has it all figured out. With graduation behind her, she's more than ready for a break from her family, from Mamma's inexplicable obsession with her finding the "Ideal Indian Husband." Ugh. Dimple knows they must respect her principles on some level, though. If they truly believed she needed a husband right now, they wouldn't have paid for her to attend a summer program for aspiring web developers…right?

Rishi Patel is a hopeless romantic. So when his parents tell him that his future wife will be attending the same summer program as him—wherein he'll have to woo her—he's totally on board. Because as silly as it sounds to most people in his life, Rishi wants to be arranged, believes in the power of tradition, stability, and being a part of something much bigger than himself.

The Shahs and Patels didn't mean to start turning the wheels on this "suggested arrangement" so early in their children's lives, but when they noticed them both gravitate toward the same summer program, they figured, Why not?

Dimple and Rishi may think they have each other figured out. But when opposites clash, love works hard to prove itself in the most unexpected ways.
TITLE: boring | nothing special | pretty good | caught my eye | perfection | music to my ears
COVER: not my favorite | goes well with rest of the series | boring | generic | pretty | series cover change | beautiful | HEART EYES
POV: 1st | 2nd | 3rd limited | 3rd omniscient | multiple POVs | too many POVs
CONCEPT: original as heck | run of the mill in genre | average | has potential | great idea, bad execution
MOOD: dark | hilarious | light hearted | romantic | depressing | suspenseful | fluffy | mysterious
PACING: snail's pace | couldn't keep up | mix of fast and slow | slow in the wrong places | fast in the wrong places | what even is pacing?
CHARACTERS: i'm in love | couldn't connect | too many | well developed (all) | infuriating | annoying | precious babies | underdeveloped (all)| a mix of good and bad | diverse | okay | new favorite characters
ROMANCE: none | steamy | fluffy | OTP status | cute | not center stage | barely there | cheesy | instalove | slow burn | i ship it | love triangle
DIVERSITY: none | lgbtq+ | racial | religion | disabled | mental illness | body | #ownvoices
I'll admit it: I totally wanted to read this book for the cover alone. Look at that cutie on the cover, with those beautiful colors and that delicious looking drink! I did some more research, and I thought this book sounded super adorable and full of exciting potential. My ARC was with a friend, so I borrowed this book from the library and dove in.
Guys, THIS BOOK WAS SO GOOD!!
Dimple Shah is my girl! She is an absolute firecracker, and I love that she is super smart and unapologetic about it. Her voice was so unique and fun to read. I related to her so much, and I just love her to death ❤ AND RISHI! I loved that the author made a love interest who was religious, yet not overly so. Yes, it affected his actions/decisions, but it never felt preachy or overwhelming. He was a perfect compliment to Dimple's fiery temperament. I didn't know I could love someone like Rishi! He didn't fall prey to that YA trope of being tall, dark and handsome. Yes, he was handsome (obvs), but Dimple explicitly says that he's short, and he's not super buff or anything. Honestly, I think that's hotter than being ripped.
The arranged marriage trope was executed so well! Menon also adds in the "enemies to lovers" trope, and these two paired together = GOLD! I love how the topic of arranged marriages was handled; personally, as a white person, I've always felt a little weird about it. But, hearing Rishi explain it in terms of stability and long term partnership made me understand it a lot more and be more open to it.
Their romance was the cutest thing I've ever read. Watching them slowly become friends and then grow into something more was amazing. I loved how they talked about heavy topics like sex and ~the future~. Their romance was both cute and steamy and I loved how they were able to do both. Where can I get my own Rishi?? (or Dimple. I'll take either one!)
I thought the actual plot itself was interesting and engaging. Rishi's conflicting emotions about comics vs. engineering and Dimple's emotions about career vs. relationship made them feel well developed. I think everyone can relate to them in some way, no matter what skin color you have. The only reason I didn't give it 5 full stars is because I had a few nitpicky comments about plot events, but other than that, it was practically perfect.
Overall, When Dimple Met Rishi is a cute contemporary that everyone will love. Dimple and Rishi were relatable, their romance was swoon-worthy, and the plot itself was unique and engaging. As a white, non-religious person, I learned so much about Indian culture, and I feel like I have so much more respect for their beliefs and customs. Even if you don't want to read it for the romance, I promise you, you'll feel so much more educated and enlightened after reading this book.
Have you read When Dimple Met Rishi yet, or are you planning to? What did you think of it? Let me know in the comments below!