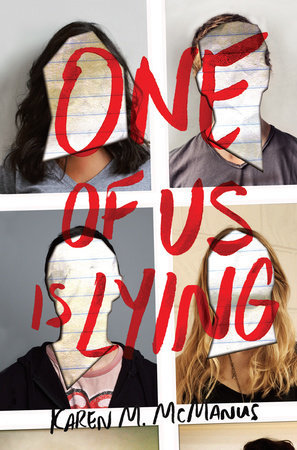 ONE OF US IS LYING
Author: Karen McManus
Genre: YA, Mystery, Thriller, Romance
Pub Date: May 30, 2017
Publisher: Delacorte Press
Source: ARC from #booksfortrade
Goodreads | Barnes and Noble | Amazon
The Breakfast Club meets Pretty Little Liars, One of Us Is Lying is the story of what happens when five strangers walk into detention and only four walk out alive. Everyone is a suspect, and everyone has something to hide.
Pay close attention and you might solve this.
On Monday afternoon, five students at Bayview High walk into detention.
Bronwyn, the brain, is Yale-bound and never breaks a rule.
Addy, the beauty, is the picture-perfect homecoming princess.
Nate, the criminal, is already on probation for dealing.
Cooper, the athlete, is the all-star baseball pitcher.
And Simon, the outcast, is the creator of Bayview High's notorious gossip app.
Only, Simon never makes it out of that classroom. Before the end of detention, Simon's dead. And according to investigators, his death wasn't an accident. On Monday, he died. But on Tuesday, he'd planned to post juicy reveals about all four of his high-profile classmates, which makes all four of them suspects in his murder. Or are they the perfect patsies for a killer who's still on the loose?
Everyone has secrets, right? What really matters is how far you would go to protect them.
TITLE: boring | nothing special | pretty good | caught my eye | perfection | music to my ears
COVER: not my favorite | goes well with rest of the series | boring | generic | pretty | series cover change | beautiful | HEART EYES
POV: 1st | 2nd | 3rd limited | 3rd omniscient | multiple POVs | too many POVs
CONCEPT: original as heck | run of the mill in genre | average | has potential | great idea, bad execution
MOOD: dark | hilarious | light hearted | romantic | depressing | suspenseful | fluffy | mysterious
PACING: snail's pace | couldn't keep up | mix of fast and slow | slow in the wrong places | fast in the wrong places | what even is pacing?
CHARACTERS: i'm in love | couldn't connect | too many | well developed (all) | infuriating | annoying | precious babies | underdeveloped (all)| a mix of good and bad | diverse | okay (Addy) | new favorite characters
ROMANCE: none | steamy | fluffy | OTP status | cute | not center stage | barely there | cheesy | instalove | slow burn | i ship it | love triangle
DIVERSITY: none | lgbtq+ | racial | religion | disabled | mental illness | body | #ownvoices
Look, an actual review on a reviewing website!! School has kept me very, very busy for the past few months (hasn't everyone been busy with school?) but now that finals are nearly done and summer is in reach, I've finally had time to return to blogging. This book is keeping in theme with current events–it's about a murder that takes place in detention, and the students who are believed to be suspects.
Sounds like my kind of book, right? If you're a regular reader of my blog, you know that I love a good mystery–and this book has a ton of glowing reviews! It sounded so, so promising.
Sadly, for the first time in awhile, I was the black sheep.
My biggest problem with this book is the lack of distinction between the POVs. There are 4 different POV characters: Bronwyn, Nate, Addy and Cooper. Their voices often blended together, and I frequently had to check whose chapter I was reading. This was especially tough in the beginning, because a lot of things are thrown at you all at once.
As for characterization, none of the characters felt well-rounded. All of them had interesting backstories–Nate has a troubled past, Addy's in an abusive relationship, etc–but it managed to all fall flat. They felt like the blurb makes them out to be–stereotypes. If I had to choose a favorite, it would probably be Bronwyn, only because I love a good bookworm character. There was just something missing that kept me from feeling connected to any of the characters (despite the fact that I have similarities to a few of them).
Okay, here's the big part: the mystery. I could ignore everything else I disliked about this book if the mystery was spectacular and knocked my socks off. Everything was set up perfectly! A sudden death in school, while only 5 people are in the room! Not one, not two, but FOUR unreliable narrators! There was so much potential, but I was SUPER disappointed by how things turned out. I won't say much for fear of spoilers, but this book is not what it's advertised to be. I felt like the mystery was weird and almost unbelievable, but at the same time, not very clever or unique. I mean, props for not getting me to guess the murderer correctly, I guess?
ROMANCE. Guys, the freaking ROMANCE! I am the biggest fan of romance–it's in practically every book I read, no matter how small a role it plays. The main romance here is between Bronwyn and Nate, two of the four POV characters. The thing that made me frustrated the most was the fact that NONE OF THEIR ANGST WAS NECESSARY!!! There was some sort of tortured love thing going on, and there was absolutely no reason for it to be this way! None! Honestly, the book probably would have been better if there was no romance at all. It even pains my romance-loving heart to say that.
And the ending? Well, let's just say I was not pleased with the ending.
Overall, One of Us Is Lying was not the glowing book I was expecting. The characters were flat, the mystery started out strong and fell flat quickly, and the romance was full of unnecessary angst that took away from the rest of the plot. Honestly, I'm not sure why I disliked this book and everyone else loved it. Maybe I read it at a bad time? However, it's worth noting that I'm in the small minority of people who disliked the book, and you might enjoy it. This just wasn't for me.
Have you read One Of Us Is Lying yet, or are you planning to? What did you think of it? Let me know in the comments below!