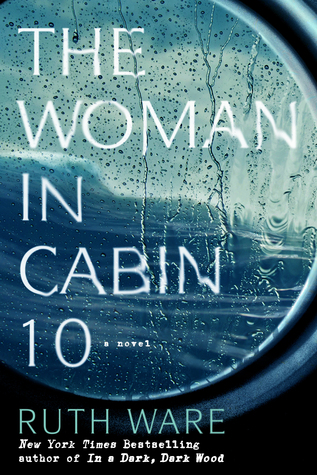 THE WOMAN IN CABIN 10
Author: Ruth Ware
Genre: Adult, Thriller,  Mystery
Pub Date: June 30, 2016
Publisher: Gallery/Scout Press
Source: Library
Goodreads | Barnes and Noble | Amazon
In this tightly wound story, Lo Blacklock, a journalist who writes for a travel magazine, has just been given the assignment of a lifetime: a week on a luxury cruise with only a handful of cabins. At first, Lo's stay is nothing but pleasant: the cabins are plush, the dinner parties are sparkling, and the guests are elegant. But as the week wears on, frigid winds whip the deck, gray skies fall, and Lo witnesses what she can only describe as a nightmare: a woman being thrown overboard. The problem? All passengers remain accounted for—and so, the ship sails on as if nothing has happened, despite Lo's desperate attempts to convey that something (or someone) has gone terribly, terribly wrong…

With surprising twists and a setting that proves as uncomfortably claustrophobic as it is eerily beautiful, Ruth Ware offers up another intense read.
TITLE: boring | nothing special | pretty good | caught my eye | perfection | music to my ears
COVER: not my favorite | goes well with rest of the series | boring | generic | pretty | series cover change | beautiful | HEART EYES
POV: 1st | 2nd | 3rd limited | 3rd omniscient | multiple POVs | too many POVs
CONCEPT: original as heck | run of the mill in genre | average | has potential | great idea, bad execution
MOOD: dark | hilarious | light hearted | romantic | depressing | suspenseful | fluffy | mysterious
PACING: snail's pace | couldn't keep up | mix of fast and slow | slow in the wrong places | fast in the wrong places | what even is pacing?
CHARACTERS: i'm in love | couldn't connect | too many | well developed (all) | infuriating | annoying (Lo) | precious babies | underdeveloped (all)| a mix of good and bad | diverse | okay | new favorite characters
ROMANCE: none | steamy | fluffy | OTP status | cute | center stage | barely there | cheesy | instalove | slow burn | i ship it | love triangle
DIVERSITY: none | lgbtq+ | racial | religion | disabled | mental illness | body
*blinks* Is this an adult book on a young adult book blogger's site? Why yes, yes it is 🙂 I've been expanding my horizons in terms of reading, and lately, adult thrillers are my jam. They are very enjoyable (the good ones, at least), even if you don't typically like adult, and I personally think many have YA crossover appeal. This is one I stumbled across on goodreads and promptly rushed over to the library to pick up.
*note: this is a mini review. partially because this isn't my typical book review in terms of genre, and i want to test the waters to see if anyone else is interested in seeing more reviews of adult thrillers