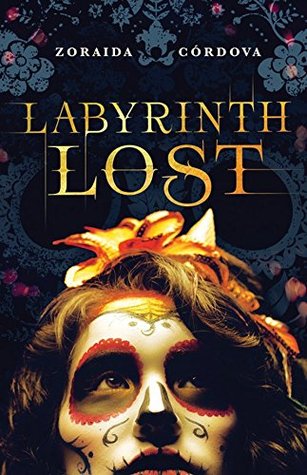 LABYRINTH LOST
Author: Zoraida Córdova
Series: Brooklyn Brujas #1
Genre: YA, Fantasy, Romance
Pub Date: September 6, 2016
Publisher: Sourcebooks
Source: BEA
Goodreads | Barnes and Noble | Amazon
Nothing says Happy Birthday like summoning the spirits of your dead relatives.

I fall to my knees. Shattered glass, melted candles and the outline of scorched feathers are all that surround me. Every single person who was in my house – my entire family — is gone.

Alex is a bruja, the most powerful witch in a generation…and she hates magic. At her Deathday celebration, Alex performs a spell to rid herself of her power. But it backfires. Her whole family vanishes into thin air, leaving her alone with Nova, a brujo boy she can't trust. A boy whose intentions are as dark as the strange markings on his skin.

The only way to get her family back is to travel with Nova to Los Lagos, a land in-between, as dark as Limbo and as strange as Wonderland…

Beautiful Creatures meets Daughter of Smoke and Bone with an infusion of Latin American tradition in this highly original fantasy adventure.
TITLE: boring | nothing special | pretty good | caught my eye | perfection | music to my ears
COVER: not my favorite | goes well with rest of the series | boring | generic | pretty | series cover change | beautiful | HEART EYES
POV: 1st | 2nd | 3rd limited | 3rd omniscient | multiple POVs | too many POVs
CONCEPT: original as heck | run of the mill in genre | average | has potential | great idea, bad execution
MOOD: dark | hilarious | light hearted | romantic | depressing | suspenseful | fluffy | mysterious
PACING: snail's pace | couldn't keep up | mix of fast and slow | slow in the wrong places | fast in the wrong places | what even is pacing?
CHARACTERS: i'm in love | couldn't connect | too many | well developed (all) | infuriating | annoying | precious babies | underdeveloped (all)| a mix of good and bad | diverse | okay | new favorite characters
ROMANCE: none | steamy | fluffy | OTP status | cute | center stage | barely there | cheesy | instalove | slow burn | i ship it | love triangle
DIVERSITY: none | lgbtq+ | racial | religion | disabled | mental illness | body
This is a book that I've heard many, many good things about. My friend LOVED it, so I decided to give it a go. Also, I'm not sure if it's just me, but I get this little thrill when I read books with main characters who have the same name as me (especially when it's a girl Alex! There aren't nearly enough of us). I'm sad to report that this book just didn't click with me.
It took a long time to get to the mentioned events in the blurb (about 75 pages or so). However, I didn't really mind–I liked the writing and the characters well enough. I liked everything really, up until Alex and Nova cross the river in Los Lagos, and then things went downhill. I'm not sure what it was exactly that made me dislike the last 2/3 of the book, but I think it had to do with the unexplained plot twists and lackluster romance(s).
I felt like the characters just floated aimlessly between events and places. I like adventure novels/quests (PERCY JACKSON!), but it felt like there was no reason behind a lot of the events that took place in Los Lagos. Maybe if there felt like more of a driving force behind the plot, I would've enjoyed it more.
I don't have any complaints about Alex, the main character. She was a pretty typical teenager (moody, bratty at times) but her love for her family made me warm up to her. Nova, the boy who accompanies her into Los Lagos, was intriguing and well developed, up until the weird and totally unexplained plot twist towards the end of the book. Rishi, Alex's best friend, just felt like the typical sassy friend, if I'm being honest.
I LOVE a good villain, but the villain in this story was pretty disappointing. I didn't think she was scary at all, and even though we're told what her reason is for being "evil", I just didn't care about her.
Now lets get to the romance. I thought it was going to be between Nova and Alex. That seems like the obvious choice based on the blurb, but there's also a romance between Alex and Rishi (f/f rep!). Now, I'm all for representation, but I thought there was no chemistry between Rishi and Alex. Most of their relationship is told rather than shown (like the reader is told they're best friends without seeing the relationship behind it). I just didn't really care about them at all, especially when I thought Alex and Nova had more chemistry.
There are a few plot twists in this book towards the end, and I thought they came out of nowhere. I love twisty books, but not when there's no build up or reason behind it. Also, I think the comparison to Beautiful Creatures was fitting, but not Daughter of Smoke and Bone.
Overall, Labyrinth Lost started out strong but finished weak. The beginning was interesting and the main character was likable, but the romance lacked chemistry and the plot twists came from nowhere (in a bad way). The ending leaves room for more books, but I'm not sure if I'll pick up the next one. I'll make my decision once I see the blurb. I would recommend this to someone looking for an Alice and Wonderland-vibe book with diversity, but other than that, I wouldn't recommend it.
Have you read an early copy of Labyrinth Lost yet, or are you planning to when it's released? Let me know in the comments below!