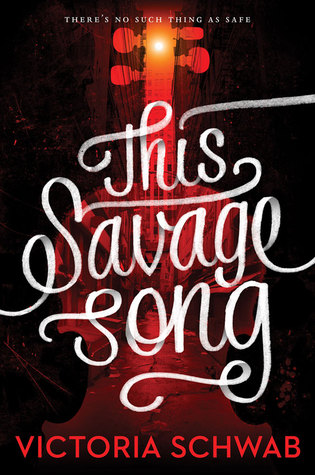 This Savage Song
Author: Victoria Schwab
Series: Monsters of Verity #1
Genre: YA, Fantasy, Paranormal
Pub Date: July 5, 2016
Publisher: Greenwillow
Source: Purchased
Goodreads | Barnes and Noble | Amazon
There's no such thing as safe in a city at war, a city overrun with monsters. In this dark urban fantasy from author Victoria Schwab, a young woman and a young man must choose whether to become heroes or villains—and friends or enemies—with the future of their home at stake. The first of two books.

Kate Harker and August Flynn are the heirs to a divided city—a city where the violence has begun to breed actual monsters. All Kate wants is to be as ruthless as her father, who lets the monsters roam free and makes the humans pay for his protection. All August wants is to be human, as good-hearted as his own father, to play a bigger role in protecting the innocent—but he's one of the monsters. One who can steal a soul with a simple strain of music. When the chance arises to keep an eye on Kate, who's just been kicked out of her sixth boarding school and returned home, August jumps at it. But Kate discovers August's secret, and after a failed assassination attempt the pair must flee for their lives.
TITLE: boring | nothing special | pretty good | caught my eye | perfection | music to my ears
COVER: not my favorite | goes well with rest of the series | boring | generic | pretty | series cover change | beautiful | HEART EYES
POV: 1st | 2nd | 3rd limited | 3rd omniscient | multiple POVs | too many POVs
CONCEPT: original as heck | run of the mill in genre | average | has potential | great idea, bad execution
MOOD: dark | hilarious | light hearted | romantic | depressing | suspenseful | fluffy | mysterious
PACING: snail's pace | couldn't keep up | mix of fast and slow | slow in the wrong places | fast in the wrong places | what even is pacing?–more on this below
CHARACTERS: i'm in love | couldn't connect | too many | well developed (all) | infuriating | annoying | precious babies | underdeveloped (all)| a mix of good and bad | diverse | okay | new favorite characters
ROMANCE: none (FOR NOW) | steamy | fluffy | OTP status | cute | center stage | barely there | cheesy | instalove | slow burn | i ship it | love triangle
DIVERSITY: none | lgbtq+ | racial | religion | disabled | mental illness | body
There are a lot of authors I hold in high respect, and Victoria Schwab (or, V.E. Schwab on the adult spectrum) is one of those authors. I haven't read all of her books, but I'm a big fan of the Shades of London trilogy. When I heard she was writing a book about monstrous humans and human monsters, I knew I had to read it. Books dealing with humanity–or the lack of it–are my bread and butter. I'm happy to report that this book didn't disappoint, and even further solidifies Victoria Schwab as an amazing writer.
Let me start by saying this: This Savage Song might not be for everyone. It's certainly for me, but I know some people enjoy fast-paced or plot-driven books. TSS is very much a slow, character-driven book. The pacing is pretty steady throughout the entire story, but I definitely think it gets more interesting the more you read. I really enjoyed getting to know the characters and learning more about the world of Verity.
There is one author I think of when I think of authors who craft incredibly 3-dimensional character, and that's Maggie Stiefvater. However, all of the characters in This Savage Song have motivations and goals and flaws, even the secondary characters. They feel like real people I could pass on the street (if you ignore the monster parts). Our two main characters and POVs, Kate and August, are the best of the bunch. I have a sweet spot for generally unlikeable female characters, and Kate definitely wriggled her way into my heart.
And August. Oh, August. He was my favorite character, besides Issa and Kate. I just wanted to wrap him up tight in a blanket and hug him and never let go. Points to the author for making me love a "monster" so much.
If you've read any of my other blog posts, you know I love a good romance, and I often feel very meh about books lacking it. This Savage Song has no romance, and I still loved it *gasp* Kate and August had a forbidden friendship vibe going on, but nothing more (in the first book, at least). I feel like their relationship might gravitate towards something more in the next book (or that's what I'm hoping for *crosses fingers*. I'm so transparent I don't even care). I didn't mind the lack of romance, because I still found myself rooting for Kate and August as friends. The two of them are like fire and ice, and their chemistry is off the charts.
Also, I thought TSS could standalone, up until the last chapter. The author sneaks in a new POV at the very end, and as soon as I read the chapter I screeched and got super excited (and terrified) because I knew things were about to do a complete 180. I'm really excited to see how the events of the last chapter impact book two of this duology.
Overall, This Savage Song was one of my favorite books of the year so far. The slower pace lets you get to know the characters really well, and in turn, that makes you care about the events that unfold. Even if you don't like slower books, I urge you to try this one out, simply because the characters are spectacular, and by far the best thing about this book. You can be sure to find me reading the next book when it's out next summer!
Have you read This Savage song yet, or are you planning to? What did you think of it? Let me know in the comments below!