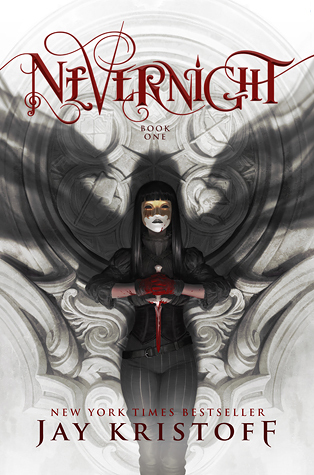 NEVERNIGHT
Author: Jay Kristoff
Series: The Nevernight Chronicles #1
Genre: Adult (more on that below), fantasy, romance
Pub Date: August 9, 2016
Publisher: Thomas Dunne
Source: I received an ARC from the publisher in exchange for an honest review
Goodreads | Barnes and Noble | Amazon
In a land where three suns almost never set, a fledgling killer joins a school of assassins, seeking vengeance against the powers who destroyed her family.

Daughter of an executed traitor, Mia Corvere is barely able to escape her father's failed rebellion with her life. Alone and friendless, she hides in a city built from the bones of a dead god, hunted by the Senate and her father's former comrades. But her gift for speaking with the shadows leads her to the door of a retired killer, and a future she never imagined.

Now, Mia is apprenticed to the deadliest flock of assassins in the entire Republic—the Red Church. If she bests her fellow students in contests of steel, poison and the subtle arts, she'll be inducted among the Blades of the Lady of Blessed Murder, and one step closer to the vengeance she desires. But a killer is loose within the Church's halls, the bloody secrets of Mia's past return to haunt her, and a plot to bring down the entire congregation is unfolding in the shadows she so loves.

Will she even survive to initiation, let alone have her revenge?
TITLE: boring | nothing special | pretty good | caught my eye | perfection | music to my ears
COVER: not my favorite | goes well with rest of the series | boring | generic | pretty | series cover change | beautiful | HEART EYES
POV: 1st | 2nd | 3rd limited | 3rd omniscient | multiple POVs | too many POVs
CONCEPT: original as heck | run of the mill in genre | average | has potential | great idea, bad execution
MOOD: dark | hilarious | light hearted | romantic | depressing | suspenseful | fluffy | mysterious
PACING: snail's pace | couldn't keep up | mix of fast and slow | slow in the wrong place | fast in the wrong places | what even is pacing?
CHARACTERS: i'm in love (TRIC MY LOVE) | couldn't connect | too many | well developed (all) | infuriating | annoying | precious babies | underdeveloped (all)| a mix of good and bad | diverse | okay | new favorite characters
ROMANCE: none | steamy | fluffy | OTP status | cute | center stage | barely there | cheesy | instalove | slow burn | i ship it | love triangle
DIVERSITY: none | lgbtq+ | racial | religion | disabled | mental illness | body
This is my dream book. If I could wish for a book about anything, and have it appear fully formed in front of me, I would wish for this book. Thankfully, the wonderful Jay Kristoff (who also cowrote the Illuminae Chronicles!) actually did write this book, and man, was it amazing! It's one of the best books I've ever read, despite a few issues I had with it here and there.
A school full of assassins, chock full of deceit and romance and MURDER? Sign me the hell up! The concept of this book was spectacular and almost always kept me 100% engaged. I just had one problem though, and that was with the first 100 pages. It takes awhile to get to the good part of the story–I nearly DNFed this book. Thankfully, I had friends who pushed me to keep going, and I am so glad I continued. In case you feel the same way, I will be that friend for you–KEEP READING. I PROMISE YOU WILL NOT REGRET IT.
I am in love with almost all of the characters (the others can go die in a ditch) (oops). Mia Corvere is one of the best main characters ever. She's not afraid to be a bad person–which, FYI, she's really a softie deep down–and she's willing to get down and dirty to get what she wants. This girl is no Mary Sue! The other assassins and teachers are all really well developed, and the author does a really good job of giving them all distinct personalities, so I didn't have a hard time telling them apart.
Also, I would like to say that I love Tric and he made this entire book for me. I LOVE YOU, TRIC.
Now, the romance weaseled its way into my heart, and then burst out of my body, ripping my chest open and breaking my heart. Or, in better words, I loved Mia and Tric a hell of a lot. It isn't much of a slow burn, but they don't move very fast, either. Their chemistry was off the charts, and you could see it every time they interacted together. Also, I loved their relationship, and not just the sexual parts of it. You could see they both really cared for each other–even if Mia is a stubborn bull and couldn't get her head out of her ass when it came to Tric. They are definitely going to go down in history as one of my favorite OTPs, and it will be very hard to forget them (especially since they left a permanent scar on my heart. Thank you, Jay, for all the beautiful pain).
I should also mention that this book is really unique, because it has footnotes! They add a little dark humor to the really heavy, also dark story, which was cool. Another thing worth mentioning is that this book is adult, despite all of the YA bloggers reading it. But don't let that put you off! It's a little graphic on the gore and sex scenes, but I think teenagers can handle it. For what it's worth, I'm 16 and I fucking loved it, so *shrugs*.
Overall, Nevernight was absolutely amazing. The story was dark and unique, the romance was off the charts, and the characters were all well rounded and perfect candidates for characters who you will fall in love with and then will destroy your heart 🙂 Basically, just buy this book tomorrow. You can thank me later.
Have you read an early copy of nevernight, or are you going to buy it tomorrow when it's released? Let me know in the comments below!