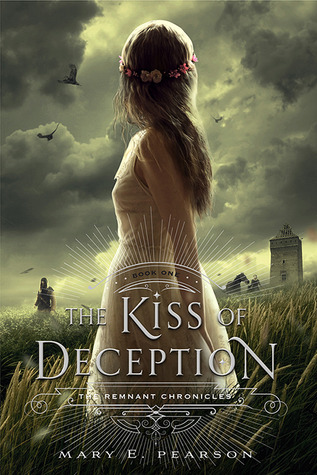 The Kiss of Deception
Author: Mary E. Pearson
Series: The Remnant Chronicles #1
Genre: YA, Fantasy, Romance
Pub Date: July 8, 2014
Publisher: Henry Holt
Source: Purchased
Goodreads | Barnes and Noble | Amazon
A princess must find her place in a reborn world.

She flees on her wedding day.

She steals ancient documents from the Chancellor's secret collection.

She is pursued by bounty hunters sent by her own father.

She is Princess Lia, seventeen, First Daughter of the House of Morrighan.

The Kingdom of Morrighan is steeped in tradition and the stories of a bygone world, but some traditions Lia can't abide. Like having to marry someone she's never met to secure a political alliance.

Fed up and ready for a new life, Lia flees to a distant village on the morning of her wedding. She settles in among the common folk, intrigued when two mysterious and handsome strangers arrive—and unaware that one is the jilted prince and the other an assassin sent to kill her. Deceptions swirl and Lia finds herself on the brink of unlocking perilous secrets—secrets that may unravel her world—even as she feels herself falling in love.
TITLE: boring | nothing special | pretty good | caught my eye | perfection | music to my ears
COVER: not my favorite | goes well with rest of the series | boring | generic | pretty | series cover change | beautiful | HEART EYES
POV: 1st | 2nd | 3rd limited | 3rd omniscient | multiple POVs | too many POVs
CONCEPT: original as heck | run of the mill in genre | average | has potential | great idea, bad execution
MOOD: dark | hilarious | light hearted | romantic | depressing | suspenseful | fluffy | mysterious
PACING: snail's pace | couldn't keep up | mix of fast and slow | slow in the wrong places | fast in the wrong places | what even is pacing?
CHARACTERS: i'm in love (RAFE) | couldn't connect | too many | well developed (all) | infuriating | annoying | precious babies | underdeveloped (all)| a mix of good and bad | diverse | okay | new favorite characters
ROMANCE: none | steamy | fluffy | OTP status | cute | center stage | barely there | cheesy | instalove | slow burn | i ship it | love triangle
DIVERSITY: none | lgbtq+ | racial | religion | disabled | mental illness | body
This book was the most voted book for the Make Me Read it Readathon that you guys voted on, so I picked it up as soon as the readathon started. I originally picked up this book about a year ago, but ended up only getting a few pages in before giving up. Thankfully, when I picked it up this time, it turned out much better! I think it's safe to say you all have good taste 😉
A runaway princess is not anything new in the fantasy genre, so I was a little hesitant in the beginning. However, this book has three different POVs: the assassin and the jilted prince. That made the book a lot more interesting, and it added a HUGE twist in the middle of the story that I did not see coming. It was insane. One issue I had though was the lack of action in the book. The first half felt like it lagged a lot, the middle was intense, and the second half felt slow, too. Usually I'm a fan of slower, character driver books, but I was a little disappointed with this one.
I thought Lia was a pretty interesting main character. She was adaptable and smart (for the most part). I liked that even though she's a princess, she wasn't afraid to get down and dirty. I thought she was really well developed. Our other two POV characters, Rafe and Kaden, were also really well developed. I didn't particularly care for Kaden, especially in the second half of the book. I get why he did what he did, but…*shrugs* whatever. I'm just going to side eye him for the entirety of the second book.
BUT RAFE. OOOOOOOOH LET ME TELL YOU ABOUT RAFE. So, I kind of love him a lot. I always go for the mysterious, tall, dark and handsome character, and this is no different. He was probably my favorite character in the novel. Team Rafe all the way, guys!
This may seem like a love triangle to you–two boys, one girl–but it's pretty clear that Lia is only interested in one of them. I thought the romance was a bit instalove-y, which was disappointing, but I can overlook that because I enjoyed other parts of the book. I like how the romance was written, and despite the instalove, it was well developed over time.
Overall, I really loved The Kiss of Deception. The characters were all distinct and well developed, the romance was swoon worthy despite the instalove. This book was really clever and pulled a surprise move in the middle of the book, which gets it extra points. If you need me, I'll be over here reading the sequel.
Have you read The kiss of Deception yet, or are you planning to? What did you think of it? Let me know in the comments below!