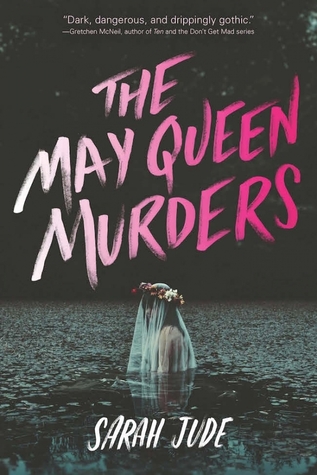 The May Queen Murders
Author: Sarah Jude
Genre: YA, Contemporary, Mystery, Romance
Pub Date: May 3, 2016
Publisher: HMH
Source: Gifted by the lovely Deanna
Goodreads | Barnes and Noble | Amazon
Stay on the roads. Don't enter the woods. Never go out at night.

Those are the rules in Rowan's Glen, a remote farming community in the Missouri Ozarks where Ivy Templeton's family has lived for centuries. It's an old-fashioned way of life, full of superstition and traditions, and sixteen-year-old Ivy loves it. The other kids at school may think the Glen kids are weird, but Ivy doesn't care—she has her cousin Heather as her best friend. The two girls share everything with each other—or so Ivy thinks. When Heather goes missing after a May Day celebration, Ivy discovers that both her best friend and her beloved hometown are as full of secrets as the woods that surround them.
TITLE: boring | nothing special | pretty good | caught my eye | perfection | music to my ears
COVER: not my favorite | goes well with rest of the series | boring | generic | pretty | series cover change | beautiful | HEART EYES
POV: 1st | 2nd | 3rd limited | 3rd omniscient | multiple POVs | too many POVs
CONCEPT: original as heck | run of the mill in genre | average | has potential | great idea, bad execution
MOOD: dark | hilarious | light hearted | romantic | depressing | suspenseful | fluffy | mysterious
PACING: snail's pace | couldn't keep up | mix of fast and slow | slow in the wrong places | fast in the wrong places | what even is pacing?
CHARACTERS: i'm in love | couldn't connect | too many | well developed (all) | infuriating | annoying | precious babies | underdeveloped (all)| a mix of good and bad | diverse | okay | new favorite characters
ROMANCE: none | steamy | fluffy | OTP status | cute | center stage | barely there | cheesy | instalove | slow burn | i ship it | love triangle
DIVERSITY: none | lgbtq+ | racial | religion | disabled | mental illness | body
This is another case where the cover of a book calls to me. I mean, do you see this gorgeous cover? I've been in the mood for a good, old fashioned mystery so I decided to pick this book up on a whim and see what it was like. The May Queen Murders, despite having some negative reviews by my friends on goodreads, is an eerie, romantic mystery that I really enjoyed.
While the plot seems typical for a mystery–a girl goes missing suddenly–I thought it was pretty unique. The story takes place in a small town called Rowan's Glen. It's almost like a cult, but not quite; it's much more relaxed than a cult, and less creepy. The first page immediately sucked me in, and from then on, I was hooked.  I didn't feel like it dragged in any specific place, but I did feel like it was repetitive in some place, like with the animal deaths. Another thing that threw me was the ending; there were a lot of twists in the span of like thirty pages, and it was a little overwhelming. Other than that though, I really enjoyed the story itself.
It's important that a every mystery has an equally mysterious cast of characters, otherwise it's easy to guess the "big bad." The author did a great job with making every character just a little suspicious. I never knew who to trust or what to believe. The main character, Ivy, wasn't particularly amazing in my mind. I liked her, but I wasn't really enthralled by her. However, most of the characters were really well developed which is always a plus. The one thing I have a complaint about is the "big bad". I feel like there wasn't enough about them in the story to make me feel surprised by the ending. It just felt like it came out of nowhere, which was a little disappointing. That's my only qualm though–everything else was really well done.
Alex, you're probably thinking, get to the good stuff! What about the romance?
There wasn't a ton of romance in here, but I wouldn't say that it was barely there, either. There was a good balance between the mystery and the romance. It was cute, but I wasn't in love with the pairing.
The one thing The May Queen Murders really has going for it is the creepy atmosphere. I loved the dark descriptions and the way the author painted everything in a mysterious and suspenseful light. It was the best thing about the book, and it was the thing that kept me turning the pages.
Overall, The May Queen Murders was a quick, chilling read that made me second guess every character's motives. While the ending seemed a bit rushed, I loved the descriptive writing and the mystery itself. If you're looking for a quick but dark mystery to read, this is the book for you!
Have you read The May Queen Murders yet, or are you planning to? What did you think of it? Let me know in the comments below!