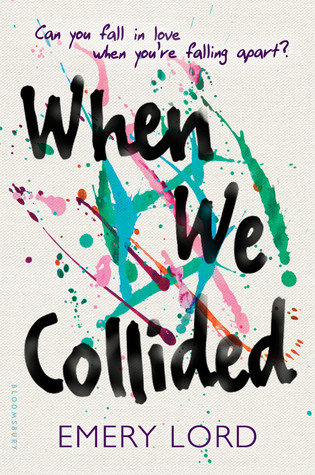 WHEN WE COLLIDED
Author: Emery Lord
Genre: YA, Contemporary, Romance
Pub Date: April 5, 2016
Publisher: Bloomsbury
Source: Purchased
Goodreads | Barnes and Noble | Amazon
TITLE: boring | nothing special | pretty good | caught my eye | perfection | music to my ears
COVER: not my favorite | goes well with rest of the series | boring | generic | pretty | series cover change | beautiful | HEART EYES
POV: 1st | 2nd | 3rd limited | 3rd omniscient | multiple POVs | too many POVs
CONCEPT: original as heck | run of the mill in genre | average | has potential | great idea, bad execution
MOOD: dark | hilarious | light hearted | romantic | depressing | suspenseful | fluffy | mysterious
PACING: snail's pace | couldn't keep up | mix of fast and slow | slow in the wrong places | fast in the wrong places | what even is pacing?
CHARACTERS: i'm in love | couldn't connect | too many | well developed (all) | infuriating | annoying | precious babies | underdeveloped (all)| a mix of good and bad | diverse | okay | new favorite characters
ROMANCE: none | steamy | fluffy | OTP status | cute | center stage | barely there | cheesy | instalove | slow burn | i ship it | love triangle
DIVERSITY: none | lgbtq+ | racial | religion | disabled | mental illness | body
A couple months ago, it seemed like every blogger got bit by the When We Collided bug. Everyone wanted a copy! My interest came a few months later when curiosity got the best of me and I wanted to read it. After reading it, I can safely say this is a book that left a powerful impact on me, and made me realize a lot of painful things about myself and other people.
I'm just going to say this first: this is not a lighthearted book. Some of Vivi's prose comes off as light, but this book deals with a lot of heavy issues. That's not to say I think you should avoid it–in fact, I think you should read it because of that. A lot of people tend to shy away from the ugly details about depression and bipolar disorder, but these are things that affect countless people and are really important to know. So, who would I recommend this book to? Everyone (including fantasy lovers like myself).
I really loved the characters. Vivi and Jonah were like polar opposites and they had amazing chemistry. For a book that rests heavily on the characters, When We Collided had some great ones. Vivi's voice was so authentic and unlike any other character I've read about before. I really felt like I got a glimpse inside the head of someone who is bipolar. It's really hard to hold up against Vivi, but Jonah did it well. While I have to admit Vivi was my favorite, I still liked Jonah. I always love the caring big brothers, and he even cooks! All of the characters, not just our two protagonists, were really well developed.
Jonah and Vivi had an interesting relationship. I guess I would call it instalove, but it wasn't bad. The romance wasn't really steamy, but it also wasn't fluffy and light either. The issues they talked about were heavy, but the romance itself wasn't terribly steamy. Either way, I loved the two of them. Another thing I really liked about this book was the fact that their relationship wasn't all rainbows and butterflies. Vivi and Jonah had fights like any normal couple, especially ones in their situation. They felt so real.
Overall, I loved When We Collided. The characters were spectacular, the romance was intoxicating, and the issues real and heartfelt. You can tell the author put a lot of thought into what she put in this book, and I really appreciate it. As someone who deals with some hard stuff like Vivi everyday, I want to say: thank you, Emery Lord, for writing an amazing book.
Have you read When We Collided yet, or are you planning to? What did you think of it? Let me know in the comments below!