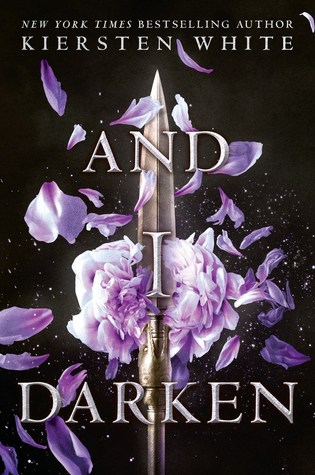 And I Darken
Author: Kiersten White
Series: The Conquerors Saga #1
Genre: YA, Fantasy, Historical, Romance
Pub Date: June 28, 2016
Publisher: Delacorte Press
Source: #booksfortrade
Goodreads | Barnes and Noble | Amazon
NO ONE EXPECTS A PRINCESS TO BE BRUTAL.

And Lada Dragwlya likes it that way. Ever since she and her gentle younger brother, Radu, were wrenched from their homeland of Wallachia and abandoned by their father to be raised in the Ottoman courts, Lada has known that being ruthless is the key to survival. She and Radu are doomed to act as pawns in a vicious game, an unseen sword hovering over their every move. For the lineage that makes them special also makes them targets.

Lada despises the Ottomans and bides her time, planning her vengeance for the day when she can return to Wallachia and claim her birthright. Radu longs only for a place where he feels safe. And when they meet Mehmed, the defiant and lonely son of the sultan, who's expected to rule a nation, Radu feels that he's made a true friend—and Lada wonders if she's finally found someone worthy of her passion.

But Mehmed is heir to the very empire that Lada has sworn to fight against—and that Radu now considers home. Together, Lada, Radu, and Mehmed form a toxic triangle that strains the bonds of love and loyalty to the breaking point.
TITLE: boring | nothing special | pretty good | caught my eye | perfection | music to my ears
COVER: not my favorite | goes well with rest of the series | boring | generic | pretty | series cover change | beautiful | HEART EYES
POV: 1st | 2nd | 3rd limited | 3rd omniscient | multiple POVs | too many POVs
CONCEPT: original as heck | run of the mill in genre | average | has potential | great idea, bad execution
MOOD: dark | hilarious | light hearted | romantic | depressing | suspenseful | fluffy | mysterious
PACING: snail's pace | couldn't keep up | mix of fast and slow | slow in the wrong places | fast in the wrong places | what even is pacing?
CHARACTERS: i'm in love | couldn't connect | too many | well developed (all) | infuriating | annoying | precious babies | underdeveloped (all)| a mix of good and bad | diverse | okay | new favorite characters
ROMANCE: none | steamy | fluffy | OTP status | cute | center stage | barely there | cheesy | instalove | slow burn | i ship it | love triangle (sort of–see full review!)
DIVERSITY: none | lgbtq+ | racial | religion | disabled | mental illness | body
I'm pretty sure everyone has heard of And I Darken by now. It's had a HUGE marketing campaign, and ARCs are being given out left and right. I got my hands on one, and I was eager to see what all the hubbub was about. So, did I like it? Yes. Did I enjoy it? Not really.
I'm still not exactly sure how I feel about this book. It took me a long time to get through this book because I couldn't just sit down and read it all. There was so much information to absorb, and there was no real action. Instead, reading the book felt like I was wading through quicksand. I thought the writing and story were good, but it was just so damn slow that it weighed everything else down. I'm even someone who usually likes slower-paced stories! But if you know you like action packed, quick stories, then I don't think this is the story for you.
This is a really heavy, politically-centered story. I liked reading about the court intrigue and the twisted web of relationships within the court. I wasn't sure who to trust–not even our narrators (and rightly so–teenagers are always fickle, even in fantasy haha). A lot of time passes within the novel, starting from when Lada and Radu were young children to teenagers who are practically adults. I loved–and hated, in some cases–seeing how they changed over the years. Some of it broke my heart, other things made me proud of my precious children.
Don't you hate when someone is called a "strong, badass" heroine, but you don't actually see them do anything badass? Lada definitely proves herself. This girl is vicious, and I LOVE it. The difference between her and her brother, Radu, is insane. She's the hard, violent, brash one, and Radu is the kind, cunning and intelligent one. Both of them were really fun to read about, and I loved seeing them grow up within the book.
There's a love triangle, but it's definitely one sided. The main relationship is between Mehmed and Lada, and while Radu loves Mehmed too, Mehmed does not feel the same way. I liked the romance between Lada and Mehmed, but their actions infuriated me at times. Damn you, court politics!! Also, be prepared for a wild, but satisfying ending. The romance scenes themselves weren't very steamy, but they weren't lighthearted and cutesy, either. 
Overall, And I Darken was a good book with a terrible pacing problem. While the characters were well developed and the romance was intriguing, the pacing was so slow I couldn't stand to read more than a few chapters at a time. Like I said before, it wasn't bad, but it wasn't good, either. I'll probably check out the sequel though, just to see what my precious Lada and Radu are up to.
Have you read an early copy of And I darken, or do you plan to read it when it's released? Let me know in the comments below!