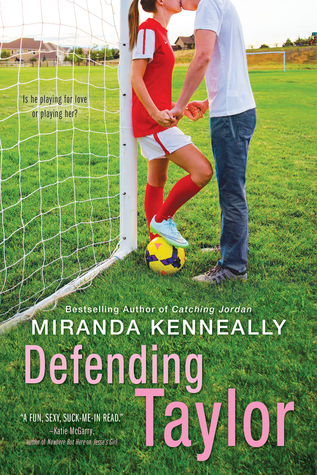 DEFENDING TAYLOR
Author: Miranda Kenneally
Series: Hundred Oaks
Genre: YA, contemporary, romance
Pub Date: July 5th, 2016
Publisher: Sourcebooks Fire
Source: BEA
Goodreads | Barnes and Noble | Amazon
Captain of the soccer team, president of the Debate Club, contender for valedictorian: Taylor's always pushed herself to be perfect. After all, that's what is expected of a senator's daughter. But one impulsive decision—one lie to cover for her boyfriend—and Taylor's kicked out of private school. Everything she's worked so hard for is gone, and now she's starting over at Hundred Oaks High.

Soccer has always been Taylor's escape from the pressures of school and family, but it's hard to fit in and play on a team that used to be her rival. The only person who seems to understand all that she's going through is her older brother's best friend, Ezra. Taylor's had a crush on him for as long as she can remember. But it's hard to trust after having been betrayed. Will Taylor repeat her past mistakes or can she score a fresh start?
TITLE: boring | nothing special | pretty good | caught my eye | perfection | music to my ears
COVER: not my favorite | goes well with rest of the series | boring | generic | pretty | series cover change | beautiful | HEART EYES
POV: 1st | 2nd | 3rd limited | 3rd omniscient | multiple POVs | too many POVs
CONCEPT: original as heck | run of the mill in genre | average | has potential | great idea, bad execution
MOOD: dark | hilarious | light hearted | romantic | depressing | suspenseful | fluffy | mysterious
PACING: snail's pace | couldn't keep up | mix of fast and slow | slow in the wrong places | fast in the wrong places | what even is pacing?
CHARACTERS: i'm in love | couldn't connect | too many | well developed (all) | infuriating | annoying | precious babies | underdeveloped (all)| a mix of good and bad | diverse | okay | new favorite characters
ROMANCE: none | steamy | fluffy | OTP status | cute | center stage | barely there | cheesy | instalove | slow burn | i ship it | love triangle
DIVERSITY: none | lgbtq+ | racial | religion | disabled | mental illness | body
I've been in the mood for some cute romances now that it's summer, so I decided to read Miranda Kenneally's new book. I've always been interested in her books, so I decided to try Defending Taylor. I'm a sucker for the brother's best friend trope, so I was super excited for this one. Sadly, I don't think it's for me.
For a book that relies heavily on romance, I have to admit the author does it pretty well. There was a good amount of build up to the romance and I thought the characters had nice chemistry. However, I didn't feel like there was anything special about the two of them. Sure, they were cute, but they were kind of boring. If you're looking for good steamy scenes though, you'll find some in this book *winks*.
The plot itself felt like it all could've been fixed simply. Taylor didn't want to expose her ex-boyfriend's secret because she didn't want him to get in trouble, but come on. This girl ruined her life just for a boy! Granted, she loved him, but seriously? I'm all for epic loves, but she threw away her life just to protect him. Noble, but totally avoidable. He should've taken responsibility for his own actions immediately instead of letting his girlfriend take the fall.
A lot of the characters were undeveloped. Taylor's friends from her private school felt flatter than a board, and almost everyone on her new soccer team were cardboard cut outs of mean girls. Taylor and Ezra, the two main characters, were pretty well developed though. It was a short book, so it was hard to feel any sort of attachment to these characters. Taylor's actions infuriated me a lot, Ezra was sort of boring, and everyone else was underdeveloped so I didn't feel a connection to any of them.
Overall, Defending Taylor was a let down. While the romance scenes were well done, most of the characters were undeveloped and much of the plot felt boring and repetitive. This book was just simply not for me. I might try a different book in the Hundred Oaks series, but for right now, I think I'm going to avoid this series.
Have you any of the other books in the Hundred Oaks series? Do you plan on reading Defending Taylor? Let me know in the comments below!