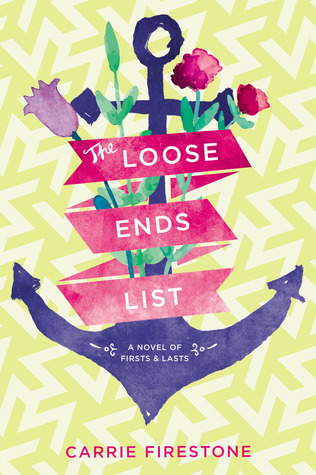 THE LOOSE ENDS LIST
Author: Carrie Firestone
Genre: YA, contemporary, romance
Pub Date: June 7th, 2016
Publisher: Little Brown
Source: Borrowed from the amazing Deanna @ Reading in the Rain
Goodreads | Barnes and Noble | Amazon
Seventeen-year-old Maddie O'Neill Levine lives a charmed life, and is primed to spend the perfect pre-college summer with her best friends and young-at-heart socialite grandmother (also Maddie's closest confidante), tying up high school loose ends. Maddie's plans change the instant Gram announces that she is terminally ill and has booked the family on a secret "death with dignity" cruise ship so that she can leave the world in her own unconventional way – and give the O'Neill clan an unforgettable summer of dreams-come-true in the process.

Soon, Maddie is on the trip of a lifetime with her over-the-top family. As they travel the globe, Maddie bonds with other passengers and falls for Enzo, who is processing his own grief. But despite the laughter, headiness of first love, and excitement of glamorous destinations, Maddie knows she is on the brink of losing Gram. She struggles to find the strength to say good-bye in a whirlwind summer shaped by love, loss, and the power of forgiveness.
TITLE: boring | nothing special | pretty good | caught my eye | perfection | music to my ears
COVER: not my favorite | goes well with rest of the series | boring | generic | pretty | series cover change | beautiful | HEART EYES
POV: 1st | 2nd | 3rd limited | 3rd omniscient | multiple POVs | too many POVs
CONCEPT: original as heck | run of the mill in genre | average | has potential | great idea, bad execution
MOOD: dark | hilarious | light hearted | romantic | depressing | suspenseful | fluffy | mysterious
PACING: snail's pace | couldn't keep up | mix of fast and slow | slow in the wrong places | fast in the wrong places | what even is pacing?
CHARACTERS: i'm in love | couldn't connect | too many | well developed (all) | infuriating | annoying | precious babies | underdeveloped (all)| a mix of good and bad | diverse | okay | new favorite characters
ROMANCE: none | steamy | fluffy | OTP status | cute | center stage | barely there | cheesy | instalove | slow burn | i ship it | love triangle
DIVERSITY: none | lgbtq+ | racial | religion | disabled | mental illness | body
The weather is warming up, the sun is shining (for the most part, damn you rainy Maryland weather) and the flowers are blooming. That means it's almost summer! Usually, I'm not a big contemporary fan, but I really love to reading them during spring and summer. So when my friend offered to let me borrow this book, I started reading it almost immediately (read: I was forced to read this book, but it was worth it).
When I first read the blurb for this book, I thought it could turn out very good, or very bad. I have never heard of a book remotely resembling this one, so I was intrigued. Plot and pacing wise, I thought the book had a nice pace. It didn't take long for the characters to actually get to the cruise and into the actual meat of the plot, which was good. "Action" or travel scenes were sandwiched between character development scenes that made for good pacing. I think I can officially say that, plot wise, this book turned out pretty good. Sometimes, the amount of death in the story really got to me, but I won't take off too many points for that.
The characters were a mixed bunch. For one, there were a lot of them, so much so that there was no way in hell all of them could be properly developed. In the beginning, we're bombarded by two groups of huge characters–first, Maddie's huge family, and then later, all of the patients on the boat. Some characters were well developed by the end of the book, but other's weren't.
I wasn't a big fan of Maddie, the main character. She felt like a stereotypical teenage girl a lot of the time, and I didn't care for her. One thing that really bothered me was her development on the topic of drugs. At first, I really related to her because she didn't drink of do any other drugs, which I really liked because I don't see many characters who have that so out in the open. But then, by the middle of the book, suddenly she changes her mind without any reason why whatsoever. It just rubbed me the wrong way, especially since I felt she was pressured into doing it. I didn't think it was a major issue, but it's something to note going into this.
I love me a good romance, and this one wasn't so bad. I was a little annoyed at how fast Enzo and Maddie got together, but I did like their scenes together. In my review at a glance, I said their romance was fluffy; some might argue this because their is some sex in the book, but it isn't really graphic and a lot of their relationship focuses on the feelings rather than the physical stuff. I thought they were cute together, and their romance had just enough book time without taking away from the family relationship.
This review seems to be skewing a little negative, but I just want to say that I still liked it! I had some issues with it yes, but the relationships within Maddie's family were just so poignant and heartwarming and realistic. Also, any book that makes me care enough about the characters to make me cry gets points in my book.
Overall, I thought The Loose Ends List was a beautifully flawed, realistic portrayal of a family relationship. Some of the characters were underdeveloped, but I liked the romance and the way the book made me care so deeply about this crazy family. It pretends to be a cutesy book, but it can get pretty heavy, so keep that in mind if you decide to check it out. This was a good debut, and I'll probably check out Carrie Firestone's next book!
Have you read an early copy The Loose Ends List, or are you planning to read it once it comes out? Let me know in the comments below!