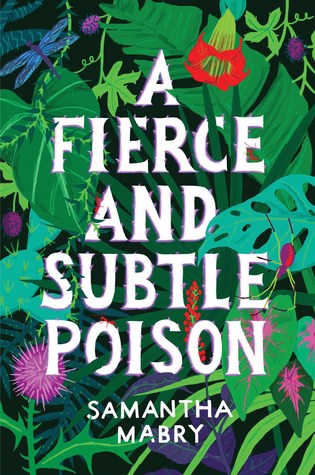 A Fierce and Subtle Poison
Author: Samantha Mabry
Genre: YA, magic realism
Pub Date: April 12, 2016
Publisher: Algonquin Young Readers
Source: ARC received from the publisher
Goodreads | Barnes and Noble | Amazon
Everyone knows the legends about the cursed girl–Isabel, the one the señoras whisper about. They say she has green skin and grass for hair, and she feeds on the poisonous plants that fill her family's Caribbean island garden. Some say she can grant wishes; some say her touch can kill.

Seventeen-year-old Lucas lives on the mainland most of the year but spends summers with his hotel-developer father in Puerto Rico. He's grown up hearing stories about the cursed girl, and he wants to believe in Isabel and her magic. When letters from Isabel begin mysteriously appearing in his room the same day his new girlfriend disappears, Lucas turns to Isabel for answers–and finds himself lured into her strange and enchanted world. But time is running out for the girl filled with poison, and the more entangled Lucas becomes with Isabel, the less certain he is of escaping with his own life.
TITLE: boring | nothing special | pretty good | caught my eye | perfection | music to my ears
COVER: not my favorite | goes well with rest of the series | boring | generic | pretty | series cover change | beautiful | HEART EYES
POV: 1st | 2nd | 3rd limited | 3rd omniscient | multiple POVs | too many POVs
CONCEPT: original as heck | run of the mill in genre | average | has potential | great idea, bad execution
MOOD: dark | hilarious | light hearted | romantic | depressing | suspenseful | fluffy | mysterious
PACING: snail's pace | couldn't keep up | mix of fast and slow | slow in the wrong places | fast in the wrong places | what even is pacing?
CHARACTERS: i'm in love | couldn't connect | too many | well developed (all) | infuriating | annoying | precious babies | underdeveloped (all)| a mix of good and bad | diverse | okay | new favorite characters
ROMANCE: none | steamy | fluffy | OTP status | cute | center stage | barely there | cheesy | instalove | slow burn | i ship it | love triangle
DIVERSITY: none | lgbtq+ | racial | religion | disabled | mental illness | body
We've all felt the sting of a book that doesn't live up to the hype. It's happened to me quite a few times recently. But on the other end of the spectrum, sometimes you go into a book with zero expectations and find a really spectacular story. That's exactly how I feel after finishing A Fierce and Subtle Poison.
This book was absolutely magical. The story, the writing, the atmosphere–everything was just so perfect. It was like I was in San Juan and I was right there beside Luke as he unraveled myth from reality. It was so interesting to see the writing change over the course of the book as Lucas learned more and more about the scientist's daughter. I was a little sad that the writing wasn't as magical and like a fairytale for the entire book, but I understand why it was like this. A Fierce and Subtle Poison is unlike anything I've ever read before, and it's pretty spectacular.
The characters in this novel were an odd bunch, but I liked a majority of them. A lot of the side characters felt very flat and underdeveloped to me, but they also acted like realistic teenagers which I thought was refreshing to read. As for the main characters, I liked them well enough. Lucas, our narrator, felt like a real teenage boy. I liked seeing the world through his eyes and experiencing things as he did. However, I didn't really feel connected to him. His daddy problems sucked, sure, but I didn't really have any sympathy for him–although, I felt bad about the whole finding your dead girlfriend thing. That's definitely one way to put a damper on things. My favorite character though was definitely Isabel. She was the entire reason I wanted to read the story. I mean, how many girls do you know that supposedly have green skin and grass for hair? It was so interesting to unravel her characterization as we went further into the story; I won't say much for fear of spoilers, but she's one unique character, and I really loved her bravery and selflessness.
As you know if you've read my other reviews, I usually only read books with romance in them. The back of A Fierce and Subtle Poison mentions a "dark star-crossed" romance, but there is little to no romance in the story. Most of the romance is between Luke and Marisol in the beginning, and there's hardly anything between Luke and Isabel. It was disappointing cause I was expecting more, but their relationship really wouldn't have allowed for romance anyways. Half the time they hated each other and half the time they were not quite friends, but not quite lovers either. It was an odd relationship that I still don't really understand even after finishing it.
The best thing about this story was the writing. It was absolutely beautiful, and I know for sure that I'll read anything else Samantha Mabry writes from now on. Reading A Fierce and Subtle Poison was like being a child again and being read a story before bed by my mother. I know I said it before, but the writing really is magical and it kept me up long into the night (and I may or may not have sneaked in a few moments during class when I wasn't supposed to #sorrynotsorry).
Overall, A Fierce and Subtle Poison was a magical debut. The writing was gorgeous and the story grabbed ahold of me from the very beginning and didn't let go until the last page. I was disappointed with the lack of romance, but everything else made up for this. I'd recommend A Fierce and Subtle Poison to anyone looking for a good story–this book isn't one to miss!
Do You plan on reading A Fierce and Subtle POISON? Have you received an early copy of it? Let me know in the comments below!