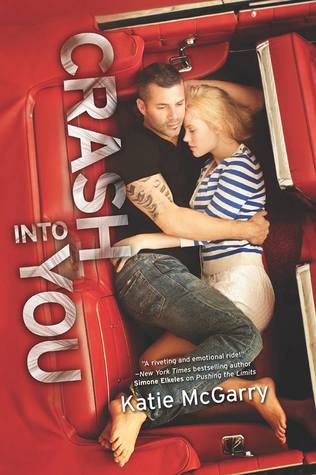 Crash Into You
Author: Katie McGarry
Series: Pushing the Limits #3 (but it's also a standalone)
Genre: YA, contemporary, romance
Pub Date: November 26th, 2013
Publisher: Harlequin Teen
Source: Purchased
Goodreads | Barnes and Noble | Amazon
The girl with straight A's and the perfect life—that's who people expect Rachel Young to be. So the private school junior keeps secrets from her wealthy family…and she's just added two more to the list. One involves racing strangers down dark country roads in her Mustang GT. The other? Seventeen-year-old Isaiah Walker—a guy she has no business even talking to. But after the foster kid with the tattoos and intense gray eyes comes to her rescue, she can't get him out of her mind.

The last thing Isaiah needs is to get tangled up with a rich girl who wants to slum it on the south side for kicks. But when their shared love of street racing puts their lives in jeopardy, Isaiah and Rachel will have six weeks to come up with a way out. Six weeks to discover just how far they'll go to save each other.
TITLE: boring | nothing special | pretty good | caught my eye | perfection | music to my ears
COVER: not my favorite | goes well with rest of the series | boring | generic | pretty | series cover change | beautiful | HEART EYES
POV: 1st | 2nd | 3rd limited | 3rd omniscient | multiple POVs | too many POVs
CONCEPT: original as heck | run of the mill in genre | average | has potential | great idea, bad execution
MOOD: dark | hilarious | light hearted | romantic | depressing | suspenseful | fluffy | mysterious
PACING: snail's pace | couldn't keep up | mix of fast and slow | slow in the wrong places | fast in the wrong places | what even is pacing?
CHARACTERS: i'm in love | couldn't connect | too many | well developed (all) | infuriating | annoying | precious babies | underdeveloped (all)| a mix of good and bad | diverse | okay | new favorite characters
ROMANCE: none | steamy | fluffy | OTP status | cute | center stage | barely there | cheesy | instalove | slow burn | i ship it | love triangle
DIVERSITY: none | lgbtq+ | racial | religion | disabled | mental illness (severe anxiety) | body
I'm sure everyone who knows me knows that I am so in love with Katie McGarry's books it's ridiculous. I've been called Katie McGarry trash and it's 100% true. I read Crash Into You when it first came out and promptly forgot everything about it. So, what better to do when I have a huge TBR pile and ARCs to review? This book was even better the second time around.
This book grabbed ahold of me and didn't let go until the very last page. Both Rachel and Isaiah's start out in interesting places, and when they meet–pretty early in the novel–it only gets better. When they're forced to work together and raise 5,000 dollars in 6 weeks you really get to see their chemistry come to play. I loved learning about cars, which are very prevalent in the story, and about Rachel's family and Isaiah's own struggles. I was on the edge of my seat because the danger felt so real, the stakes high. I was rooting for our two characters the entire time I can tell you that the ending is the perfection blend of happily ever after with a realistic touch.
I really love multiple POVs when done right, and Katie McGarry really made each voice distinct but still interesting. Rachel, our female POV, is one of my favorite POV characters in the series because of how realistic and flawed she is. She's very brave and strong, despite what she may think, and I know her struggles with anxiety and panic attacks will really resonate with people who also deal with it. I really felt for her as she struggled with her family and I can't tell you the amount of times I wanted to give her a hug. Our other POV, Isaiah, is center stage in this book after being a side character for the first 2. He's so similar to Rachel, both brave and strong and with a fiery passion for cars, but they're also incredibly different. I love how we learned more about his past with his mother after being in the dark in the previous books. Both of their voices were unique and I never felt confused as to whose POV I was reading.
The side characters were also well done. You see a lot of familiar faces from before, and you also meet the male POV for the next book. I really liked Abby and her quirkiness, and I also liked seeing more of Logan from Dare You To. All of the characters, whether they're center stage or on the side, are very well developed.
God, THE ROMANCE! Isaiah and Rachel had undeniable chemistry. They were like a fire and gasoline, explosive and very steamy 😉 I wish that they had built more of a friendship before jumping to *something more* but either way, I still love them together. If I'm being honest, 99% of the reason why I read Katie McGarry's books is because of the romance, and Isaiah and Rachel had one of the best romances I've read before. I love the whole rich girl, bad boy trope, and the author's take on it was lovely.
Overall, Crash Into You was another explosive romance by Katie McGarry. The plot was exciting and engaging, the characters were well developed and the romance was hot and totally OTP-worthy. It's a standalone, but it's a perfect addition to the rest of its companion novels. If you love romance, then you definitely need this book in your life.
Have you read Crash Into You yet, or are you planning to? What did you think of it? Let me know in the comments below!