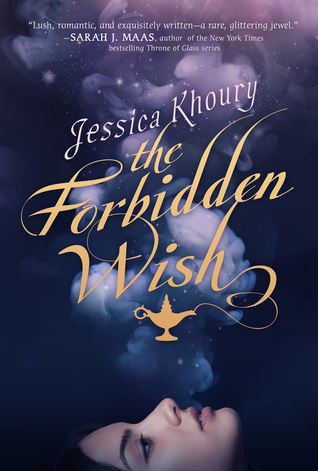 The Forbidden Wish
Author: Jessica Khoury
Genre: YA, fantasy, romance, retelling
Pub Date: February 23, 2016
Publisher: Razorbill
Source: Purchased
Goodreads | Barnes and Noble | Amazon
She is the most powerful Jinni of all. He is a boy from the streets. Their love will shake the world…

When Aladdin discovers Zahra's jinni lamp, Zahra is thrust back into a world she hasn't seen in hundreds of years — a world where magic is forbidden and Zahra's very existence is illegal. She must disguise herself to stay alive, using ancient shape-shifting magic, until her new master has selected his three wishes.

But when the King of the Jinn offers Zahra a chance to be free of her lamp forever, she seizes the opportunity—only to discover she is falling in love with Aladdin. When saving herself means betraying him, Zahra must decide once and for all: is winning her freedom worth losing her heart?

As time unravels and her enemies close in, Zahra finds herself suspended between danger and desire in this dazzling retelling of Aladdin from acclaimed author Jessica Khoury.
TITLE: boring | nothing special | pretty good | caught my eye | perfection | music to my ears
COVER: not my favorite | goes well with rest of the series | boring | generic | pretty | series cover change (from the original ARC) | beautiful | HEART EYES
POV: 1st | 2nd | 3rd limited | 3rd omniscient | multiple POVs | too many POVs
CONCEPT: original as heck | run of the mill in genre | average | has potential | great idea, bad execution
MOOD: dark | hilarious | light hearted | romantic | depressing | suspenseful | fluffy | mysterious
PACING: snail's pace | couldn't keep up | mix of fast and slow | slow in the wrong places | fast in the wrong places | what even is pacing?
CHARACTERS: i'm in love | couldn't connect | too many | well developed (all) | infuriating | annoying | precious babies | underdeveloped (all)| a mix of good and bad | diverse | okay | new favorite characters
ROMANCE: none | steamy | fluffy | OTP status | cute | center stage | barely there | cheesy | instalove | slow burn | i ship it | love triangle
DIVERSITY: none | lgbtq+ | racial | religion | disabled | mental illness | body
Retellings are my jam, guys. I absolutely love them, especially if they're based off my favorite fairytales. I recently read Cruel Beauty and loved it, so I think that's why I was so excited for The Forbidden Wish. Aladdin is one of my favorite Disney movies, and the idea of making the genie a girl sounded like a recipe for some great angsty romance. Goodreads reviews have misled me before, so I didn't look at them before I jumped into the book. So, did I love it as much as I'd hoped? Absolutely.
I was absolutely enthralled with the plot in The Forbidden Wish. I could definitely feel the echoes of the Disney version of Aladdin, but there were other original elements in there too, like the rebellion within the kingdom and the conflict between Zahra and the "leader" of the jinni. There was never a dull moment in the story because there was always something fun going on, whether it was a royal celebration, wishes being granted, or a relationship building scene. I truly think there's something for everyone in this story because there's action, romance and *magic*. The pacing was also great as I never felt like it was lagging or going too fast. A perfect mix of fast and slow.
I think it's a very tricky thing to write immortals–or characters close to it–in a believable way and still make them likable (and not a pretentious ass). Zahra had all the air and grace and power of a magical jinni, but I could also feel the human girl within her–especially when she was with Aladdin 😉 I loved her and I rooted for the entire book, hoping somehow that she could escape from her chains and be free like the genie at the end of Aladdin. I felt for her, too, as she fell in love with yet another human and knew that it was going to end very badly. As for the human she fell in love with….well, I really loved Aladdin too. He was a more realistic version of the Disney version, as he was a *bit* of a player at the start of the novel and had a tragic past. He was mischievous and charismatic and brave and romantic….I could go on and on. He and Zahra were a perfect match and their chemistry was such a beautiful thing.
The side characters were nothing to scoff at either. Our Jasmine was Caspida, and she was a force to be reckoned with. I loved her and her handmaidens, called the Watchmaidens. I won't say much about them to make sure it stays spoiler free, but these ladies were seriously badass! I'd want them to back me up in a fight any day!
The thing I was most excited for was the romance, and oh, did it deliver. Zahra had fallen in love with a human before and it ended in very disastrous consequences, so it was very interesting to see how she treated Aladdin. I knew it was a bad idea, and yet I wanted them to get together from the first time he called her "Smoky." It's definitely a slowburn romance that'll have you wanting to tear your hair out, but the payoff is great. Who would've thought Aladdin could be so romantic? It's also a pretty ~steamy~ romance, which I can always get behind.
The writing is so incredibly beautiful and fits the story so well. Zahra often mentions her old friend, Roshana, in her thoughts, and I felt like it really made you see how there were two sides of her; the human part that loved her friend, and the immortal who has seen countless people fall around her as she stays infinite. Jessica Khoury really knows how to write a story, and she also has a beautiful writing voice that's perfect for storytelling.
Overall, The Forbidden Wish was a gorgeous, diverse Aladdin retelling. The characters were all wonderful, the story was magical, and the romance unforgettable. It'll appeal to fans of all genres, and it's a must for fairytale lovers like myself. I enjoyed every second of it, which is why it rightfully deserves the full 5 stars.
Have you read The Forbidden Wish yet, or are you planning to? What did you think of it? Let me know in the comments below!