Hey guys! It's been a really busy, really hard couple of weeks for me. I know my blog has been lacking some diversity in posts lately–only reviews were posted so far this week–and I wanted to spice things up. I've seen a lot of cute tags going around lately, and I want to join in on the fun. No one tagged me for this, but it sounds really fun so I'm doing it anyways! I'm kind of obsessed with Disney princesses, so this is the perfect tag for me!
1. Snow White: name your favorite classic

Granted, I haven't read very many classics, but my ultimate favorite is To Kill a Mockingbird by Harper Lee. It's just such an incredibly important story, and the writing is beautiful. A timeless classic indeed 🙂
2. Cinderella: name a book that kept you reading well past your bedtime
This is an odd answer, but the first time I pulled an all-nighter was when I was reading Beautiful Darkness by Kami Garcia and Margaret Stohl. I really loved these books in middle school, so it's really no surprise I stayed up all night to read that 500+ page book.
3. Aurora: name your favorite romance
I have a very, very long list of OTPs (which entirely defeats the purpose of one true pairing, but I digress), but I have to go with my most recent love, Teach and Anne from Blackhearts by Nicole Castroman (review coming on Monday!). They're love was beautiful, intoxicating, heartbreaking, a definite must-read for romance lovers ❤
4. Ariel: name a book that's about making sacrifices and fighting for your dreams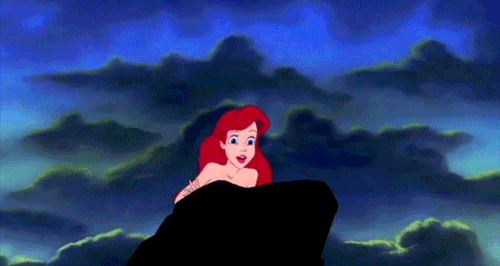 I think this fits the Legend trilogy by Marie Lu, but especially the 3rd book, Champion. Day and June had to give up so much to fight for their dream–to make the Republic a nation they could live happily in. It doesn't skimp on the sacrifices either, especially on June's end *sobs*
5. Belle: name a book with a smart and independent female character
My favorite Disney princess! As for the character, I have so many favorite strong, independent female characters. In honor of A Gathering of Shadows being released last Tuesday, I'm going with my favorite cross-dressing, lady pirate, Lila Bard.
6. Jasmine: name a book with a character who challenged the social issues
Cinder from The Lunar Chronicles really fits the bill! She fought for equality for everyone, whether they were human or cyborg, Lunar or earthen. One of my favorite social justice activists!
7. Pocahontas: name a book whose ending was a roller-coaster of emotions
I think for a book to truly be good, the ending should be a roller-coaster of emotions. Give me some craziness! Since there are so many to chose from, I'll go with a recent book that absolutely gutted me and shot my emotional distress levels through the roof. Blackhearts by Nicole Castroman had a wild ending that kept me on the edge of my seat until the very last page! (and even after)
8. Mulan: name a book with a kick-ass female character
I have to go with my homegirl (and my favorite character of all time) Aelin Galathynius from Throne of Glass by Sarah J. Maas. If she doesn't qualify as kickass, I don't know who does.
9. Rapunzel: name a book that features an artist
I haven't read many books with artists, but my favorite is Echo from Pushing the Limits by Katie McGarry! She's an amazing artist and her skills are an important part of her character.
10. Merida: name a book that features a mother-daughter relationship
There aren't very many mother-daughter relationships in YA, and it's such a tragedy. BUT, there is a great example with Blue and Maura Sargent in The Raven Boys by Maggie Stiefvater. Seriously, the female relationships in the series are spectacular and so, so important!
11. Anna and Elsa: name a book that features a great relationship between siblings
My book! 😉 As for actual published books, I don't know of any books that feature sisters off the top of my head–and I just scrolled through my goodreads and I couldn't find anything, either! So, I'm cheating a bit and going with my favorite Threadsisters, Safi and Iseult from Truthwitch by Susan Dennard.
Besides the people below, I tag anyone who would like to do this tag! Please leave your links below if you've already done this challenge/do it in the future–I'd love to see your picks!
Lillie @ Little Lillie Reads
Gee @ A Book and A Cup of Coffee
Anissa @ She Reads Too Much
Paige @ The Paige Turner Blog
Ava @ Bookishness and Tea
Deanna @ Booksablog/Reading in the Rain
Do you agree with any of my choices? Have a favorite disney princess? Let me know in the comments below!