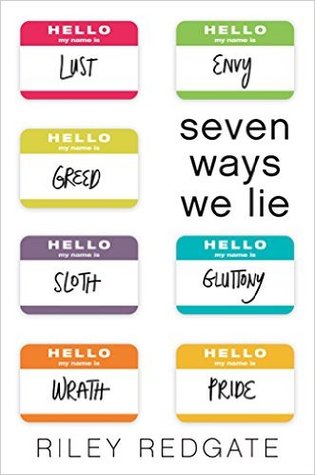 Seven Ways We Lie
Author: Riley Redgate
Genre: YA, contemporary
Pub Date: March 8th, 2016
Publisher: Amulet
Source: Netgalley
Goodreads | Barnes and Noble | Amazon
Paloma High School is ordinary by anyone's standards. It's got the same cliques, the same prejudices, the same suspect cafeteria food. And like every high school, every student has something to hide—whether it's Kat, the thespian who conceals her trust issues onstage; or Valentine, the neurotic genius who's planted the seed of a school scandal.

When that scandal bubbles over, and rumors of a teacher-student affair surface, everyone starts hunting for someone to blame. For the unlikely allies at the heart of it all, the collision of their seven ordinary-seeming lives results in extraordinary change.
TITLE: boring | nothing special | pretty good | caught my eye | perfection | music to my ears
COVER: not my favorite | goes well with rest of the series | boring | generic | pretty | series cover change | beautiful | HEART EYES
POV: 1st | 2nd | 3rd limited | 3rd omniscient | multiple POVs | too many POVs (7!!!)
CONCEPT: original as heck | run of the mill in genre | average | has potential | great idea, bad execution
MOOD: dark | hilarious | light hearted | romantic | depressing | suspenseful | fluffy | mysterious | just a hell of a lot of emotions, okay?
PACING: snail's pace | couldn't keep up | mix of fast and slow | slow in the wrong places | fast in the wrong places | what even is pacing?
CHARACTERS: i'm in love | couldn't connect | too many | well developed (all) | infuriating | annoying | precious babies | underdeveloped (all)| a mix of good and bad | diverse | okay | new favorite characters
ROMANCE: none | steamy | fluffy | OTP status | cute | center stage | barely there | cheesy | instalove | slow burn | i ship it | love triangle
DIVERSITY: none | lgbtq+ | racial | religion | disabled | mental illness | body
It's not every day that I willingly pick up a contemporary, but I was intrigued by the concept of Seven Ways We Lie. I was thrilled when I got approved for an eARC (whooo!!), and I saw a handful of my friends giving it pretty glowing reviews. So, how did it turn out? I had some issues, but overall, I enjoyed reading it.
I didn't really look at the blurb much before I started reading, so I was pleasantly surprised by the actual plot of the book. I'm a sucker for a mystery, and I like reading about student-teacher relationships when done right. I was a little bummed out that I figured out the mystery almost immediately; there wasn't really an air of mystery like I wanted. Maybe it's because I'm just so used to fantasy, but I feel like nothing really exciting happened in the story. It wasn't boring, but it wasn't 100% engaging. Now that I'm writing this review and thinking back on the entire book, I can't really remember any of the characters doing something that was really exciting to read about. But in a way, it worked for this story. If something was happening 24/7, it would feel wrong. So, there wasn't much to the plot, but it wasn't terrible.
There were 7 characters, and each of them got their own POV. In the beginning, it was very hard for me to wrap my head around all of them and try and distinguish between their voices. It got better as the story went on, but honestly, it was just too much. Some of the voices inevitably blended together, and other characters annoyed the shit out of me–namely, Claire and Juniper. I hated Claire as a character, but I didn't like Juniper's chapters because they were written in prose and they were confusing as hell.
As for the 5 other characters, I thought they were a diverse bunch. Matt is half Mexican, Lucas is pansexual (I've never read a story with a pansexual character, so this is a first for me!), Kat suffers from a mental illness, etc. It's one of the best ensemble casts I've ever read about, and the author does it much better job than This Is Where It Ends when it comes to doing justice to the characters. My favorite is a toss up between Matt and Olivia, who I both thought were great characters. I could also easily tell Matt's chapters apart from the rest–he has a tendency to think in great, long runoff sentences. As a whole, the characters were very well done, but there were some that I thought could use a bit more development.
There's a bit of romance in the story, and I won't say anything in fear of spoilers, but I will say that I enjoy two couples that are from the main cast. One didn't work out the way I wanted it to *cries* but the other one did, so I count that as a success. The romance wasn't overwhelming, but it was pretty prevalent–not to mention that the student-teacher relationship hung over the entire story, so there's that. I thought it had a nice balance within the novel.
Overall, I enjoyed Seven Ways We Lie as much as I thought I would. There were too many POVs and sometimes the plot floundered, but I thought most of the characters were well developed and the story was interesting. It wasn't an amazing story, but I enjoyed it. Seven Ways We Lie was a quick and entertaining read, and I'm sure you'll like it much more than I did if you enjoy contemporary.
Have you read an early copy of SEVEN WAYS WE LIE? Are you going to buy it when it's released? Let me know in the comments below!