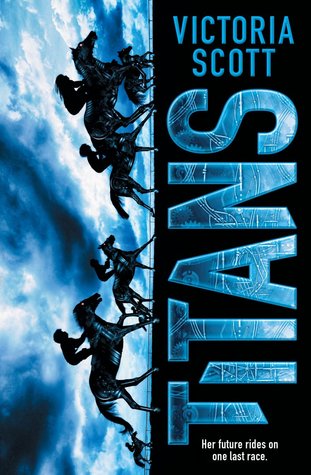 Titans
Author: Victoria Scott
Genre: YA, contemporary, sci-fi (ish)
Pub Date: February 23, 2016
Publisher: Scholastic
Source: Traded
Goodreads | Barnes and Noble | Amazon
Ever since the Titans first appeared in her Detroit neighborhood, Astrid Sullivan's world has revolved around the mechanical horses. She and her best friend have spent countless hours watching them and their jockeys practice on the track. It's not just the thrill of the race. It's the engineering of the horses and the way they're programmed to seem so lifelike. The Titans are everything that fascinates Astrid, and nothing she'll ever touch.

She hates them a little, too. Her dad lost everything betting on the Titans. And the races are a reminder of the gap between the rich jockeys who can afford the expensive machines to ride, and the working class friends and neighbors of Astrid's who wager on them.

But when Astrid's offered a chance to enter an early model Titan in this year's derby, well, she decides to risk it all. Because for a girl from the wrong side of the tracks, it's more than a chance at fame or money. Betting on herself is the only way she can see to hang on to everyone in the world she cares about.
TITLE: boring | nothing special | pretty good | caught my eye | perfection | music to my ears
COVER: not my favorite | goes well with rest of the series | boring | generic | pretty | series cover change | beautiful | HEART EYES
POV: 1st | 2nd | 3rd limited | 3rd omniscient | multiple POVs | too many POVs
CONCEPT: original as heck | run of the mill in genre | average | has potential | great idea, bad execution
MOOD: dark | hilarious | light hearted | romantic | depressing | suspenseful | fluffy | mysterious
PACING: snail's pace | couldn't keep up | mix of fast and slow | slow in the wrong places | fast in the wrong places | what even is pacing?
CHARACTERS: i'm in love | couldn't connect | too many | well developed (all) | infuriating | annoying | precious babies | underdeveloped (all)| a mix of good and bad | diverse | okay | new favorite characters
ROMANCE: none | steamy | fluffy | OTP status | cute | center stage | barely there | cheesy | instalove | slow burn | i ship it | love triangle
DIVERSITY: none | lgbtq+ | racial | religion | disabled | mental illness | body
When I first heard about this book, my first thought was a comparision between Titans and The Scorpio Races. It's a dangerous thing, to compare your one of favorite books to another, and I'm afraid I fell victim to that. I thought Titans would be similar to The Scorpio Races, and in a way, it was very similar, but it was also very different, and not necessarily in a good way.
The general concept of the story isn't very original, hence why it gave it "has potential" in my review at a glance. It sounds very similar to The Scorpio Races–characters ride vague horse like creatures are in a race to win a shit ton of money for their families–but there are a few big differences. For one, Titans is more sci-fi, if not completely contemporary, as the horses are machines. It's also set in Detroit, which is a real city, which I thought was interesting. I also liked that the book stressed the themes of family and friendship, as these were both big things in the book. Basically, the concept of the book had potential, and I thought it did okay on its own, but it's still vaguely reminiscent of The Scorpio Races.
As for pacing, I thought it was okay. It took me forever to get through the first 50 pages or so (like, 4 or 5 days, forever), but that might've been because I was in a reading slump. Other than that though, I thought the pacing was done really well.  The actual races were fast paced and well written, and the in between scenes were slowed down to a more steady pace. This really is a book with varying pace, but it suits the plot well.
The characters were a mixed bunch, in terms of characterization and how well developed they were. The main character, Astrid, was well developed, with clear goals and strengths and weaknesses. My only complaint was her knack for using mathematics and science during the races; it just seemed a little too convenient for her to be able to pass trials so easily by using her intelligence. As for the other characters, they were either really flat or pretty well done. Some of them, like Magnolia or Rags, were well developed, but other side characters like Barney, Lottie, Hart, etc. felt like they only had one or two traits and that was it. I liked some of them and others bothered me. It was pretty half and half, to be honest.
There was no romance in the book, minus some between the side characters that happened mostly off the page. I understand that the book wanted to focus more on the relationships between family and friends, but it felt like this book was missing something. I feel like it could've benefited from having some romance, but that's just my personal opinion. I completely acknowledge that some people will enjoy the lack of romance, but I didn't (I'm a romantic girl at heart).
Kind of going off what I said above, I don't think this book is the one for me, but I can definitely see it being something other people can fall in love with. I thought the lack of romance dulled the story a bit, and I didn't love all the characters, but I know some people will enjoy reading about the relationships between friends and family without romance distracting them, and will really love reading about Astrid and her squad.
Overall, Titans was an average read to me. I liked some of the characters and thought the pacing was well done, but I didn't like that there was no romance and some of the characters felt flat to me. This wasn't the dream book I made it out to be, but I know that some people will really love it. Maybe it's not for me, but it might be the book for you.
Have you read an early copy of Titans? are you planning on getting a copy when it releases? Let me know in the comments below!