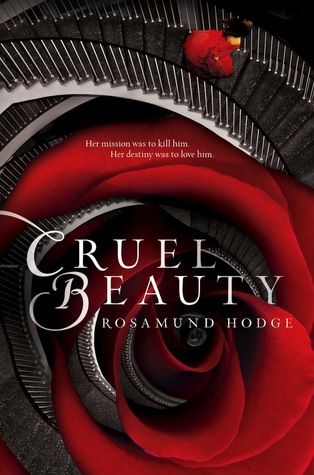 Cruel Beauty
Author: Rosamund Hodge
Genre: YA, fantasy, paranormal, romance, retelling
Pub Date: January 28th, 2014
Publisher: Balzer + Bray
Source: Traded
Goodreads | Barnes and Noble | Amazon
Graceling meets Beauty and the Beast in this sweeping fantasy about one girl's journey to fulfill her destiny and the monster who gets in her way-by stealing her heart.

Based on the classic fairy tale Beauty and the Beast, Cruel Beauty is a dazzling love story about our deepest desires and their power to change our destiny.

Since birth, Nyx has been betrothed to the evil ruler of her kingdom-all because of a foolish bargain struck by her father. And since birth, she has been in training to kill him.

With no choice but to fulfill her duty, Nyx resents her family for never trying to save her and hates herself for wanting to escape her fate. Still, on her seventeenth birthday, Nyx abandons everything she's ever known to marry the all-powerful, immortal Ignifex. Her plan? Seduce him, destroy his enchanted castle, and break the nine-hundred-year-old curse he put on her people.

But Ignifex is not at all what Nyx expected. The strangely charming lord beguiles her, and his castle—a shifting maze of magical rooms—enthralls her.

As Nyx searches for a way to free her homeland by uncovering Ignifex's secrets, she finds herself unwillingly drawn to him. Even if she could bring herself to love her sworn enemy, how can she refuse her duty to kill him? With time running out, Nyx must decide what is more important: the future of her kingdom, or the man she was never supposed to love.
TITLE: boring | nothing special | pretty good | caught my eye | perfection | music to my ears
COVER: not my favorite | goes well with rest of the series | boring | generic | pretty | series cover change | beautiful | HEART EYES
POV: 1st | 2nd | 3rd limited | 3rd omniscient | multiple POVs | too many POVs
CONCEPT: original as heck | run of the mill in genre | average | has potential | great idea, bad execution
MOOD: dark | hilarious | light hearted | romantic | depressing | suspenseful | fluffy | mysterious
PACING: snail's pace | couldn't keep up | mix of fast and slow | slow in the wrong places | fast in the wrong places | what even is pacing?
CHARACTERS: i'm in love | couldn't connect | too many | well developed (all) | infuriating | annoying | precious babies | underdeveloped (all)| a mix of good and bad | diverse | okay | new favorite characters
ROMANCE: none | steamy | fluffy | OTP status | cute | center stage | barely there | cheesy | instalove | slow burn | i ship it | love triangle
DIVERSITY: none | lgbtq+ | racial | religion | disabled | mental illness | body
I absolutely loved Crimson Bound by Rosamund Hodge; she knows how to write gorgeous mythology and steamy romances. I actually read Cruel Beauty about a month after it came out and gave it 2 stars–but I didn't remember anything about it. So, I sat down one night and reread this novel in 2 hours and realized that past me was so, so incredibly wrong to give Cruel Beauty 2 stars.
The whole idea of Cruel Beauty is a glorious thing. I'm a huge fan of retellings, and Beauty and the Beast is my favorite fairytale, so I had hoped this book would be good. And it really was. I thought the plot was intriguing–I mean, a girl has to kill a a demon and save her town? Heck yes! I thought the mythology was weaved into the story really nicely, even if it was a bit overwhelming in the beginning. I loved following Nyx on her journey, wondering if she could really defeat Ignifex. This book is prime storytelling, and it's very enjoyable.
The pacing itself was pretty well done. Like I said above, the beginning was a little slow, but it picks up quickly. There's a lot of mythology to take in at times, but I thought the author weaved it in nicely to the actual plot. There were blips in the action but there was never really a dull moment in this book.
The characters, oh my. Everyone who reads my reviews must know by now that I am almost always in love with the bad boys, and this book really is no exception. I loved Ignifex, all parts of him. I loved his humor and his red eyes and his smirk and his vulnerability. He was arguably my favorite part about the story, but I also liked our main character, Nyx. I love characters who embrace their wickedness, and Nyx did. She was also incredibly brave, and I thought that she acted believably in her situation, which is always a great thing. I thought all of the characters were really well developed, and they were one of the best things about this story.
There is a love triangle in this novel, and I thought it was pretty well done. It's pretty clear that I'm solidly team Ignifex, but I thought the other character was well developed and a good match–or foil, I should say–to Ignifex. His name is Shade, and he's everything Ignifex is not. They definitely represent two different sides of our heroine, Nyx, and you can see how she develops through the story as she shifts between the two guys. Don't think this is your average love triangle though–I promise you, you're going to want to read the end of this book to see how it turns out. 
My only complaint is that this book is a little confusing, but that's how the story is supposed to be. Nyx, the main character is hella confused, so the reader is too. As the mystery about Arcadia and Ignifex unravels, you get bits and pieces of information–but you never seem to get the right pieces. It was infuriating, but I have to admit, I kind of loved it too. It definitely kept me turning the page. 
Overall, Cruel Beauty is a beautiful story. It has gorgeous mythology, a steamy romance, and an intriguing mystery that'll keep you turning the pages long into the night. This book is a total mindfuck in the sense that you'll never know what to believe, but that's the fun of it. This is definitely not a book to be missed–and you should check out the author's other novel, Crimson Bound. Basically, if you love a good story (especially a good retelling), this is the book for you.
Have you read INSERT TITLE yet, or are you planning to? What did you think of it? Let me know in the comments below!