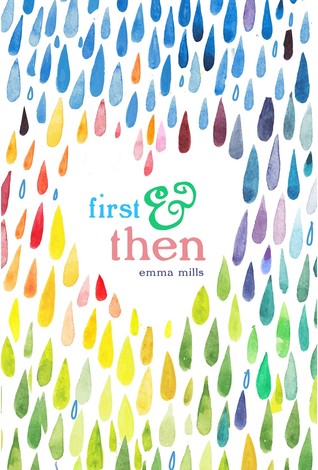 First & Then
Author: Emma Mills
Genre: YA, contemporary, romance
Pub Date: October 13th, 2015
Publisher: Henry Holy
Source: Gifted
Goodreads | Barnes and Noble | Amazon
Devon Tennyson wouldn't change a thing. She's happy watching Friday night games from the bleachers, silently crushing on best friend Cas, and blissfully ignoring the future after high school. But the universe has other plans. It delivers Devon's cousin Foster, an unrepentant social outlier with a surprising talent for football, and the obnoxiously superior and maddeningly attractive star running back, Ezra, right where she doesn't want them first into her P.E. class and then into every other aspect of her life.

Pride and Prejudice meets Friday Night Lights in this contemporary novel about falling in love with the unexpected boy, with a new brother, and with yourself.
TITLE: boring | nothing special | pretty good | caught my eye | perfection | music to my ears
COVER: not my favorite | goes well with rest of the series | boring | generic | pretty | series cover change | beautiful | HEART EYES
POV: 1st | 2nd | 3rd limited | 3rd omniscient | multiple POVs | too many POVs
CONCEPT: original as heck | run of the mill in genre | average | has potential | great idea, bad execution
MOOD: dark | hilarious | light hearted | romantic | depressing | suspenseful | fluffy | mysterious
PACING: snail's pace | couldn't keep up | mix of fast and slow | slow in the wrong places | fast in the wrong places | what even is pacing?
CHARACTERS: i'm in love | couldn't connect | too many | well developed (all) | infuriating | annoying | precious babies | underdeveloped (all)| a mix of good and bad | diverse | okay | new favorite characters
ROMANCE: none | steamy | fluffy | OTP status | cute | center stage | barely there | cheesy | instalove | slow burn | i ship it | love triangle
DIVERSITY: none | lgbtq+ | racial | religion | disabled | mental illness | body
First & Then sounds like my dream book. It's been pitched as Friday Night Lights meets Pride and Prejudice, and those are two of my favorite things ever. I saw a bunch of reviews from bloggers that I trust saying that they loved the book, so I thought, why not give it a go? I went into this expecting lots of swoons and witty commentary, all set against the backdrop of a football field. However, that was not what I got from this book and I fear that I'm the black sheep when it comes to First & Then.
Contemporary is very much a hit or miss genre for me. I often find the plot dull, and sadly First & Then fulfilled that expectation. I thought nothing exciting ever happened, and the characters went back and forth between the same places. This made the pacing super slow throughout the entire book; if it wasn't such a short novel, I probably would've DNFed it. There were a few highlights to the story, but they were brief and very cliched without anything special to them (ex: a scene at a homecoming dance where the MCs love interest is with someone else).
The characters themselves were also very dull and I thought they weren't fleshed out enough. The main character, Devon–don't even get me started on her name–was supposed to be average, but she was painfully average. I didn't find anything about her that I could connect with, and I couldn't care less about her college problems. I had some mild intrigue about Ezra, the love interest, but like Devon, he wasn't developed enough *sigh*. The only other character I found mildly interesting was Foster, and even then I had some problems with him. He was a freshmen and yet he acted like a 10 year old. It was just bad characterization, and I didn't like it all that much.
I was so looking forward to the Elizabeth and Darcy-esque romance. I wanted some witty banter and sexual tension, but I didn't get any of that. For half of the novel, Devon and Ezra barely even talked to each other, and since Ezra wasn't a talkative person, the second half of the novel wasn't much better. There were a few scenes that were cute, but nothing that made me swoon. I didn't even get why they liked each other; I mean, Devon called Ezra a dickhead for like 80% for the novel, so?? Yeah, I didn't quite get why they were attracted to each other (especially because the author never described anyone's physical appearance!!).
I did like the themes of family in the novel. I liked the relationship between Devon and Foster a lot, even if I thought it was a little odd because of the weak characterization. I also wished that Mills had touched upon some of the other big issues in the novel a little more, like teen pregnancy, drunk driving, children of addiction, etc. There was just so much potential, but the author didn't expand much upon these topics.
This review may seem like I thought the book was absolutely retched, but there were a few things I liked about it. The writing itself was quirky and pleasant to read; it did have a very P&P-esque vibe to it. I also liked how the relationship between Foster and Devon grew and changed throughout the novel.
Overall, First & Then was a big letdown. The plot was dull, the characters were underdeveloped and the romance was woefully underwhelming. Not even the fun, witty writing could save this story. There was so much potential, but ultimately the story fell flat. I'd suggest picking this one up from the library if you want to see for yourself, but I wouldn't spend my money on this book.
Have you read First & Then yet, or are you planning to? What did you think of it? Let me know in the comments below!