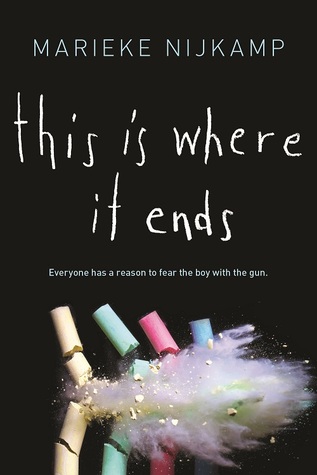 This Is Where It Ends
Author: Marieke Nijkamp
Genre: YA, contemporary, thriller
Pub Date: January 5th, 2016
Publisher: Sourcebooks
Source: Library
Goodreads | Barnes and Noble | Amazon
10:00 a.m.
The principal of Opportunity, Alabama's high school finishes her speech, welcoming the entire student body to a new semester and encouraging them to excel and achieve.

10:02 a.m.
The students get up to leave the auditorium for their next class.

10:03
The auditorium doors won't open.

10:05
Someone starts shooting.

Told over the span of 54 harrowing minutes from four different perspectives, terror reigns as one student's calculated revenge turns into the ultimate game of survival.
TITLE: boring | nothing special | pretty good | caught my eye | perfection | music to my ears
COVER: not my favorite | goes well with rest of the series | boring | generic | pretty | series cover change | beautiful | HEART EYES
POV: 1st | 2nd | 3rd limited | 3rd omniscient | multiple POVs | too many POVs
CONCEPT: original as heck | run of the mill in genre | average | has potential | great idea, bad execution
MOOD: dark | hilarious | light hearted | romantic | depressing | suspenseful | fluffy | mysterious
PACING: snail's pace | couldn't keep up | mix of fast and slow | slow in the wrong places | fast in the wrong places | what even is pacing?
CHARACTERS: i'm in love | couldn't connect | too many | well developed (all) | infuriating | annoying | precious babies | underdeveloped (all)| a mix of good and bad | diverse | okay | new favorite characters
ROMANCE: none | steamy | fluffy | OTP status | cute | center stage | barely there | cheesy | instalove | slow burn | i ship it | love triangle
DIVERSITY: none | lgbtq+ | racial | religion | disabled | mental illness | body
School shootings are all to common in the US nowadays. It seems to be a common occurence, something that people are used to know. It's no  surprise that because of this, it has made its way into YA fiction. When I first heard about this book, I was so excited. The premise practically guarantees an emotional roller coaster of a book. However, that was not the case at all. In fact, my experience with this book was quite the opposite.
This Is Where It Ends has a very interesting premise. I haven't seen many books dealing with a school shooting so I was eager to see how Marieke Nijkamp wrote this book. Personally, I didn't think it was anything special. The plot was very "meh" and I felt like this book was trying to be wayyyy too theatrical. I know that these things happen in real life, but it just felt so unbelievable, I couldn't get into it. The pacing was also very weird too. The book is short, and the events only take place over a 54 minute period, but I felt like the plot moved at a snails pace. It was incredibly slow, and with a book that's supposed to keep you on the edge of your seat, I felt let down.
There were too many characters to keep track of, and it did not help that there was no difference in their voices. There was 1 male POV and 3 female POVs, but you would've never guessed it without the headings. They felt like the same person; I often had to flip back a few pages because I didn't know whose section I was reading. Most of them have pretty developed backstories, but I feel like there was something missing. The author had many of them have flashbacks, but that didn't give me enough to get a good grip on their character.
My main problem was the fact that I couldn't connect with any of the characters. I was interested in a few of them, but they weren't developed enough for me to get to know them well enough. This book is supposed to be very emotional, but when I read about character's dying or people getting shot, I felt nothing. I really wanted to be pulled into a gripping story, but sadly, that wasn't the case. Another thing that really bothered me was how some of these characters acted in certain situations. Some of the things they did were so incredibly unbelievable and ridiculous that I actually rolled me eyes. Part of the reason why I couldn't get into this book was because I didn't feel the danger because I was too busy thinking how unrealistic some things were.
On the positive side of things, the writing was very smooth and easy to read. I don't think the author lacks talent, I just don't think this story was well put together. This was a very quick read and I blew through it in less than two hours. It was interesting to read, I'll give it that. If you're looking for a quick read, then I'd suggest this book, but if you're looking for something you can take your time with and enjoy, this isn't the book.
This book is also very diverse. There are both main and side POC characters, there's a f/f romance between two of the POV characters, and a side character has lupus. I thought it was great that Marieke Nijkamp really made this book diverse, like a normal high school. To me, it helped things seem a little more realistic.
Overall, This Is Where It Ends was great in theory but had a very bad execution. I couldn't connect to any of the characters, the pacing felt off, and some situations were very unbelievable. The writing itself was really good, and I applaud the author for all of the diversity in the book,  but that wasn't enough to save the story. This may seem like I really didn't like the book, but it was just okay. I won't reread it, and it wasn't the best book, but it wasn't terrible either. I'll probably pick up the next book Marieke Nijkamp writes, but I'll be very hesitant.
Have you read THIS IS WHERE IT ENDS yet, or are you planning to? What did you think of it? Let me know in the comments below!