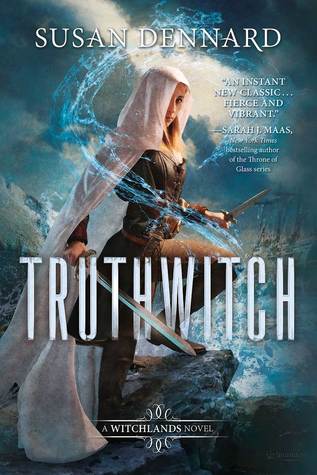 Truthwitch
Author: Susan Dennard
Series: The Witchlands #1
Genre: YA, fantasy, romance
Pub Date: January 5th, 2016
Publisher: Tor
Source: Purchased
Goodreads | Barnes and Noble | Amazon
On a continent ruled by three empires, some are born with a "witchery", a magical skill that sets them apart from others.

In the Witchlands, there are almost as many types of magic as there are ways to get in trouble—as two desperate young women know all too well.

Safiya is a Truthwitch, able to discern truth from lie. It's a powerful magic that many would kill to have on their side, especially amongst the nobility to which Safi was born. So Safi must keep her gift hidden, lest she be used as a pawn in the struggle between empires.

Iseult, a Threadwitch, can see the invisible ties that bind and entangle the lives around her—but she cannot see the bonds that touch her own heart. Her unlikely friendship with Safi has taken her from life as an outcast into one of reckless adventure, where she is a cool, wary balance to Safi's hotheaded impulsiveness.

Safi and Iseult just want to be free to live their own lives, but war is coming to the Witchlands. With the help of the cunning Prince Merik (a Windwitch and ship's captain) and the hindrance of a Bloodwitch bent on revenge, the friends must fight emperors, princes, and mercenaries alike, who will stop at nothing to get their hands on a Truthwitch.
TITLE: boring | nothing special | pretty good | caught my eye | perfection | music to my ears
COVER: not my favorite | goes well with rest of the series | boring | generic | pretty | series cover change | beautiful | HEART EYES
POV: 1st | 2nd | 3rd limited | 3rd omniscient | multiple POVs | too many POVs
CONCEPT: original as heck | run of the mill in genre | average | has potential | great idea, bad execution
MOOD: dark | hilarious | light hearted | romantic | depressing | suspenseful | fluffy | mysterious
PACING: snail's pace | couldn't keep up | mix of fast and slow | slow in the wrong places | fast in the wrong places | what even is pacing?
CHARACTERS: i'm in love | couldn't connect | too many | well developed (all) | infuriating | annoying | precious babies | underdeveloped (all)| a mix of good and bad | diverse | okay | new favorite characters
ROMANCE: none | steamy | fluffy | OTP status | cute | center stage | barely there | cheesy | instalove | slow burn | i ship it | love triangle
DIVERSITY: none | lgbtq+ | racial | religion | disabled | mental illness | body
It's the book everyone has been talking about for months: the ever present Truthwitch. I went into this book with surprisingly low standards, despite all the glowing reviews I'd seen. It wasn't that I expected it to be bad, I just didn't know what to expect. And Truthwitch wasn't bad, no, but it wasn't amazing, either.
We all know that hyped books have tendency to either be AMAZING or fall flat on their faces. Truthwitch did neither of these things, in my opinion. I thought it had a really interesting premise going for it; I love anything that's compared to Avatar and I'm a sucker for different "clans" people can belong to. That being said, I didn't think the idea was *super* original when compared to other YA high fantasies, but I can definitely see it becoming more original in the sequel novels (hopefully, anyways).
The pacing was very off in the beginning. It took me 4 days to get through the 100 pages or so, and during those 4 days, I actually put Truthwitch aside and read other books. I never do this, which was a terrible sign. I was deathly afraid I was going to have to DNF it; I have only ever DNFed 1 book, and I didn't want Truthwitch to make it 2. The beginning just didn't interest me at all because I was thrown right into the characters' lives without any attachment to them. Basically, I didn't care that they were running for their lives because I didn't know them yet. However, the pacing does pick up speed after the 100 page mark or so and maintains a quicker speed for a majority of the novel. I read the rest of the novel in the span of a couple hours, if that gives you any indication of how much better the last 3/4 of the novel is.
Even though there were a lot of characters and kingdoms to keep track of, I thought a majority of the MCs were very interesting. The main characters were all very well developed and had distinct personalities and voices. My favorite character, by far, was Aeduan. But Alex, you say, THAT IS THE EVIL VILLAIN!! Yes, yes, I know–I always chose the wrong characters to love. But I just can't help it! His POV sections were the most interesting, and the amount of secrecy around him intrigues me immensely. But besides Aeduan, I thought Iseult and Safi were also both amazing. There were quite a few characters to keep track of though, and it kept me thoroughly confused for the first half of the novel, which was a bit of a damper.
The relationships in this novel are very, very well done. The friendship between Safi and Iseult was so pure and ran very, very deep; it's not often you find a dynamic female duo as kickass as these two. As for romantic relationships, I thought the romance between Safi and Merik was very "meh." I didn't quite understand their attraction for one another, but there were a few scenes between them that made me smile. I can definitely see myself becoming more attached to them in the sequel (and I also have a crack ship that will probably never happen, but I'm hoping. And yes, it involves Aeduan).
It's very obvious Truthwitch is the "set up" book for the rest of the series. I feel like a lot of worldbuilding info was dumped on us at once, and that made the plot suffer a bit. It made the action slower, but it didn't completely bog down the story. I'm interested to see what Susan Dennard will do next with the story to make it entirely her own.
Overall, I thought Truthwitch was just okay. The characters were fantastic and the relationships were well crafted, but the plot was slow and the concept was just average for the genre. It wasn't anything special for me, but I can't deny that it was a good read. The writing was amazing and the ending leaves me very intrigued. I'll definitely be picking up the sequel in hopes that the next one takes this series to the next level.
Have you read Truthwitch yet, or are you planning to? What did you think of it? Let me know in the comments below!