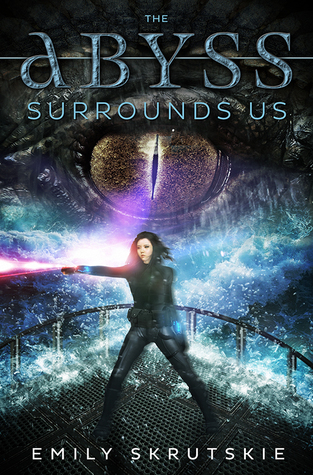 The Abyss Surrounds Us
Author: Emily Skrutskie
Series: The Abyss Surrounds Us #1
Genre: YA, sci-fi, romance
Pub Date: February 8th, 2016
Publisher: Flux
Source: Netgalley
*I received an ARC of this book from netgalley and Flux in exchange for an honest review*
Goodreads | Barnes and Noble | Amazon
For Cassandra Leung, bossing around sea monsters is just the family business. She's been a Reckoner trainer-in-training ever since she could walk, raising the genetically-engineered beasts to defend ships as they cross the pirate-infested NeoPacific. But when the pirate queen Santa Elena swoops in on Cas's first solo mission and snatches her from the bloodstained decks, Cas's dream of being a full-time trainer seems dead in the water.

There's no time to mourn. Waiting for her on the pirate ship is an unhatched Reckoner pup. Santa Elena wants to take back the seas with a monster of her own, and she needs a proper trainer to do it. She orders Cas to raise the pup, make sure he imprints on her ship, and, when the time comes, teach him to fight for the pirates. If Cas fails, her blood will be the next to paint the sea.

But Cas has fought pirates her entire life. And she's not about to stop.
TITLE: boring | nothing special | pretty good | caught my eye | perfection | music to my ears
COVER: not my favorite | goes well with rest of the series | boring | generic | pretty | series cover change | beautiful | HEART EYES
POV: 1st | 2nd | 3rd limited | 3rd omniscient | multiple POVs | too many POVs
CONCEPT: original as heck | run of the mill in genre | average | has potential | great idea, bad execution
MOOD: dark | hilarious | light hearted | romantic | depressing | suspenseful | fluffy | mysterious
PACING: snail's pace | couldn't keep up | mix of fast and slow | slow in the wrong places | fast in the wrong places | what even is pacing?
CHARACTERS: i'm in love | couldn't connect | too many | well developed | infuriating | annoying | precious babies | underdeveloped (all)| a mix of good and bad | diverse | okay | new favorite characters
ROMANCE: none | steamy | fluffy | OTP status | cute | center stage | barely there | cheesy | instalove | slow burn | i ship it | love triangle
DIVERSITY: lgbtq+ | racial (asian) | religion | disabled | mental illness | body
We all have those books that make us stop and think Damn, that sounds amazing. For me, that book was definitely The Abyss Surrounds Us. The concept is wholly original and unlike everything I've read before. Also, listen to these two words: gay pirates. I had to read this–and now that I have, I can honestly say that this book is as good as it sounds.
The Abyss Surrounds Us was a really, really fun read. I've never read anything like it, which made me enjoy it so much because I had no idea what to expect. Pirates are a huge trend in 2016, but I'll bet that none are quite like the pirates Emily Skrutskie wrote. They were so interesting, especially the captain, Santa Elena, and one of her trainees, Swift. The whole concept of the story was so unique and fun to read about; I loved learning about the Reckoners and all of the training that they went through.
Plot and pacing wise, it was pretty good. Cas is on a ship for most of the story, so after awhile, things started to seem a bit repetitious, but a lot of the slow parts were broken up with action scenes, which I thought were well written. One of my only complaints is how short this book is. I feel like there could have been just a little bit more development on the romance, and another 50-100 extra pages would've really helped out with that issue. Other than that, I thought the plot and pacing were both pretty exceptional.
If you've been reading my reviews for awhile, you know how much I love the characters. They make or break a book for me. In the case of The Abyss Surrounds Us, there were quite a few characters that I really loved. Santa Elena was one fierce captain, and I love how savage she was. Swift, Cas' love interest, was also really interesting and I thought that her personality was pretty unique. As for our main character, I thought Cas was a pretty great. She reacted as well as anyone could in her situation and she was pretty levelheaded. All of the main characters, and most of the side ones, were really well developed.
The amount of diversity in this book made me so, so, so happy. Our main characters, Cas, is Asian, Santa Elena is described as having darker skin, and the central romance in the novel is between two girls (I TOTALLY SHIP IT!!!). Their sexuality is never brought up, it's just accepted, and I really loved that.
Overall, The Abyss Surrounds Us was an amazing read with an incredible premise, a diverse cast of characters, and a slow burn romance that'll keep you flipping page after page long into the night. I thought it could've been a little longer, but that doesn't take away from the fact that the words that were there were absolutely amazing. The ending leaves a door open to more adventures with Cas, and you can sure as hell bet that I'll be picking up the sequel when it comes out.
Have you read an early copy of tHE abyss Surrounds us, or are you planning to read it when it comes out? What are you most excited for? Let me know in the comments below!