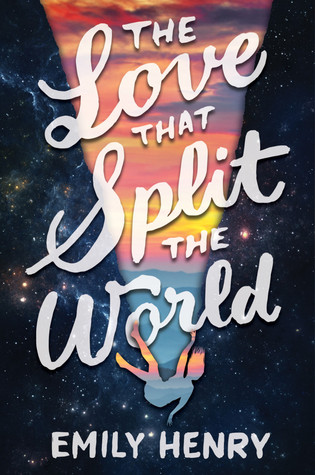 The Love That Split the World
Author: Emily Henry
Genre: YA, magic realism, romance
Pub Date: January 26th, 2016
Publisher: Razorbill
Source: Sunday Street Team
Goodreads | Barnes and Noble | Amazon
Natalie Cleary must risk her future and leap blindly into a vast unknown for the chance to build a new world with the boy she loves.

Natalie's last summer in her small Kentucky hometown is off to a magical start… until she starts seeing the "wrong things." They're just momentary glimpses at first—her front door is red instead of its usual green, there's a pre-school where the garden store should be. But then her whole town disappears for hours, fading away into rolling hills and grazing buffalo, and Nat knows something isn't right.

That's when she gets a visit from the kind but mysterious apparition she calls "Grandmother," who tells her: "You have three months to save him." The next night, under the stadium lights of the high school football field, she meets a beautiful boy named Beau, and it's as if time just stops and nothing exists. Nothing, except Natalie and Beau.

Emily Henry's stunning debut novel is Friday Night Lights meets The Time Traveler's Wife, and perfectly captures those bittersweet months after high school, when we dream not only of the future, but of all the roads and paths we've left untaken.
Emily Henry is full-time writer, proofreader, and donut connoisseur. She studied creative writing at Hope College and the New York Center for Art & Media Studies, and now spends most of her time in Cincinnati, Ohio, and the part of Kentucky just beneath it. She tweets @EmilyHenryWrite.
TITLE: boring | nothing special | pretty good | caught my eye | perfection | music to my ears
COVER: not my favorite | goes well with rest of the series | boring | generic | pretty | series cover change | beautiful | HEART EYES
POV: 1st | 2nd | 3rd limited | 3rd omniscient | multiple POVs | too many POVs
CONCEPT: original as heck | run of the mill in genre | average | has potential | great idea, bad execution
MOOD: dark | hilarious | light hearted | romantic | depressing | suspenseful | fluffy | mysterious
PACING: snail's pace | couldn't keep up | mix of fast and slow | slow in the wrong places | fast in the wrong places | what even is pacing?
CHARACTERS: i'm in love | couldn't connect | too many | well developed (all) | infuriating | annoying | precious babies | underdeveloped (all)| a mix of good and bad | diverse | okay | new favorite characters
ROMANCE: none | steamy | fluffy | OTP status | cute | center stage | barely there | cheesy | instalove | slow burn | i ship it | love triangle
DIVERSITY: none | lgbtq+ | racial (native american) | religion | disabled | mental illness | body
If you ask anyone in the book world–or just a random person–if a book has impacted their lives, chances are they will say yes. Up until a few months ago, I would've said no. I didn't get what people meant when they said that books changed their lives, or saved them, etc. After reading The Love That Split the World, I understand them completely. This book spoke to me like no other book has, and I feel like it's changed me in a way. Basically, The Love That Split the World is the most beautiful, profound book I've ever read, and probably ever will read.
This book is a complete genre bender, blending magic realism with a gorgeous, sweeping romance. It's compared to Friday Night Lights and The Time Traveler's Wife; I've seen FNL, and you can definitely feel the overtones. Small town girl, football guy, it's all there. TLTSTW has this nostalgic feel to it, even if you're reading it for the first time. The whole story aches of change–growing up, going to college, first heartaches, first loves. I think everyone can relate to Natalie when she feels like life is going too fast for her to keep up.
The plot, oh my. I'm a sucker for romances, and time travel is one of my favorite things ever; pair them together and you've got a sure recipe for success. Throughout the novel, Grandmother's stories are woven in, mirroring what's happening in Natalie's life. The deeper you go into the story, the more tangled you get in the characters' lives. When disaster starts to strike, during the second half of the novel, my heart was beating at a million miles an hour. I loved every second of this book, from the very word to the last page. It kept me on my toes, and I never knew what was going to happen next (beside heartache, of course. It's a guaranteed emotion with this book).
The characters were better than I could ever dream. Natalie's a girl everyone can relate to in someway; she didn't know what was coming next in her life, she felt like the odd one out in her family, and she was stuck in a small town. She was intelligent, caring and brave, and I couldn't love her more. She's also Native American, and that plays a big part in her life (yay, diversity!!!). While she was a spectacular character, she wasn't my absolute favorite. That award goes to Beau, AKA the love of my life. God, I don't even know how to describe him. Emily has some beautiful similes and metaphors in the book about him, but I'll just say this: when I picture him, all I can think of is the feeling of watching the sunset. Content, bright, and full of warmth. Also, after watching Friday Night Lights, I totally picture him like Tim Riggins:
One of the best things about this book is the romance. As soon as Natalie and Beau talk to each other for the first time, you can feel yourself falling in love with them. I realized this too late, when I was in too deep and shit started hitting the fan. The romance was so deep, so romantic that I'm torn between rereading the book every day or crying because I know I'll never have a love like that. This is a romance that puts all other couples to shame; step aside, Sarah J. Maas and her gaggle of hunks. Beau and Natalie are here now and I'm crowning the king and queen of shipville.
Overall, The Love That Split the World was one of the most beautiful books I've ever read. The book put a unique spin on time travel tropes, the characters were so incredibly human and relatable, and the romance is devastatingly beautiful.  This book will reck your emotional wellbeing, and you'll end up thanking Emily Henry for breaking your heart and sewing it back up again. I know I did. The Love That Split the World will change your life–please, for the love of god, go buy this book when it comes out. You won't regret it.
Have you read INSERT TITLE yet, or are you planning to? What did you think of it? Let me know in the comments below!