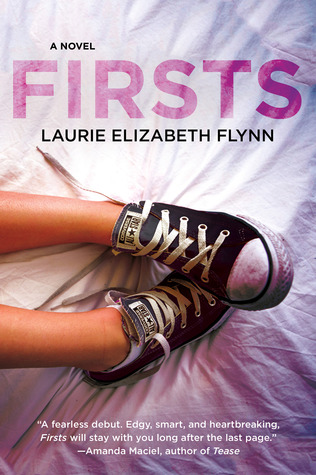 Firsts
Author: Laurie Elizabeth Flynn
Genre: YA, Contemporary, Romance
Pub Date: January 5th, 2016
Publisher: St. Martin's Griffin
Source: Purchased
Goodreads | Barnes and Noble | Amazon
Seventeen-year-old Mercedes Ayres has an open-door policy when it comes to her bedroom, but only if the guy fulfills a specific criteria: he has to be a virgin. Mercedes lets the boys get their awkward, fumbling first times over with, and all she asks in return is that they give their girlfriends the perfect first time- the kind Mercedes never had herself.

Keeping what goes on in her bedroom a secret has been easy- so far. Her absentee mother isn't home nearly enough to know about Mercedes' extracurricular activities, and her uber-religious best friend, Angela, won't even say the word "sex" until she gets married. But Mercedes doesn't bank on Angela's boyfriend finding out about her services and wanting a turn- or on Zach, who likes her for who she is instead of what she can do in bed.

When Mercedes' perfect system falls apart, she has to find a way to salvage her reputation and figure out where her heart really belongs in the process. Funny, smart, and true-to-life, FIRSTS is a one-of-a-kind young adult novel about growing up.
TITLE: boring | nothing special | pretty good | caught my eye | perfection | music to my ears
COVER: not my favorite | goes well with rest of the series | boring | generic | pretty | series cover change | beautiful | HEART EYES
POV: 1st | 2nd | 3rd limited | 3rd omniscient | multiple POVs | too many POVs
CONCEPT: original as heck | run of the mill in genre | average | has potential | great idea, bad execution
MOOD: dark | hilarious | light hearted | romantic | depressing | suspenseful | fluffy | mysterious
PACING: snail's pace | couldn't keep up | mix of fast and slow | slow in the wrong places | fast in the wrong places | what even is pacing?
CHARACTERS: i'm in love | couldn't connect | too many | well developed (all) | infuriating | annoying | precious babies | underdeveloped (all)| a mix of good and bad | diverse | okay | new favorite characters
I'm going to be honest: Firsts isn't the type of book I'd normally read. I usually stick firmly with fantasy and sci-fi, but as soon as I read a review of it by my friend Jess @ Princessica of Books, I knew I had to read this book. Fantasy be damned–this book is so unique, so powerful on so many different fronts. Firsts is one of those books that leaves a mark on your heart and makes you really think about some important issues. I really, really loved this book, and I think everyone should read it, regardless if you like contemporary or not.
Firsts deals with a lot of different issues, especially dark ones. This book deals with sex, assault, rape, and relationships in an incredible way. Laurie E. Flynn doesn't shy away from any of the dark, gritty details when it comes to these topics; it was a very eye-opening book that made me think about a lot of things. If you read this book you can definitely expect to be impacted in some way, whether you hate the book or you absolutely love it.
With a book that revolves around characters so much, it's very important that they're done well, and I thought they were. Mercedes, our main character, is morally grey and constantly makes decisions you know will end up turning out horrible. You can't help but root for her (disclaimer: I know a lot of people might not be comfortable with the cheating that goes on in the book, but it's an important issue, one that isn't done as well in most YA). She's flawed, yes, but you can't help but fall a little bit–okay, a lot in love with her. I'm only taking a few points off because it was hard to connect with her sometimes, especially in the beginning. After awhile though, I really got to know her and I felt her pain as if it was my own. Also, you'll note that in my "review" at a glance section, I put "infuriating," but not because of Mercedes. There were quite a few male characters–and a handful of females–that made me absolutely disgusted by their actions.
Plot and pacing wise, I thought it was a little slow for the first 50 pages or so. I didn't know what the conflict was, as the blurb was pretty vague, but it picks up really pretty fast after those 50 pages. It was very, very painful, watching Mercedes slowly unravel right in front of me on the pages. My heart ached when she made some of her decisions. She's a character with very high walls around her heart, and watching her push people away to keep herself from getting hurt was so sad. The suspense in this novel, the whole what will happen next???? feeling never really left me. None of the characters were predictable (besides Mercedes and her self defense mechanisms), and I loved that. I loved not knowing what would happen, even when it infuriated me sometimes.
Like I said above, there are many relationships in the novel. Friendships, sexual relationships, romances. The dynamics were so incredibly complex; some of my favorites were Mercedes and Zach, Faye and Mercedes, and Mercedes, Faye and Zach. They're so unlike many relationships I've read before which was so refreshing and interesting.
The topic of sexual assault is a very personal one for me for reasons I won't go into, but I can't thank Laurie E. Flynn for how perfectly she handled the issue. There's a lot of it in this book, sadly, and it made my stomach roll too many times. I get that people might not be comfortable reading with this topic, but I really, really think you should give this book a try. It's important that we talk about these issues, no matter how painful they are.
A brief note about the ending: it might not be that happy, perfect ending that I wanted, but it's the ending that this book deserved. A little bittersweet and a little open ended, with just enough uncertainty to make you think about these characters long after the last page.
Overall, Firsts was an incredible book with a very original concept and a nearly perfect execution. The characters were amazing, the relationships complex, and the issues handled very, very well. This book is one that impacted me greatly, and even if it doesn't make it onto my favorites shelf, it's a book I know I will never forget. Please, do yourself a favor and read this beautiful book. You won't regret it.
Have you read Firsts yet, or are you planning to (which you seriously should be)? What did you think of it? Let me know in the comments below!