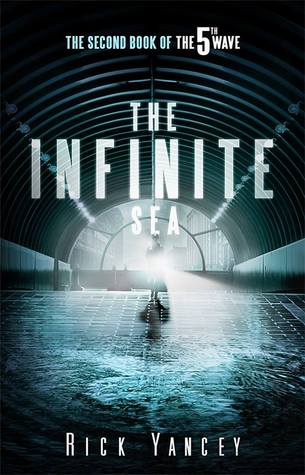 The Infinite Sea
Author: Rick Yancey
Series: The 5th Wave #2
Genre: YA, sci-fi, dystopian, romance
Pub Date: September 16th, 2014
Publisher: G.P. Putnam's Sons
Source: Purchased
Goodreads | Barnes and Noble | Amazon
How do you rid the Earth of seven billion humans? Rid the humans of their humanity.

Surviving the first four waves was nearly impossible. Now Cassie Sullivan finds herself in a new world, a world in which the fundamental trust that binds us together is gone. As the 5th Wave rolls across the landscape, Cassie, Ben, and Ringer are forced to confront the Others' ultimate goal: the extermination of the human race.

Cassie and her friends haven't seen the depths to which the Others will sink, nor have the Others seen the heights to which humanity will rise, in the ultimate battle between life and death, hope and despair, love and hate.
TITLE: boring | nothing special | pretty good | caught my eye | perfection | music to my ears
COVER: not my favorite | goes well with rest of the series | boring | generic | pretty | series cover change | beautiful | HEART EYES
POV: 1st | 2nd | 3rd limited | 3rd omniscient | multiple POVs | too many POVs
CONCEPT: original as heck | run of the mill in genre | average | has potential | great idea, bad execution
MOOD: dark | hilarious | light hearted | romantic | depressing | suspenseful | fluffy | mysterious
PACING: snail's pace | couldn't keep up | mix of fast and slow | slow in the wrong places | fast in the wrong places | what even is pacing?
CHARACTERS: i'm in love | couldn't connect | too many (side characters) | well developed (all) | infuriating | annoying | precious babies (Evan Walker <3) | underdeveloped (all)| a mix of good and bad | diverse | okay | new favorite characters
It took me a long time to get to this book. I'm not sure why; I fell in love with The 5th Wave and I desperately wanted to know what would happen after that cliffhanger! After reading The Infinite Sea, I'm glad I waited so long because this book left me with more questions than the first one did, making the wait unbearable! It wasn't as good as the 1st book in my opinion, but it was still an enjoyable read (there are a few minor spoilers from book 1 in this review, but they aren't anything big).
The first thing I want to say about this book is that it completely changes the game. Everything you thought was true in the first book? Nope, WRONG. I think I said "what the FUCK" out loud at least 3 times while reading this book, if that gives you any idea of what your reading experience might be like. This book was really deep, in my opinion, like inception or something. Maybe people who are smarter than me wouldn't be surprised by some of the twists, but damn, I was so shocked!
I also want to say that the opening scene is really chilling. I'm usually 100% okay with gore and cruelty and whatnot, but the prologue gave me chills. Something about it is just really creepy and unsettling.
The plot was much, much slower than the first book. It follows our group of escapees as they leave the base and escape the Others. They're in the same place for the entirety of the book, minus Ringer and Teacup, who leave the group for awhile. At first, I wasn't bothered by the slowed pace, but after awhile, I just wanted some fast paced scenes or something to speed it up. There were some action scenes, but this was much more of a psychological book. It got inside your head, planted little seeds of doubt here and there, making you distrustful of everyone and everything (and rightly so, because all of these characters are shady as fuck).
On the topic of characters, Ringer was much more prevalent in this book than the first one. I think her POV accounted for 50%, if not more, of the entire book. We spend over a 100 pages with her toward the end, which I wouldn't have minded if it didn't move so slowly. It was interesting, but I thought it took up a lot of page space (plus, I love Cassie and she's still my favorite POV in the series so I was anxious to read more of her sections). There were also a lot of side characters that I didn't really care about–Poundcake, Dumbo, etc. (actually, I can't remember who was alive after book 1 so this list might not be completely accurate lol. See how much I care about them?).  There are a handful of new characters who I thought were cool–mainly Razor and Grace. You get a glimpse at more people like Evan (my BABYYYYYY <3) which I thought was a nice addition to the book.
I feel like The Infinite Sea really gets up close and personal with our main characters, especially Cassie and Ben. Now that they're together, you're able to see what their relationship and chemistry is like. I'm not sure if it was because they were cooped up for so long, but they didn't get along as well as I expected them to. That's one think I liked about this book–Rick Yancey didn't make it into a love triangle. I don't know if I could've handled that, not after how much I fell in love with Evan in the 1st book.
The romance in the first book was arguably my favorite thing about it. I LOVED Evan and Cassie, but I wasn't completely sold on Zombie and Ringer. The Infinite Sea still has romance, but I thought it was a bit cheesier than it was in the first book. It wasn't bad, but there were a few things that made me roll my eyes. There's also a romance in the book involving a new character; I was surprised how much I liked it, especially because I thought I didn't care that much about the two characters involved.
I told you that this book changed the game–and it's so true. Nearly everything that you learn in the first book is told to be a lie. The problem is though that you have about 3 different characters, in 3 different places, all thinking something completely different is true. It's hard to know who to believe, what to believe, just like in the first book. I'm not sure what to think about all the revelations; my head hurts when I start to pick apart things.
Overall, The Infinite Sea was good, but it didn't live up to The 5th Wave in my opinion. The characters were as lovable as ever, but the pacing was a little slow in some places and I thought some of the side characters could've been combined or cut completely. I'm still reeling from the ending; if there's one thing I know that's true, it's that the finale will be incredibly epic. Is it May yet?
Have you read The infinite Sea yet, or are you planning to? What did you think of this incredibly mind blowing book? Let me know in the comments below!