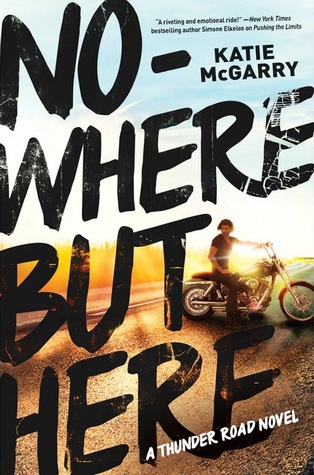 Nowhere But Here
Author: Katie McGarry
Series: Thunder Road #1
Genre: YA, contemporary, romance
Pub Date: May 26, 2015
Publisher: Harlequin Teen
Source: Purchased
Goodreads | Barnes and Noble | Amazon
Seventeen-year-old Emily likes her life the way it is: doting parents, good friends, good school in a safe neighborhood. Sure, she's curious about her biological father—the one who chose life in a motorcycle club, the Reign of Terror, over being a parent—but that doesn't mean she wants to be a part of his world. But when a reluctant visit turns to an extended summer vacation among relatives she never knew she had, one thing becomes clear: nothing is what it seems. Not the club, not her secret-keeping father and not Oz, a guy with suck-me-in blue eyes who can help her understand them both.

Oz wants one thing: to join the Reign of Terror. They're the good guys. They protect people. They're…family. And while Emily—the gorgeous and sheltered daughter of the club's most respected member—is in town, he's gonna prove it to her. So when her father asks him to keep her safe from a rival club with a score to settle, Oz knows it's his shot at his dream. What he doesn't count on is that Emily just might turn that dream upside down.

No one wants them to be together. But sometimes the right person is the one you least expect, and the road you fear the most is the one that leads you home.
TITLE: boring | nothing special | pretty good | caught my eye | perfection | music to my ears
COVER: not my favorite | goes well with rest of the series | boring | generic | pretty | series cover change | beautiful | HEART EYES
POV: 1st | 2nd | 3rd limited | 3rd omniscient | multiple POVs | too many POVs
CONCEPT: original as heck | run of the mill in genre | average | has potential | great idea, bad execution
MOOD: dark | hilarious | light hearted | romantic | depressing | suspenseful | fluffy | mysterious
PACING: snail's pace | couldn't keep up | mix of fast and slow | slow in the wrong places | fast in the wrong places | what even is pacing?
CHARACTERS: i'm in love | couldn't connect | too many | well developed (all) | infuriating | annoying | precious babies | underdeveloped (all)| a mix of good and bad | diverse | okay | new favorite characters
It's no secret that I'm in love with Katie McGarry's previous stories; Pushing the Limits is one of my favorite books of all time, and the rest of that series is absolutely amazing. This says a lot, considering I'm much more of a fantasy type of girl (if you couldn't tell haha). Since I loved the Pushing the Limits series so much, I was afraid that Nowhere But Here  wouldn't be as good. However, I can safely say that Katie McGarry cannot go wrong, and that she really is the true queen of contemporary romance.
Like all of her other stories, Katie McGarry writes a very tragic, steamy love story in Nowhere But Here. Our two main characters, Oz and Emily, come from two seemingly different worlds. Oz is about to be inducted into a motorcycle gang, and Emily is a straight A student who is the "perfect" child. However, fate throws them together to create this wonderful book.
I only had one problem with this book, and it wasn't even a huge deal. I felt like the first 120 pages or so could've been trimmed down a little more to make things more concise, but I still enjoyed reading those pages. The rest of the book, however, moves pretty fast and I didn't think there were many dull moments. There were lulls in the action, yes, but that's to be expected since not every moment can be spent running away from bad guys or speeding around on motorcycles.
Personally, I thought the plot of this story was the best one yet out of all of Katie McGarry's stories. I loved the idea of rival motorcycle gangs, and how the mystery of Emily's past was weaved into it all. Like I said before, there were lulls in the action but I never thought the story dragged anywhere.
The romance itself was soooo incredibly good! Oz and Emily engage in one of those typical "love to hate" sort of relationships where they start out hating each other but their emotions slowly transform into something different. I know that this isn't the type of thing for everyone, but I liked it. They kept me on the edge of my seat, wondering if they would end up getting together or not. Lets just say that when it rains, it pours *ahem*. My favorite part of this story, by far, was the romance. I thought their development was great, and it wasn't an instalove situation–yes, there might have been some instalust, but they're teenagers. It's completely understandable.
As far as characters go, I think they were all very well developed, even the minor characters. It's a dual POV (1st person) between Emily and Oz, and I thought their voices were very distinct and refreshing to read. Oz was my favorite of the two, as I love my bad boys ❤ Emily was pretty great too, and handled herself pretty well, considering her situation. Sometimes I rolled my eyes and wanted to hit her upside the head, but overall, she was a good character.
Overall, Nowhere But Here is another stunning, steamy romance from Katie McGarry. The characters were fresh takes on typical cliches, the romance was hotter than hell, and the danger in the story kept me on the edge of my seat. It all comes together in a wild conclusion that'll leave your heart racing and aching for more of Emily and Oz. This book has earned a special place in my heart, and a prize spot on my shelf. I definitely recommend it to everyone, whether you love or hate romance! It's that good.
Have you read Nowhere but here yet, or are you planning to? What did you think of it (and did you love oz as much as i did)? Let me know in the comments below!