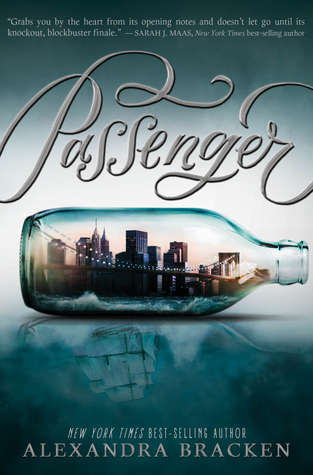 Passenger
Author: Alexandra Bracken
Series: Passenger #1
Genre: YA, Sci-fi, Romance, Historical
Pub Date: January 5, 2016
Publisher: Hyperion
Source: Gifted (by the amazing Grace @ Words Like Silver!)
Goodreads | Barnes and Noble | Amazon
passage, n.
i. A brief section of music composed of a series of notes and flourishes.
ii. A journey by water; a voyage.
iii. The transition from one place to another, across space and time.

In one devastating night, violin prodigy Etta Spencer loses everything she knows and loves. Thrust into an unfamiliar world by a stranger with a dangerous agenda, Etta is certain of only one thing: she has traveled not just miles but years from home. And she's inherited a legacy she knows nothing about from a family whose existence she's never heard of. Until now.

Nicholas Carter is content with his life at sea, free from the Ironwoods—a powerful family in the colonies—and the servitude he's known at their hands. But with the arrival of an unusual passenger on his ship comes the insistent pull of the past that he can't escape and the family that won't let him go so easily. Now the Ironwoods are searching for a stolen object of untold value, one they believe only Etta, Nicholas' passenger, can find. In order to protect her, he must ensure she brings it back to them— whether she wants to or not.

Together, Etta and Nicholas embark on a perilous journey across centuries and continents, piecing together clues left behind by the traveler who will do anything to keep the object out of the Ironwoods' grasp. But as they get closer to the truth of their search, and the deadly game the Ironwoods are play­ing, treacherous forces threaten to sep­arate Etta not only from Nicholas but from her path home . . . forever.
TITLE: boring | nothing special | pretty good | caught my eye | perfection | music to my ears
COVER: not my favorite | goes well with rest of the series | boring | generic | pretty | series cover change | beautiful | HEART EYES
POV: 1st | 2nd | 3rd limited | 3rd omniscient | multiple POVs | too many POVs
CONCEPT: original as heck | run of the mill in genre (but alex bracken made it her own!) | average | has potential | great idea, bad execution
MOOD: dark | hilarious | light hearted | romantic | depressing | suspenseful | fluffy | mysterious
PACING: snail's pace | couldn't keep up | mix of fast and slow | slow in the wrong places | fast in the wrong places | what even is pacing?
CHARACTERS: i'm in love | couldn't connect | too many | well developed (all) | infuriating | annoying | precious babies | underdeveloped (all)| a mix of good and bad | diverse | okay | new favorite characters
Sometimes, there are those books that have been hyped for months. You see the ARCs everywhere and people are buzzing about it nonstop. A lot of the time, these books turn out to be letdowns. This was most certainly not the case for Passenger. I got this ARC as a surprise, and I pushed it to the top of my TBR after I saw how much my trusted adviser Lillie @ Little Lillie Reads loved it. Passenger was absolutely brilliant, and it deserves to be at the top of your TBR as soon as it comes out (tomorrow!). I don't know if I can possibly put my thoughts into coherent sentences, but I will try my hardest.
I want to address one thing first: in my "review at a glance" portion above, I said the concept of Passenger was run of the mill in the genre. It's true; many time travel books have the similar idea of people going back in time to try and save people, or find things. But Alexandra Bracken takes that idea and totally makes it her bitch (sorry for the language, but it's so true). If you're hesitant to read this one because of it's originality, just know that there's no other book out there that so eloquently ties together history and romance without weighing down the story with "technicalities" of time travel.
The book starts off slowly, but it quickly reels you in with a burst of action. You're immersed in the world; you feel Etta's confusion, Nicholas' hope and guilt. The beginning felt slower than the rest of the book, but the author really took her time to establish the characters and set up this world, and I appreciated that. It was slow in all the right places, and fast in all the right places too.
Sometimes, history can bog down a story and leave you stranded in the wake of useless details and information. But that's not true of Passenger. You're whisked from continent to continent, century to century, and I never felt like it was too forced, or too detailed. Alex Bracken gives just enough detail to vividly describe each place so that you have a perfect mental image in mind. I can see the stripes of a tiger in Cambodia, feel the heat of the desert against my skin, taste the salty sea of the Atlantic from 1776.  Each place feels so authentic, so real, it'll give you some serious wanderlust.
The plot of the story itself was incredibly interesting to me. I loved reading about life on the sea, and then, as the story progressed, reading about Etta and Nicholas as they traveled through the passages. My heart was racing for them the entire time, terrified that they would be caught, terrified that something would go wrong. I was very invested in their quest and I rooted for them the entire time!
Oh gosh, the romance. It was a quiet, beautiful sort of thing, something they both acknowledged but didn't act on immediately. I loved the build up, the small touches here and there, the surprising exchanges between them. They're one of my OTPs now, and I was very, very tempted to jump forward in the book and see when the big kiss would happen. Both of them are so evenly matched, and they compliment each other perfectly. If Etta is a fire, then Nicholas is the water to her flame; he is steady and calm (most of the time) and Etta is fierce and definitely a force to be reckoned with. God, I want to go back and read some of my favorite passages because just thinking about them makes my heart flutter.
Overall, Passenger was spectacular and everything I wanted from a book. It has something for everyone: a slow burn romance, gorgeous scenes from history, a thrilling plot, and characters so lovable you won't be able to let them go, even after the last page. Hyped books aren't always a hit, but this one is a complete bulls eye, people. I definitely urge you to buy it the day it comes out! I'll just be over here, counting down the days until I can get my hands on the sequel, Wayfarer. Meanwhile, I'll be making a spot for Passenger on my favorites shelf, where it rightfully deserves to go.
UPDATE 1/4/16:
As I loved this book so much, I want to share the joy and giveaway a signed and personalized copy of Passenger! I will be seeing Alex Bracken on tour and that's when I'll get it signed. This giveaway is US ONLY! (sorry international friends, I'm too broke right now to spend a lot of money on shipping!) Click on the picture below to enter, and of course, good luck!
Are you excited for passenger? If you've read it yet, did you love it as much as I did? Let me know in the comments below!