I've been rereading some of my favorite series this month, and I just recently finished the Legend trilogy by Marie Lu. After reading the last line of Champion, I closed the cover, took a deep breath, and started sobbing. These books mean so much to me, so I thought I would share a non-spoilery review of the entire series overall. Prepare yourself before you read these books, because they'll take you on the most emotional ride of your life. Remember, this is spoiler free for all of the books so don't be afraid to read the entire thing!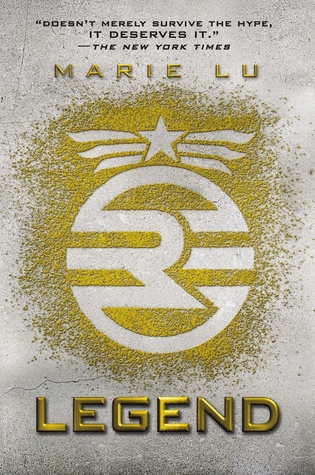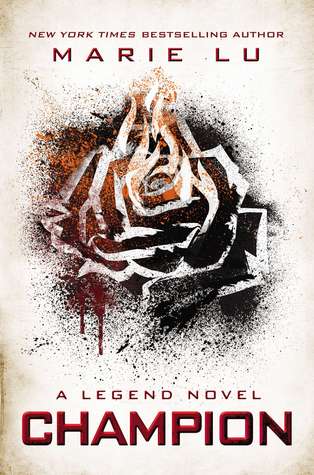 The trilogy centers around 2 POV characters, June Iparis and Day. These two couldn't be more different; June is the best soldier the Republic has ever seen, and Day is a shadowy figure that causes the Republic hell every chance he can get. They're incredibly different, and their paths should never cross, but we all know that the inevitable will happen. The two of them meet on very unfortunate circumstances after the murder of June's brother, and from that moment on, their two worlds shift forever.
The first book, Legend is my favorite, plot wise. According to goodreads, this is the blurb for the first novel:
What was once the western United States is now home to the Republic, a nation perpetually at war with its neighbors. Born into an elite family in one of the Republic's wealthiest districts, fifteen-year-old June is a prodigy being groomed for success in the Republic's highest military circles. Born into the slums, fifteen-year-old Day is the country's most wanted criminal. But his motives may not be as malicious as they seem.

From very different worlds, June and Day have no reason to cross paths—until the day June's brother, Metias, is murdered and Day becomes the prime suspect. Caught in the ultimate game of cat and mouse, Day is in a race for his family's survival, while June seeks to avenge Metias's death. But in a shocking turn of events, the two uncover the truth of what has really brought them together, and the sinister lengths their country will go to keep its secrets.
As you can see, this plot is definitely fast paced and full of all kinds of fun scenes. You have hidden identities, forbidden romance, shifting alliances, a corrupt government and a murder mystery, all thrown in there. There was never a dull moment with Legend. It kept me on the edge of my seat and I stayed up late to finish rereading this book, even though I already knew the outcome. That's how good it is.
The characters are my favorite part of this series. June Iparis is fierce af and she isn't afraid to hide it. She's incredibly smart–hence why she's the Republic's "prodigy"–and she'd definitely beat most people in a fight. Also, when I say smart, I really mean it. This isn't a case where everyone claims she's smart and she makes dumb decisions. No, June follows her head most of the time and relies on her skills all throughout the series. While she might seem like a stuck-up, coldhearted girl, she really is kind and thoughtful. Sometimes her words come out wrong because she's grown up rich and privileged, but I can't fault her for the way she grew up. Despite this, she really does understand people like Day, who grew up poor, and she tries her best to help them.
Oh, Day. My precious Day. Where do I start with him? He's the boy who causes chaos for the Republic wherever he goes. He's broken into banks, set planes on fire and survived failing the Trials. Day is definitely as badass as June, but they're both similar and different at the same time. He's fiercely devoted to his family and puts them before anyone else for the entirety of the series. Another bonus? He's a romantic. Some of the things he says over the course of the series….oh my *swoons*. If you asked me to choose between him and June, I couldn't. They're just both so amazing.
As the series progresses, it focuses a lot on the relationship between characters and the shifting political scene in the country that was previously the United States. You get to see brief glimpses of what other countries are like during this time, which I thought was pretty cool. There's also another character that I really like, Anden, who appears briefly in the first book and then becomes a major player in the next two. He's a nice middle ground, compared to Day's fiery compassion and June's practical nature.
The writing for this series was very simple, but beautifully so. Marie Lu's writing let the characters take center stage and didn't distract me from the story at hand. In a series that is spent inside two characters' heads, I thought this was incredibly important and well done.
There have been some series that have had rather terrible endings–*cough* ALLEGIANT *cough*–but Champion really does this series justice. It's so heartbreaking, but at the same time, it's bittersweet and the way the story was meant to be told. It couldn't have ended any better, and I applaud Marie Lu for giving readers this ending (even though I sob every time I read the epilogue).
This series is one of the best I've ever read, and that's why I'm giving it this rating:
I honestly don't know what I can say other than this: THIS SERIES IS SO GOOD. READ IT, I BEG YOU. You won't regret it! The characters pull you into their world and you'll find yourselves moved by Day and June, these two people who have been through so much but manage to keep going. Marie Lu tells a gorgeous story of two teens who become unlikely allies, against a backdrop of what once was the United States. There's also a corrupt government, a group of rebels and unexpected love. Honestly, what are you still doing reading this? Go read the Legend trilogy now!!