Waiting on Wednesday is a weekly feature hosted by Breaking the Spine. It highlights eagerly awaited upcoming releases that you're excited for.
This week, I'm going to highlight a book that reminds me a lot of one of my favorite books, The Scorpio Races. Both stories are similiar, but the book I'm highlighting today has one big difference–the horses are mechanical!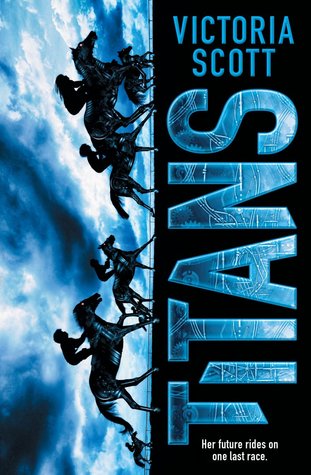 Titans
Author: Victoria Scott
Genre: YA, Contemporary
Pub Date: February 23, 2016
Publisher: Scholastic Press
Goodreads | Barnes and Noble | Amazon
From Victoria Scott, author of FIRE & FLOOD, comes a thrilling story of impossible odds.

Ever since the Titans first appeared in her Detroit neighborhood, Astrid Sullivan's world has revolved around the mechanical horses. She and her best friend have spent countless hours watching them and their jockeys practice on the track. It's not just the thrill of the race. It's the engineering of the horses and the way they're programmed to seem so lifelike. The Titans are everything that fascinates Astrid, and nothing she'll ever touch.

She hates them a little, too. Her dad lost everything betting on the Titans. And the races are a reminder of the gap between the rich jockeys who can afford the expensive machines to ride, and the working class friends and neighbors of Astrid's who wager on them.

But when Astrid's offered a chance to enter an early model Titan in this year's derby, well, she decides to risk it all. Because for a girl from the wrong side of the tracks, it's more than a chance at fame or money. Betting on herself is the only way she can see to hang on to everyone in the world she cares about.
This book sounds pretty amazing. The cover is the thing that first caught my attention; the contrast between the blue and black stands out nicely. Then I saw the people on horses, but when I looked closer, I could see something was up with the horses. Now that I know they're mechanical, I have to applaud the cover designer! This is a great cover!
Titans sounds like a more tech-y version of The Scorpio Race and I couldn't be more excited for it. I don't know what it is about bonds between humans and animals, but I love them. Add in some class issues, family drama and a girl with a great name, and we've got the makings of a great book. I'm just so excited for this one, I can't wait to see how it turns out!!
What are you waiting on this Wednesday? Are you excited for Titans? Let me know in the comments!