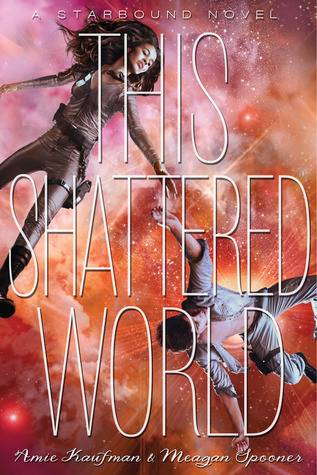 This Shattered World
Author: Amie Kaufman and Meagan Spooner
Series: The Starbound Trilogy #2
Genre: YA, sci-fi, romance
Pub Date: December 23rd, 2014
Publisher: Disney Hyperion
Source: Purchased
Goodreads | Barnes and Noble | Amazon
The second installment in the epic Starbound trilogy introduces a new pair of star-crossed lovers on two sides of a bloody war.

Jubilee Chase and Flynn Cormac should never have met.

Lee is captain of the forces sent to Avon to crush the terraformed planet's rebellious colonists, but she has her own reasons for hating the insurgents.

Rebellion is in Flynn's blood. Terraforming corporations make their fortune by recruiting colonists to make the inhospitable planets livable, with the promise of a better life for their children. But they never fulfilled their promise on Avon, and decades later, Flynn is leading the rebellion.

Desperate for any advantage in a bloody and unrelentingly war, Flynn does the only thing that makes sense when he and Lee cross paths: he returns to base with her as prisoner. But as his fellow rebels prepare to execute this tough-talking girl with nerves of steel, Flynn makes another choice that will change him forever. He and Lee escape the rebel base together, caught between two sides of a senseless war.
TITLE: boring | nothing special | pretty good | caught my eye | perfection | music to my ears
COVER: not my favorite | goes well with rest of the series | boring | generic | pretty | series cover change | beautiful | HEART EYES
POV: 1st | 2nd | 3rd limited | 3rd omniscient | multiple POVs | too many POVs
CONCEPT: original as heck | run of the mill in genre | average | has potential | great idea, bad execution
MOOD: dark | hilarious | light hearted | romantic | depressing | suspenseful | fluffy | mysterious
PACING: snail's pace | couldn't keep up | mix of fast and slow | slow in the wrong places | fast in the wrong places | what even is pacing?
CHARACTERS: i'm in love | couldn't connect | too many | well developed (all) | infuriating | annoying | precious babies | underdeveloped (all)| a mix of good and bad | diverse! | okay | new favorite characters
This Shattered World is the 2nd book in the companion novel series, The Starbound Trilogy. I'll admit that I was very hesitant to start it, because the first book was just so good and I was very weary that it wouldn't live up to These Broken Stars. However, I can honestly say that This Shattered World is just as good as it's companion novel, and I loved every second of it! While These Broken Stars is still my favorite, This Shattered World is just as good (it's just preference of the story that made me choose TBS).
This is a spoiler free review, and nothing from the 1st book will be spoiled.
This Shattered World takes place around a year after the events in These Broken Stars, on the planet Avon. The plot revolves around the rebellion and the fight that's threatening to break out between the natives and the soldiers positioned on the planet. Jubilee and Flynn are from two different sides; Lee is a Captain, and Flynn is an important figure to the rebels. Where TBS was slow, TSW is much faster and more plot-driven, and I loved it.
The story starts off with action almost immediately, which I liked. I thought the pacing throughout the whole story was pretty fast, but in a good way. The stakes were always high and there was always something that could've gone wrong at any given time. And on many occasions, things did go wrong. This was a pleasant change from the freshman novel, as the whole tone and pacing of the book was entirely different.
Our new characters and POVs, Jubilee and Flynn, were great. They were completely different than Lilac and Tarver and they both had distinct voices. If you asked me to pick a favorite character between the two, I wouldn't be able to choose because they were pretty equal in my mind. Both were well developed, interesting and had their own motivations that propelled them forward for the entirety of the novel. It's hard to make characters both likeable in equal measure, so I commend the authors for achieving this feat. Lee and Flynn were well matched and I always found myself smiling when they had scenes together.
There's romance in the book, and it's very well done. There's lot of development between the two before anything happens, which was great and entirely realistic. It was nothing like the romance in the first book, but it was still lovely in its own unique way.
As for the actual plot, I think it was better than the one in TBS. Like I mentioned before, the stakes are much higher and there's constantly action going on, whether it be in the military or in the rebel hideout. The authors were very careful to make the conflict multi-dimensional, and they created a situation that wasn't just black and white. There were many different parts to the opposing sides, both good and bad and somewhere in between. It felt wholly realistic and believable.
There's also some guest appearances from characters in the first book and I loved seeing some of my favorite characters come back into the fray.
Also, for the record, I think this is my favorite cover. Those colors are just so gorgeous!!
Overall, This Shattered World was an absolutely amazing story about two opposing sides of a rebellion and the people on opposite sides of the battlefield. Amie Kaufman and Meagan Spooner make it just as magical as the first book with complex characters, breathtaking romance and tons of twists to keep readers on the edge of their seat. If you didn't like the first book, then I'll bet you'll love this one, because while they're both amazing, This Shattered World is an action packed adventure that you'll spend all night reading. Look out for my review of the last book in this trilogy, Their Fractured Light!
Have you read This Shattered World yet, or are you planning to? Are you in love with the cover like I am? Let me know in the comments below!