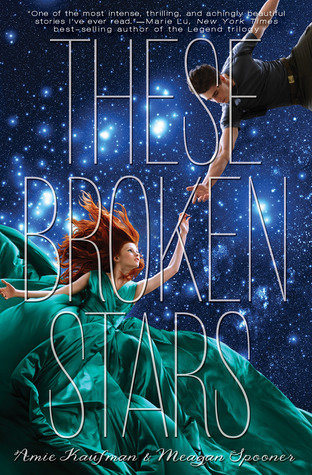 These Broken Stars
Author: Amie Kaufman and Meagan Spooner
Series: The Starbound Trilogy #1
Genre: YA, Sci-fi, Romance
Pub Date: December 10th, 2013
Publisher: Disney Hyperion
Source: Purchased
Goodreads | Barnes and Noble | Amazon
It's a night like any other on board the Icarus. Then, catastrophe strikes: the massive luxury spaceliner is yanked out of hyperspace and plummets into the nearest planet. Lilac LaRoux and Tarver Merendsen survive. And they seem to be alone.

Lilac is the daughter of the richest man in the universe. Tarver comes from nothing, a young war hero who learned long ago that girls like Lilac are more trouble than they're worth. But with only each other to rely on, Lilac and Tarver must work together, making a tortuous journey across the eerie, deserted terrain to seek help.

Then, against all odds, Lilac and Tarver find a strange blessing in the tragedy that has thrown them into each other's arms. Without the hope of a future together in their own world, they begin to wonder-would they be better off staying here forever?

Everything changes when they uncover the truth behind the chilling whispers that haunt their every step. Lilac and Tarver may find a way off this planet. But they won't be the same people who landed on it.

The first in a sweeping science fiction trilogy, These Broken Stars is a timeless love story about hope and survival in the face of unthinkable odds.
TITLE: boring | nothing special | pretty good | caught my eye | perfection | music to my ears
COVER: not my favorite | goes well with rest of the series | boring | generic | pretty | series cover change | beautiful | HEART EYES
POV: 1st | 2nd | 3rd limited | 3rd omniscient | multiple POVs | too many POVs
CONCEPT: original as heck | run of the mill in genre | average | has potential | great idea, bad execution
MOOD: dark | hilarious | light hearted | romantic | depressing | suspenseful | fluffy | mysterious
PACING: snail's pace | couldn't keep up | mix of fast and slow | slow in the wrong places | fast in the wrong places | what even is pacing?
CHARACTERS: i'm in love | couldn't connect | too many | well developed (all) | infuriating | annoying | precious babies | underdeveloped (all)| a mix of good and bad | diverse | okay | new favorite characters
In honor of the holiday season, I've decided to revisit some of my favorite books to make this month even more exciting. These Broken Stars is the first of these books that I'm going to review, and let me tell you, I'm starting the month of December off with a bang!
Where do I begin with These Broken Stars? It's an out-of-this-world (literally) sci-fi that's been described as "Titanic in space," and honestly, that's probably the best pitch I've ever heard. When I first read this book two years ago, I was in a months long reading slump that had persisted for nearly the entire year. When I unwrapped TBS on Christmas, I started it immediately; I remember sitting down by my tree and finishing the book around midnight. It was just so good, and it got me out of my reading slump by reminding me what it felt like to be completely consumed by a book.
Disclaimer: this book isn't an action packed story; it's a survival story, a story about two characters slowly developing to trust each other over time. The pacing is not the fastest, but I thought that it was slow in all the right places, and when it was fast, it was good. (Psst, if you're into faster books, then maybe you should give the second book, This Shattered World a chance! Look out for the review for that soon!) The slower moments really allow for the authors to create that genuine relationship between the two characters, Lilac and Tarver.
I love Lilac and Tarver. They're typical stereotypes, but that's what the books play on–that there's so much more to them just beneath the surface. Lilac is an incredibly gifted computer whiz, and Tarver has a secret soft side that I won't say for fear of spoilers. They're both very realistic; they have flaws and can be annoying sometimes, but they're good people and I love them to death. The book is told through both of their POVs in first person, alternating every other chapter. I believe Meagan writes the girls' POVs for all the novels, and Amie writes the boys'.
The way the authors chose to tell this story differs from most books. Between the chapters, there's one page of dialogue between two characters. One of them is being interviewed by the other, and the farther into the book you get, the more is revealed about the character's motives and what has happened in the novel via the interview "transcript." I thought this was unique and I loved reading these pages!
Plot-wise, the story is a bit slower in the beginning before the crash of the Icarus occurs; then it speeds up a bit, and then dies down after they land on the planet. I would say the first half of the book is the slower, and then it has a snowball-like affect during the second half. Most of the energy is concentrated towards the end at the climax, but when these authors do action, they do it well. Personally, I'm a big fan of character-driven novels, not just plot-driven ones, but if you prefer fasting moving books, then perhaps this isn't the book for you.
But I'm telling you guys, this book is so good. Give it a chance! You might find yourself pleasantly surprised by this book (as I was).
Overall, These Broken Stars is amazing. The story is out of this world, the character's have distinct, unique voices, and the relationships in the book are so authentic. This is one of my favorite books of all time, and I urge you all to go and check it out if you haven't already! Lilac and Tarver pull you into their world and take you on this wild trek for survival, and you'll be flipping through the pages as fast as you can to see if they can make it out of this perilous journey alive.
Have you read These Broken Stars yet, or are you planning to? What did you think of it? Let me know in the comments below!