Waiting on Wednesday is a weekly feature hosted by Breaking the Spine. It highlights eagerly awaited upcoming releases that you're excited for.
This week, I'm going to highlight a few finales in some beloved series. Prepare yourself, because the feels are coming. (Also, as a fair warning, there will inevitably be spoilers, so read ahead at your own risk.)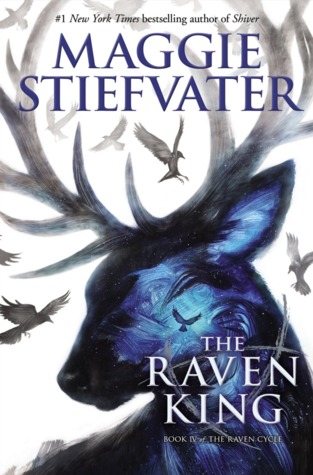 The Raven King
Author: Maggie Stiefvater (aka THE QUEEN)
Series: The Raven Cycle #4
Genre: Young Adult, Fantasy, Paranormal, Romance
Pub Date: April 26th, 2016
Publisher: Scholastic Press
Goodreads | Barnes and Noble | Amazon
The fourth and final installment in the spellbinding series from the irrepressible, #1 New York Times bestselling author Maggie Stiefvater.

All her life, Blue has been warned that she will cause her true love's death. She doesn't believe in true love and never thought this would be a problem, but as her life becomes caught up in the strange and sinister world of the Raven Boys, she's not so sure anymore.

In a starred review for Blue Lily, Lily Blue, Kirkus Reviews declared: "Expect this truly one-of-a-kind series to come to a thundering close."
Let me start out by saying this is the most beautiful cover in the entire series. The magic is on full display now, and there's no denying it. The stag, the fading brushstrokes… I have a terrifying feeling that this will end very terribly for our psychic and her raven boys.
I have never been more sad about a books release date *wails* But I trust Maggie's judgement and know the wait will be worthwhile (though sometimes it's hard to look at it that way.) I have never been more terrified for a book. Maggie has promised one thing time and time again: Gansey will die, and this is the book that'll make her promise come true. I've been hoping for over a year now that he can somehow come back (or even better, not die at all) and I really hope he comes back to me ❤
I'm desperate for this book. I never want it to end, but I need to know who will survive. Will Gansey make it? WILL NOAH MAKE IT??? Will Blusey and Pynch finally be a thing? Is the cursed kiss going to occur in this book? So many questions, all waiting to be answered in this final book that's sure to be a showstopper. I've never been more terrified to read a book, and if you know Maggie Stiefvater at all, you know why.
The Winner's Kiss
Author: Marie Rutkoski
Series: The Winner's Trilogy #3
Genre: Young Adult, Fantasy, Romance
Pub Date: March 1st, 2016
Publisher: Farrar, Straus and Giroux
Goodreads | Barnes & Noble | Amazon
War has begun. Arin is in the thick of it, with the East as his ally and the empire as his enemy. He's finally managed to dismiss the memory of Kestrel, even if he can't quite forget her. Kestrel turned into someone he could no longer recognize: someone who cared more for the empire than for the lives of innocent people—and certainly more than she cared for him. At least, that's what he thinks.

But far north lies a work camp where Kestrel is a prisoner. Can she manage to escape before she loses herself? As the war intensifies, both Kestrel and Arin discover unexpected roles in battle, terrible secrets, and a fragile hope. The world is changing. The East is pitted against the West, and Kestrel and Arin are caught between. In a game like this, can anybody really win?
The second book ended on an extremely wild note, something that I definitely did not see coming. The heartbreak I endured in book one was nothing compared to book two, and I have little doubt that The Winner's Kiss will also be terrible cruel to my already bruised and broken heart.
Arin and Kestrel have been through so much pain (lets be real: SO HAVE I) and I really hope that they'll both get the endings they deserve in this final book. My poor girl Kestrel is in a goddamn prison, for heaven's sake!
You have not known true heartache until you've read The Winner's Curse, and I'd be some serious money that the third book will put both book 1 & 2 to shame with its heartbreaking abilities.
Their Fractured Light
Author: Amie Kaufman and Meagan Spooner
Series: The Starbound Trilogy #3
Genre: Young Adult, Sci-Fi, Romance
Pub Date: December 1st, 2015
Publisher: Disney-Hyperion
Goodreads | Barnes and Noble | Amazon 
A year ago, Flynn Cormac and Jubilee Chase made the now infamous Avon Broadcast, calling on the galaxy to witness for their planet, and protect them from destruction. Some say Flynn's a madman, others whisper about conspiracies. Nobody knows the truth. A year before that, Tarver Merendsen and Lilac LaRoux were rescued from a terrible shipwreck—now, they live a public life in front of the cameras, and a secret life away from the world's gaze.

Now, in the center of the universe on the planet of Corinth, all four are about to collide with two new players, who will bring the fight against LaRoux Industries to a head. Gideon Marchant is an eighteen-year-old computer hacker—a whiz kid and an urban warrior. He'll climb, abseil and worm his way past the best security measures to pull off onsite hacks that others don't dare touch.

Sofia Quinn has a killer smile, and by the time you're done noticing it, she's got you offering up your wallet, your car, and anything else she desires. She holds LaRoux Industries responsible for the mysterious death of her father and is out for revenge at any cost.

When a LaRoux Industries security breach interrupts Gideon and Sofia's separate attempts to infiltrate their headquarters, they're forced to work together to escape. Each of them has their own reason for wanting to take down LaRoux Industries, and neither trusts the other. But working together might be the best chance they have to expose the secrets LRI is so desperate to hide.
I am so ready for this book. In just over two weeks, this precious beauty will be mine.
These two ladies make a fierce team, as the first two books in the Starbound trilogy are absolutely amazing! These Broken Stars is one of my favorite books of all time, and my favorite of the series so far (This Shattered World was great too!) I'm eager to see if Sofia and Gideon can top Lilac and Tarver for my favorite book.
They're certainly got a beautiful cover (have we not noticed how much I love a good cover? I even have a shelf dedicated for my favorite covers on goodreads!) that matches the series beautifully. I'd bet good money that the writing on the inside of the book will be just as beautiful as the cover on the outside of Their Fractured Light.
Which finales are you anxiously waiting for? Do you agree with any of my picks? Let me know in the comments below!