Waiting on Wednesday is a weekly feature hosted by Breaking the Spine. It highlights eagerly awaited upcoming releases that you're excited for.
This week, I'm doing something a little different. instead of highlighting only one book, I'll be highlighting two forthcoming books by Victoria Schwab!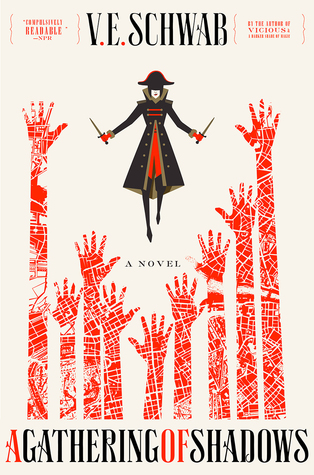 A Gathering of Shadows
Author: V.E. Schwab / Victoria Schwab
Series: A Darker Shade of Magic #2
Genre: Young Adult, Adult, Fantasy
Pub Date: February 23rd, 2016
Publisher: Tor
Goodreads | Barnes and Noble | Amazon
Four months have passed since the shadow stone fell into Kell's possession. Four months since his path crossed with Delilah Bard. Four months since Rhy was wounded and the Dane twins fell, and the stone was cast with Holland's dying body through the rift, and into Black London.

In many ways, things have almost returned to normal, though Rhy is more sober, and Kell is now plagued by his guilt. Restless, and having given up smuggling, Kell is visited by dreams of ominous magical events, waking only to think of Lila, who disappeared from the docks like she always meant to do. As Red London finalizes preparations for the Element Games—an extravagant international competition of magic, meant to entertain and keep healthy the ties between neighboring countries—a certain pirate ship draws closer, carrying old friends back into port.

But while Red London is caught up in the pageantry and thrills of the Games, another London is coming back to life, and those who were thought to be forever gone have returned. After all, a shadow that was gone in the night reappears in the morning, and so it seems Black London has risen again—meaning that another London must fall.
We all know I am a cover nerd, and I have to say this cover is even better than the first one! I'm in love with the cover for A Gathering of Shadows!
I just recently finished reading A Darker Shade of Magic (read my review here!) and I am dying to read more about Lila and Kell! These two were my favorite thing about the first book and I want to read more about them! I live for their humorous banter–it definitely stood out to me in the first book.
Also, there have been some veryyyyyyy interesting snippets being shown on twitter from this book, and I am very intrigued to see who's involved in these romance bits! (I'm really hoping it's Lila and Kell! I really wished that there was more between them in the first book, so here's to hoping it's in the second!)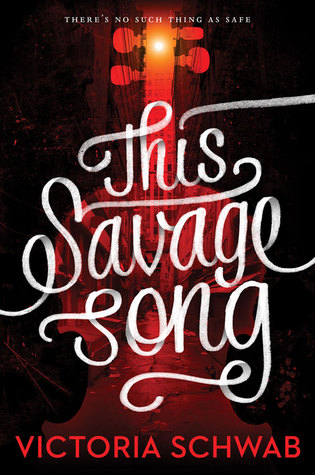 This Savage Song
Author: Victoria Schwab
Series: Monsters of Verity #1
Genre: Young Adult, Fantasy, Paranormal, Romance
Pub Date: June 7th, 2016
Publisher: Greenwillow Books
The city of Verity has been overrun with monsters, born from the worst of human evil. In North Verity, the Corsai and the Malchai run free. Under the rule of Callum Harker, the monsters kill any human who has not paid for protection. In the South, Henry Flynn hunts the monsters who cross the border into his territory, aided by the most dangerous and darkest monsters of them all—the Sunai, dark creatures who use music to steal their victim's souls.
As one of only three Sunai in existence, August Flynn has always wanted to play a bigger role in the war between the north and the south. When the chance arises to keep an eye on Kate Harker, daughter of the leader of North Verity, August jumps on it.
When Kate discovers August's secret, the pair find themselves running for their lives and battling monsters from both sides of the wall. As the city dissolves into chaos, it's up to them to foster a peace between monsters and humans.
A unique, fast-paced adventure that looks at the monsters we face every day—including the monster within.
Again, I am experiencing extreme cover lust. That font! Those colors! Ahhhh!
This was the first book I heard about when I first discovered Victoria Schwab's name. I'm sure you're wondering how I didn't know about Vicious or The Archived but I was a naive child before, alright? Immediately, this blurb caught my attention and I was hooked.
I am all for forbidden, love especially if there's a lovely fantasy/paranormal twist to it. I'm especially a big fan of the whole what makes a monster? idea, as seen in my own writing. I'm really excited to see how Victoria Schwab's humor translates into something seemingly darker than her usual books. June 2016 can't come fast enough!!
Are you excited for A Gathering of Shadows or This Savage Song? What do you think about Victoria Schwab's other books? Let me know in the comments below!