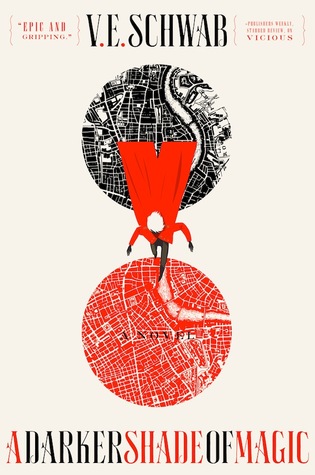 A Darker Shade of Magic
Author: V.E. Schwab (Victoria Schwab)
Series: A Darker Shade of Magic #1
Genre: Young Adult, Fantasy
Pub Date: February 24, 2015
Publisher: Tor
Source: Bought from Book Outlet
Kell is one of the last Travelers—rare magicians who choose a parallel universe to visit.

Grey London is dirty, boring, lacks magic, ruled by mad King George. Red London is where life and magic are revered, and the Maresh Dynasty presides over a flourishing empire. White London is ruled by whoever has murdered their way to the throne. People fight to control magic, and the magic fights back, draining the city to its very bones. Once there was Black London—but no one speaks of that now.

Officially, Kell is the Red Traveler, personal ambassador and adopted Prince of Red London, carrying the monthly correspondences between royals of each London. Unofficially, Kell smuggles for those willing to pay for even a glimpse of a world they'll never see. This dangerous hobby sets him up for accidental treason. Fleeing into Grey London, Kell runs afoul of Delilah Bard, a cut-purse with lofty aspirations. She robs him, saves him from a dangerous enemy, then forces him to another world for her 'proper adventure'.

But perilous magic is afoot, and treachery lurks at every turn. To save all of the worlds, Kell and Lila will first need to stay alive—trickier than they hoped.
I went into this book with extremely high expectations. I haven't seen one bad thing about A Darker Shade of Magic on twitter; in fact, all I see are glowing reviews of it! With this plot, and a beautiful cover to match, I thought it would be a match made in heaven for me. While I did have a few minor issues with it, I ended up really liking this book overall!
Kell is an Antari, a person who can travel between the Londons, parallel universes that all have an overlapping point in the city of–you guess it–London. Kell smuggles things across the worlds for a price, and when he gets caught doing this treasonable act, he flees into a different London, where a dark, dark trouble follows him. With the help of a kick ass pirate thief, Kell must figure out how to stop the darkness from spreading into his own London–and make sure the darkness doesn't consume him, either.
Let me start out by saying this: I absolutely loved all of the characters! My favorite though, by far, was Lila. She's a cross-dressing thief in Grey London, an orphan who dreams of having her own ship and sailing far away to new lands. She was witty and unapologetic of everything she did, and I loved it. Homegirl is definitely a force to be reckoned with. The banter between her and Kell was hilarious, and I found myself looking forward to the scenes between the two of them. There was very minimal romance between them, but their chemistry was amazing. The thing I'm looking forward to the most in the series is more scenes between them, whether it be as friends or lovers. I just love them to death *squishes them*
The plot was okay, I just didn't feel as though there was much to it. A lot of the story revolved around the characters travelling between the worlds, and I expected that, but I wanted more action, more drama, anything! The end of the book was amazing though, so the plot definitely picked up as the story went along.
Another thing I felt was odd was the amount of point of views in this story. There were a bunch of them, but I feel like many of them could've easily been cut and the story would still be whole. I don't care about side characters who rarely see the light of day–give me more Lila and Kell! (Can you tell I really loved them?)
My main problem with this book was the pacing. The first 100 pages or so involve a lot of explaining and setting up the worlds, which is understandable in a fantasy novel, but I was desperate to get into the action! It started to pick up a bit more towards the middle of the book, but I never really felt satisfied with the pacing of the novel. By the time it ended, I thought, Is that it?? Just when the pacing developed a steady rhythm, the book ended, and I was left feeling a bit unsatisfied.
Despite its flaws, A Darker Shade of Magic has one major thing going for it; it's one hell of a good story. The magic, the chemistry between the characters, and the lovely prose of this book outweighs all of the cons, and creates a book that's sure to impress all fantasy lovers. I'd recommend this to anyone who enjoys a good fantasy and a cast of lovely, complex characters.
Rating: ★★★★
Have you read A Darker Shade of Magic, or are you planning to? What did you think of it? Leave your own thoughts in the comments below!