Waiting on Wednesday is a weekly feature hosted by Breaking the Spine. It highlights eagerly awaited upcoming releases that the bookish community is excited to read. Here's my pick for this week's WoW: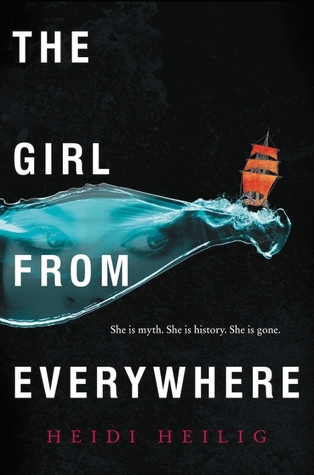 The Girl from Everywhere
Author: Heidi Heilig
Series: The Girl from Everywhere #1
Genre: Young Adult, Fantasy, Science Fiction, Romance
Pub Date: February 16th, 2016
Publisher: Greenwillow
Natalie Cleary must risk her future and leap blindly into a vast unknown for the chance to build a new world with the boy she loves.

Heidi Heilig's debut teen fantasy sweeps from modern-day New York City to nineteenth-century Hawaii to places of myth and legend. Sixteen-year-old Nix has sailed across the globe and through centuries aboard her time-traveling father's ship. But when he gambles with her very existence, it all may be about to end. The Girl from Everywhere, the first of two books, will dazzle readers of Sabaa Tahir, Rae Carson, and Rachel Hartman.

Nix's life began in Honolulu in 1868. Since then she has traveled to mythic Scandinavia, a land from the tales of One Thousand and One Nights, modern-day New York City, and many more places both real and imagined. As long as he has a map, Nix's father can sail his ship, The Temptation, to any place, any time. But now he's uncovered the one map he's always sought—1868 Honolulu, before Nix's mother died in childbirth. Nix's life—her entire existence—is at stake. No one knows what will happen if her father changes the past. It could erase Nix's future, her dreams, her adventures . . . her connection with the charming Persian thief, Kash, who's been part of their crew for two years. If Nix helps her father reunite with the love of his life, it will cost her her own.

In The Girl from Everywhere, Heidi Heilig blends fantasy, history, and a modern sensibility with witty, fast-paced dialogue, breathless adventure, and enchanting romance.
I don't know if you've noticed a theme these past two weeks with my WoW picks, but they're both time travel books. And let me tell you something: I LOVE time travel. I think time travel books are so incredibly cool, because there are so many different possibilities for the book to explore. I feel like this book, with all of these awesome, original elements, could end up being one of the best books of 2016.
The Girl from Everywhere is set in Hawaii, which made it immediately stand out to me. Hawaii isn't a place where many books are set, so when I saw that Nix's journey would start in there, I was immediately drawn in. Add that to the awesome plot and everyone on my twitter feed gushing about this book, there's no way I can't be excited about it!!
This book seemingly has it all. Far away lands, a Persian love interest (I CAN'T WAIT FOR THIS), a girl trying to work against fate, and an author who has been compared to Sabaa Tahir?? Sign me the hell up. I'd LOVE to get my hands on an ARC of this beauty, but I'll (grudgingly) settle for waiting until February 2016 to read this beautiful book.
Also, I'd just like to say that I think all 2016 debut covers that I've seen are absolutely gorgeous, and this one is no exception. I think all these cover designers need a raise because they've made some stunning pieces of art.
Are you excited for The Girl from Everywhere? Do you like reading about time travel? Let me know what you think in the comments below!