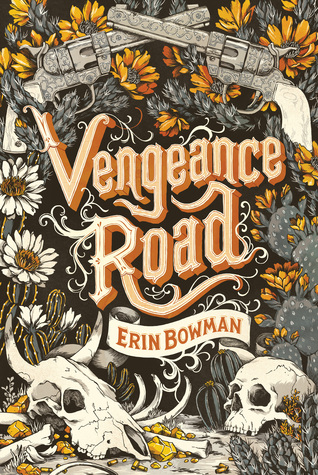 Vengeance Road
Author: Erin Bowman
Genre: Young Adult, Historical, Western, Romance
Pub Date: September 1, 2015
Publisher: Houghton Mifflin Harcourt
Source: Swapped (#booksfortrade)
Revenge is worth its weight in gold.

When her father is murdered for a journal revealing the location of a hidden gold mine, eighteen-year-old Kate Thompson disguises herself as a boy and takes to the gritty plains looking for answers—and justice. What she finds are untrustworthy strangers, endless dust and heat, and a surprising band of allies, among them a young Apache girl and a pair of stubborn brothers who refuse to quit riding in her shadow. But as Kate gets closer to the secrets about her family, a startling truth becomes clear: some men will stop at nothing to get their hands on gold, and Kate's quest for revenge may prove fatal.
I read Erin Bowman's Taken when it first came out, and I found it very enjoyable (I still haven't read the other books! I'm so behind!). When I heard she was coming out with a new book that was a western, I'll admit I was a little hesitant. I'd never read a western before I read Vengeance Road, but after reading it, I can say I have no regrets that I read out of my comfort zone!
Also, this cover is absolutely gorgeous. It's one of my favorite covers ever. I could go on and on about it, but alas, I will jump into the actual meat of this review now.
Kate Thompson is out for blood when her father is murdered by a gang of people called the Rose Riders. When she says she wants vengeance, she really means it. Kate loads up her weapons and doesn't hesitate when she has a shot. That's one of the things I love about her–this girl means business. Along with the Colton brothers, Jesse and Will, and a young Apache girl, Kate makes her way across the Arizona territory with her sights set on one thing: her father's murderers.
Vengeance Road is gritty, bloody western that tells the story of just how much someone will sacrifice for revenge and the consequences that come with it. This book is a hell of a lot darker than I thought it'd be. Erin Bowman does not shy away from some of the more grisly details when describing some horrific scenes, and I think that's what made me really get into this story. This isn't a light read with low stakes–in fact, it's the opposite. Just when I thought the book was going to end on a happy(ish) note, the book took a sharp turn and did something I would've never expected. It was crazy, and I loved it.
One of the things I really liked in this book was the characters, especially Kate. One of the things that annoys me the most is when characters say that want vengeance, but then chicken out in the end when their chance is right in front of them. Kate is definitely not that type of character, which was really refreshing to read. She was kickass and could drop a man easily with her gun. If I was up against her, I'd be so dead. The Colton brothers were pretty good characters, too, but I felt Will could've been developed a little more. And how could I forget Liluye! She was a character who really stood her ground on her morals, which is a commendable feat for anyone, fictional or otherwise, so I have to give her props. She had some spunk in her too that made me laugh sometimes.
I admire Erin Bowman for making sure that Kate's journey for revenge was the main purpose of the novel instead of the romance. It was still there, but it was definitely more of a subplot and never overwhelmed the main purpose of the story. That's a miracle in itself these days in YA, so if you like stories with less of a focus on romance, this is probably the book for you.
The only thing I didn't like about this book was the pacing. It dragged a little bit in some places, especially towards the beginning and in the middle, but it picked up speed again after awhile and went back to a steady pace. After awhile, the descriptions of the land started to wear on me, too. I felt like the same things were being described over and over again, but I never got a clear mental picture as to what those places were supposed to look like, so I'm pretty sure I was picturing the entire setting very wrong.
Overall, I really liked this book. I felt Erin Bowman really did the western genre justice with her fierce characters and blood soaked plot. I'd recommend this book to almost everyone, especially those who are fans of historical fiction and people who like their romance to be more of a background thing.
Rating: ★★★★
Have you read Vengeance Road, or are you planning on it? What did you think of it? Leave your own thoughts in the comments below!