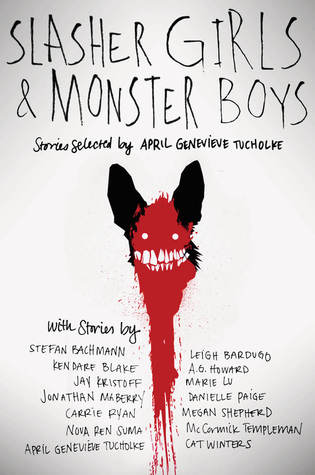 Slasher Girls & Monster Boys
Author: April Genevieve Tucholke (editor and contributor)
Genre: Young Adult, Horror
Pub Date: August 18th, 2015
Publisher: Dial
Source: Justine Magazine Giveaway
A host of the sharpest young adult authors come together in this collection of terrifying tales and psychological thrillers. Each story draws from a mix of literature, film, television, or even music to offer something new and fresh and unsettling. Even better? After you've teased out each tale's references, satisfy your curiosity at the end, where the inspiration is revealed. There are no superficial scares here. These are stories that will make you think even as they keep you on the edge of your seat. From bloody horror, to the supernatural, to unnerving, all-too-possible realism, this collection has something for anyone looking for an absolute thrill.
This was one of the best anthologies I've ever read. A majority of the stories were really well written and the ideas were creepy, interesting spins on classic horror stories. I'll be the first to admit that I am a complete scaredy cat and hate scary movies with a fiery passion, but a few of these stories will definitely scare the toughest people out there.
I'll review this anthology story-by-story and the final rating will be the overall rating for all of the stories put together.
The Birds of Azalea Street by Nova Ren Suma: ★★★★ 1/2. This was a fitting first story to this anthology. The author's voice is perfectly suited to horror and only added to the eeriness of the story. The only reason I marked it down half a star is because of her voice–it's so lyrical, it becomes distracting sometimes. However, I give her MAD props for making her main characters play field hockey and softball! She's a woman after my own heart ❤
In the Forest Dark and Deep by Carrie Ryan: ★★★★. An ever more twisted, creepier version of Alice in Wonderland, if that's possible. I read this story late at night, and I definitely recommend against that. I don't know if I'll ever be able to look at a dark forest quite the same again. Or tea parties, for that matter.
Emmeline by Cat Winters: ★★★★ 1/2. After the "in your face" scary of the first two stories, Winter's slows it down a bit. This story wasn't so much scary as it was upsetting, or sad. The writing was pleasant to read though; I think I'll check out more of Cat Winter's writing after reading this!
Verse Chorus Verse by Leigh Bardugo: ★★★★. I'm a big fan of Leigh Bardugo's stories, but this one was a bit of a let down for me. This is a story about a teen star and her mother. The teen is sent away to rehab and finds that not everything is as it seems there. The writing was amazing, as always, and the story was pretty scary, but I didn't understand the ending, which is my only complaint.
Hide-And-Seek by Megan Shepherd: ★★★★★. I really loved this story. I thought this was one of the most unique stories of the bunch. It's about a girl who plays a game with death–if she can survive the next 24 hours, she'll get to keep her life. It wasn't scary, but it was thrilling and I loved that. The ending had a nice little twist that I thought was pretty clever, too.
The Dark, Scary Parts and All by Danielle Paige: ★★ 1/2. It was one of the weakest stories of the bunch. The story reads like nearly every other cookie cutter paranormal romance. A quiet, shy girl is suddenly noticed by this incredibly hot guy, and then weird things start to happen. The characters were all ridiculous and made stupid decisions. I think I spent more time rolling my eyes than I did actually reading this story.
The Flicker, The Fingers, The Beat, The Sigh by April Genevieve Tucholke: ★★★★. I have a love hate relationship with this author's writing, but I think it's safe to say I enjoyed this story. This story is very similar to the movie in which it draws inspiration from, but I didn't mind that too much. The doubt in this story is palpable and by the end, I still don't know what I believe.
Fat Girl With a Knife by Jonathan Maberry: ★★. My least favorite story of the bunch, I think. It had two things that turned me off for it: 1) zombies (I love these stories if they're done well, but this one wasn't) and 2) the incredibly ridiculous main character. Dahlia acted like a child, and I'm surprised she even managed to survive many of the things in this story.
Sleepless by Jay Kristoff: ★★★★★. Ahhh, this story was AMAZING! It has to be my favorite of the whole anthology. This is another one of those stories that isn't scary, per se, but rather more of a psychological one. At first, I wondered where the horror part of the story would come in, but it started to creep up on me; it was around the 2/3 mark that I realized what the hell was going on and I had to do a little slow clap. Jay Kristoff sure knows what the hell he's doing.
M by Stefan Bachmann: ★★★ 1/2. This story was good, but I didn't really feel anything for it. It's about a blind girl who stumbles upon a murderer, and she tries to figure out which one of the guests he is before he kills someone else. I have to give this story props though–singing children who rhyme? There will never be an instance where that is not creepy.
The Girl Without a Face by Marie Lu: ★★★ 1/2. Usually I love Marie Lu's writing, but this story just didn't make me feel anything special, much like M. This was one of the scarier stories of the bunch though; let me just say that if you have a closet, you might want to prepare yourself for this one.
The Girl Who Dreamed of Snow by McCormick Templeman: ★★★. I thought the idea for this story was incredibly original, but the execution was poor. It's about a world in which a sickness has plagued and killed girls and Nara goes on a journey to find a cure, so to say. I didn't feel any connections to any of the characters, but I did like the monsters of this story, the "night creatures." They were definitely creepy.
Stitches by A.G. Howard: ★★★ 1/2. Many of the stories in this anthology draw inspiration from Frankenstein, but this story is the one most closely related to it. This book was probably the bloodiest of the bunch–definitely not for those with a weak stomach. It was an interesting story, but it wasn't one of my favorites.
On the I-5 by Kendare Blake: ★★★★. I don't know if this was the best choice for the last story, but I still enjoyed it. It's one of the more original ones, so I won't spoil anything about the plot. It was another one of those sad, upsetting stories that had a sad ending. I enjoyed the author's writing and I thought the main character, EmmaRae, was pretty interesting (even if I couldn't stand her name).
Overall, this was an amazing read. There were some good stories and there were some bad ones, but they all rounded each other out. This is a perfect read for Halloween time, but my one suggestion for my fellow scaredy cats–read this book during the day!
Rating: ★★★★
Have you read this anthology yet? If so, which was your favorite story? Leave your own thoughts in the comments below!