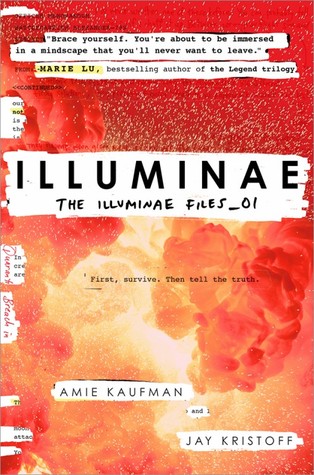 Illuminae
Author: Amie Kaufman and Jay Kristoff
Series: The Illuminae Files #1
Genre: Young Adult, Science Fiction, Romance
Pub Date: October 20th, 2015
Publisher: Knopf
Source: Justine Magazine Giveaway
This morning, Kady thought breaking up with Ezra was the hardest thing she'd have to do. This afternoon, her planet was invaded. The year is 2575, and two rival megacorporations are at war over a planet that's little more than an ice-covered speck at the edge of the universe. Too bad nobody thought to warn the people living on it. With enemy fire raining down on them, Kady and Ezra—who are barely even talking to each other—are forced to fight their way onto an evacuating fleet, with an enemy warship in hot pursuit. But their problems are just getting started. A deadly plague has broken out and is mutating, with terrifying results; the fleet's AI, which should be protecting them, may actually be their enemy; and nobody in charge will say what's really going on. As Kady hacks into a tangled web of data to find the truth, it's clear only one person can help her bring it all to light: the ex-boyfriend she swore she'd never speak to again.
To sum up this book in one word: Whoa.
Illuminae's been the book to read this year, and when I finally got my hands on it, I was ecstatic. I heard a lot of great buzz about it, so I dived into it thinking I would love it. And I did, for the most part.
It took me a little while to really get into the book. It starts off right in the action, and for awhile I tried to play catch up as I pieced together what happened when Kady and Ezra's planet was attacked. Here, there were a lot of "wiki" pages that described the attack. They felt a little boring to me, and they were a struggle to get through at times. However, the book really starts to pick up around the 100 page mark, and from then on, I was hooked.
I didn't really connect with the romance of the book. In the beginning, there were some cute parts, but towards the end, it wore on me and I found it very cheesy. Maybe that was just me, though. I don't doubt that other people will love the couple in the story.
My favorite character is AIDAN by far (Kady was pretty badass, though, I have no admit. There's no denying she's an intelligent, selfless lady). I applaud the authors for writing a "character" as complex as him. I won't say much for fear of spoiling the book, but many of the deepest, most profound quotes come from AIDAN. And that "buzz line" of the year that everyone's talking about? When I read it, a chill went down my spine and I had to set the book down for a minute. It's that good.
I didn't see how there could be sequels until the very, very end of the book. There's a twist that I didn't see coming, even though I'm sure those that are more intuitive than me can put together. It leaves the door open for more sequels that I'll definitely be checking out.
This book was amazing. The battle scene pages were beautiful and probably the most unique pages I've ever seen in a book. Major props to the people in charge of the layout. And of course, A+ for Amie Kaufman and Jay Kristoff. The characters were well developed and the plot was wholly original and engaging. This is a book that deserves all the hype it's receiving–and will lead the way for YA sci-fi to burst into the scene with a bang.
Rating: ★★★★ 1/2